For women's economic empowerment, it is important to carry out various supporting measures that provide them with financial and informational resources. The USAID-Georgia program "Supporting Youth and Women's Entrepreneurship in Georgia" (USAID YES-Georgia) has supported women entrepreneurs for years. For this purpose, the USAID YES-Georgia program organized an informative media tour on July 28 – 30.
The tour intended to introduce to  journalists working on the topic the project's beneficiaries and women involved in entrepreneurship, who are successfully continuing their business activities in different regions throughout the country.
As part of the media tour, journalists visited businesswomen in Tbilisi and various cities of western Georgia: Gori, Khashuri, Terjola, Kutaisi, Senaki, and Zugdidi. They got to discover in detail  comprehensive information from both the beneficiaries and the project representatives.
On the first day of the media tour, journalists visited beneficiaries Veriko Bazali, Sofo Talakhadze, and Sofo Bardavelidze.
"Hippo Velo" is the initiative of Veriko Basali, a beneficiary of the Young Entrepreneurs School, which was established in 2021 and is a bicycle service center where bicycle enthusiasts can repair their vehicles and buy various accessories and parts. "Hippo Velo" is a large community of cycling enthusiasts, which aims to popularize this direction and develop cycling culture in Georgia.
"SofYoga" studio is located in the city of Gori and offers yoga lessons to those interested. In addition to studio sessions, SofYoga also offers a remote, online service that is tailored to clients' personal needs. The studio adds video series to make the training process as easy as possible for students.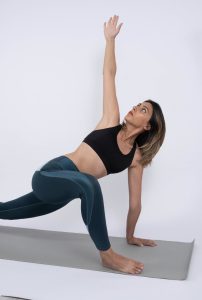 Sofo Bardavelidze is a novice female entrepreneur who owns a laser epilation office "Skinova" in Terjola. In the future, she wants to expand her business and offer even more diverse services in the field of beauty and self-care to the population of Terjola. She loves her work and that's why she is honest toward customers – she offers high-quality service, safety, and comfort.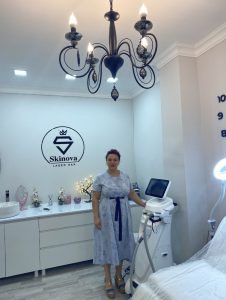 On the second day of the media tour, journalists visited Khatia Khardzeishvili, Shorena Chijavadze, Tamar Meskhia, Nano Misabishvili, and Ekaterine Farulava.
"Mathes Marani" is a tourist facility located in Banoja village, in Imereti, which offers customers local wines, culinary master classes, and tasting service. The founders of the winery actively participate in various awareness-raising training and programs, such as the USAID YES-Georgia program, which has been actively serving the empowerment of women entrepreneurs for years. Khatia Khardzeishvili is a member of the Network of Women Entrepreneurs Program.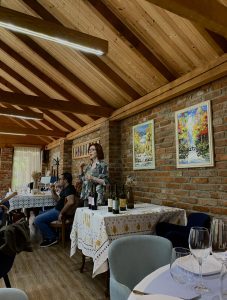 The USAID YES-Georgia program turned out to be an interesting step for Shorena Chijvadze, where she attended entrepreneurship training with her daughter and became a beneficiary of the program. Now Shorena has her own sewing atelier "Jacquard".
Intelligent board games club "Summer Set Kutaisi" started 7 years ago for Tatia's first child, seeing her taking care of their informal education from an early age and searching for and buying educational-cognitive toys. As a result, she and her husband came up with the idea to write a project aimed primarily at creating a board game club and popularizing modern board games as a means of healthy entertainment, and at the same time using intelligent board games as a means of informal education, social skills and creative thinking development of adolescents.
Furniture enterprise "Nysa Studio" Nano Misabishvili started her activity at the end of 2020, during the pandemic, as a hobby, and then turned it into a profitable business. Busy creating art and handicrafts in her free time, she decided to turn her hobby into a business, and this is how "Nisa Studio" was introduced to customers in 2021. Today, a small wooden furniture enterprise has been established in Samegrelo, in the city of Senaki, and work is underway to modify the business model.
Dried fruit and vegetable candied plant "Kopeshoni"– Ekaterine Farulava is a doctor from Sokhumi and lives in Zugdidi. She worked professionally for 25 years and then decided to try something new. Initially, she searched the Internet for the recipes that she later used to start her work, although she significantly modified the recipes that were available from various sources in her own handwriting. After her new product was liked not only by family members but also by wider society, she decided to take this activity to the next stage and start a business. Today, Ekaterine produces different types of Succades.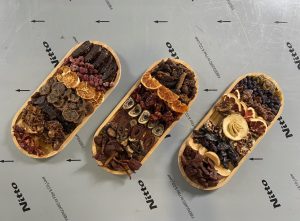 On the third day of the media tour, journalists visited Tatia Janashia and Ekaterine Khutkubia.
Sewing salon "T.J Atelier" – Tatia Janashia is a young entrepreneur who learned hot to cut and sew herself and started working in a small room with an old sewing machine.
Later, Tatia learned about the USAID YES-Georgia "School of Young Entrepreneurs" program. After successfully completing the training course and reaching the finals, she was financed by the program which was used to expand her business – she purchased the basic equipment needed for the activity and moved to a new space. Despite a number of difficulties, Tatia continues her work successfully.
Ekaterine's brand "Skyri" offers customers a wide range of natural dried fruits made from Georgian fruit raw materials, tylapi, churchkhela, dried candies, and various types of dried fruit with chocolate.
About the program:
The goal of the program is to increase the number of young and female entrepreneurs in the country through the development of entrepreneurial skills, access to finance, knowledge, and experience sharing.
USAID's program – "Supporting Youth and Women's Entrepreneurship in Georgia" (USAID YES-Georgia) supports the economic empowerment of Georgian youth and women and the economic development of the country by encouraging innovation, promoting entrepreneurship, and raising the level of self-employment. The project is in its 8th year in Georgia and is being implemented by the Crystal Foundation, with financial assistance from the American people, USAID, and the Women's Global Development and Prosperity (W-GDP) initiative. Additional financial support to the project is provided by the financial inclusion organization "Crystal".
By 2024, more than 2,500 women entrepreneurs under the program will have better access to knowledge, finance, and business services, enabling them to transform their businesses into higher-income enterprises.
By Mariam Tsadzikidze