It has been a busy few days for us at Hanmer Guest House in Etseri, Svaneti.
On August 19, we had two groups come for the same night, thankfully booked in advance so there was plenty of time to prepare. But they totaled 30 people, stretching our capacity actually past its limits. We had to send several people to sleep at a neighbor's house; although we took care of all their meals: supper, breakfast and a pack lunch as they set off hiking towards the hamlet of Mazeri at the top of Becho village the next morning.
One group was all from the Czech Republic, the other from Poland. Both came with companies who stop with us often in the summer, with the same idea. The people fly into Georgia, usually via Kutaisi, and are picked up there by private minivan, with their guide on hand. They are driven straight to us for supper. After breakfast, they driver reappears and takes their big luggage to the next stop, leaving each person with a manageable day-pack for the hike. It works quite well.
Usually there are a few tweaks needed, such as what we call "dietary special needs". Typically, there will be a vegetarian or two in such large groups. Less common but also possible is intolerance to gluten (the kind found in some grains, such as wheat) or any milk product. Very rare is a vegan diet, and in such groups so far we have not yet had halal (Muslim) or kosher (Jewish) requirements, although in other small parties, we have. We are ready for all, especially if we know what to expect in advance, as is usual.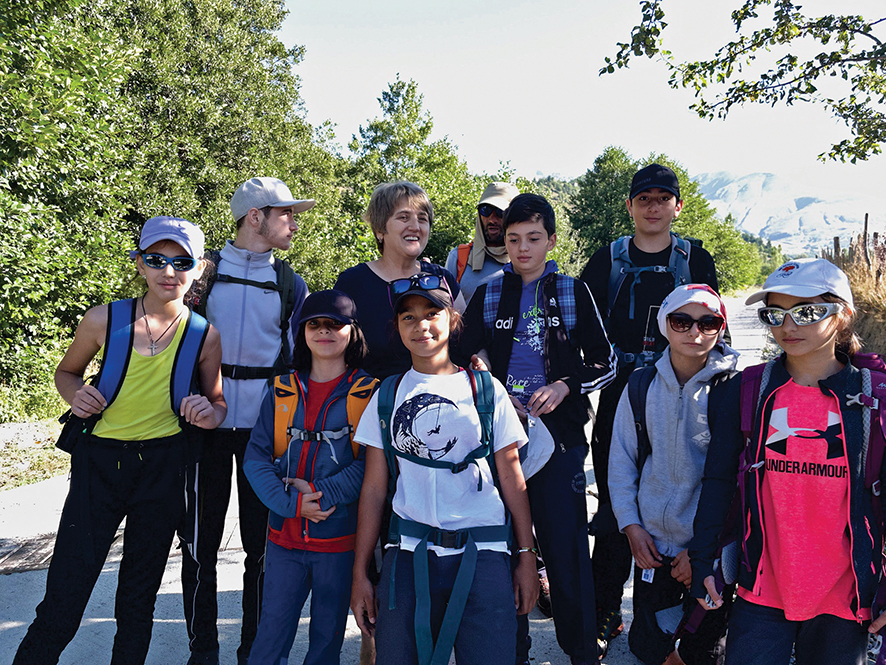 I announced to the Czech group over supper that they were our first ever users of the new cafe we are building, to some applause, and took some photos. The facility is not yet quite finished, but we can still host overflow people there. Our helper-neighbor lady had already been working for several days to assist us in getting everything ready, and despite considerable stress from such numbers, it was.
The next morning, I took a few more photos of both groups getting ready to set off on their day's trek to Mazeri, a relatively easy one before the big hike of the Gulf Pass to Mestia, about twice as long. Both days feature Ushba in all his grandeur, which for me is a huge visual bonus.
Then, as the Czech group was nearly prepared, a group of several children from Mestia and another guide joined them, all with their own day-packs. This, too, was historic. These youngsters, down to about 10 years old, are learning the trails and the ropes of trekking and being a guide. They all speak English, and are impressively physically fit and full of energy.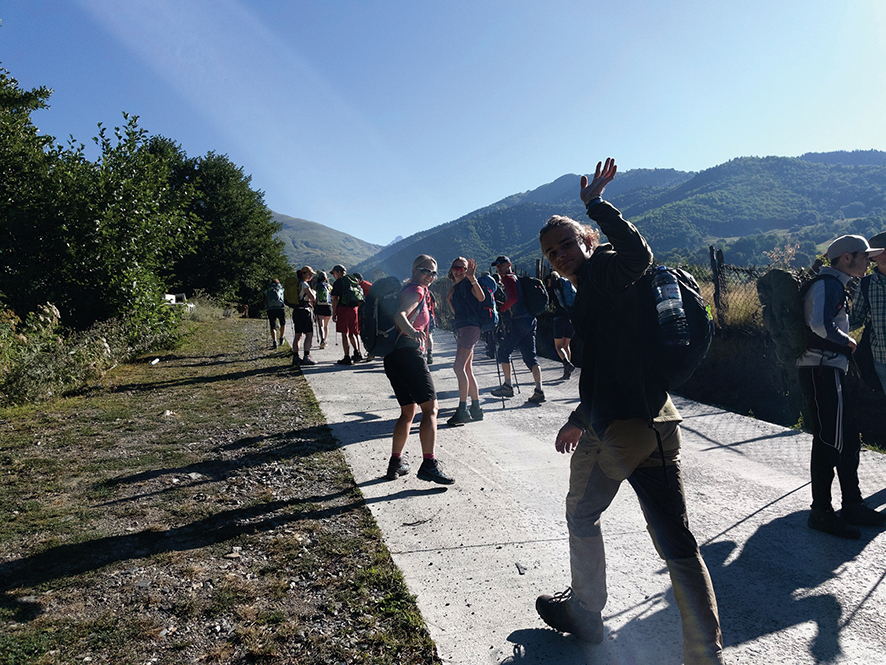 Bless them! There is money, a career and a future, to be made in good trek-guiding, and they are getting a head start. Etseri's own young people and those from other villages on these trails would do well to watch and learn, and take part too. The right skill-set of language, knowledge such as basic first aid, fitness and desire to make a living right here can take them far. The older, seasoned guides will not live forever (although I wish each of them a century more, as one does in Georgia!). Soon they must make way for these new ones, who from the look of them will step right up and fill their shoes. This gives me hope.
BLOG by Tony Hanmer
Tony Hanmer has lived in Georgia since 1999, in Svaneti since 2007, and been a weekly writer and photographer for GT since early 2011. He runs the "Svaneti Renaissance" Facebook group, now with over 2000 members, at www.facebook.com/groups/SvanetiRenaissance/
He and his wife also run their own guest house in Etseri: www.facebook.com/hanmer.house.svaneti