"The promise we have received today is that the EU will be extremely active in overcoming the current crisis." UNM Leader Salome Samadashvili
The meeting between the leaders of the opposition and the President of the European Council Charles Michel has ended.
The opposition leaders said after the meeting that they discussed two key issues in a conversation with Charles Michel, which they believe are essential in order to bring the country out of the current political crisis: the release of political prisoners and snap elections.
"If the Georgian Dream has the illusion that Mr. Michel will leave tomorrow and will no longer be interested in what is happening in our country, it will not be so. The promise we have received today is that the EU will be extremely active in overcoming the current crisis and will use all possible means to make pressure, including on the government," Salome Samadashvili, a leader of the opposition United National Movement party, said after today's meeting.
"Our partners are well aware that it is impossible to simultaneously arrest political leaders and talk about dialogue," she pointed out.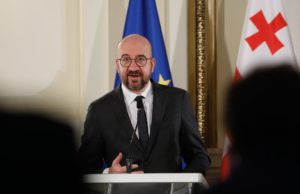 Opposition representatives claim that the European Council President once again called on all sides for dialogue and finding a common language, however, they note, negotiations with the government are possible only if the political persecution in the country stops, and UNM Chairman Nika Melia and opposition leader Giorgi Rurua are released from custody.
Opposition leaders claimed that they are willing to increase the EU's role in the dialogue with the Georgian Dream.
European Council President is paying a working visit to Georgia today, March 1. During the day, he met with Georgian President Salome Zurabishvili, Prime Minister Irakli Garibashvili and representatives of opposition parties to discuss the current situation in the country and political tension created against the background of the recent arrest of UNM Chairman Nika Melia.
"During the face-to-face meeting at the government administration, we discussed the importance of the Eastern Partnership format and the issues to be discussed at the forthcoming summit. We underlined Georgia's success as an EU-associated country," Prime Minister Irakli Garibashvili commented after the meeting with the President of the European Council.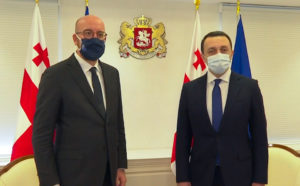 Along with EU Monitoring Mission, Michel also visited the village of Khurvaleti, bordering the occupation line with the Tskhinvali region, and got acquainted with the situation on the ground.
He emphasized that the European Union is committed to Georgia's sovereignty and territorial integrity.
Charles Michel will depart from Georgia on March 2.
By Ana Dumbadze
Related Story: Georgian PM Thanks EU for Strong Partnership, Support