Somewhere near the Old Tbilisi park, my friend and I were frantically looking for a small cafe run by a Ukrainian woman, who is one of the many refugees who have fled Ukraine since the war began. We want to show our support for these people and taste Sirniki, the delicious farmer's cheese-style Ukrainian pancake she is said to make.
Little did I know how popular and healing baking and cooking would be for the ladies who fled the war; this small first-floor terrace café with only one table, two chairs, and a multi-colored cat on the window helped me find my way to top delicacy Kyivskyi Tort.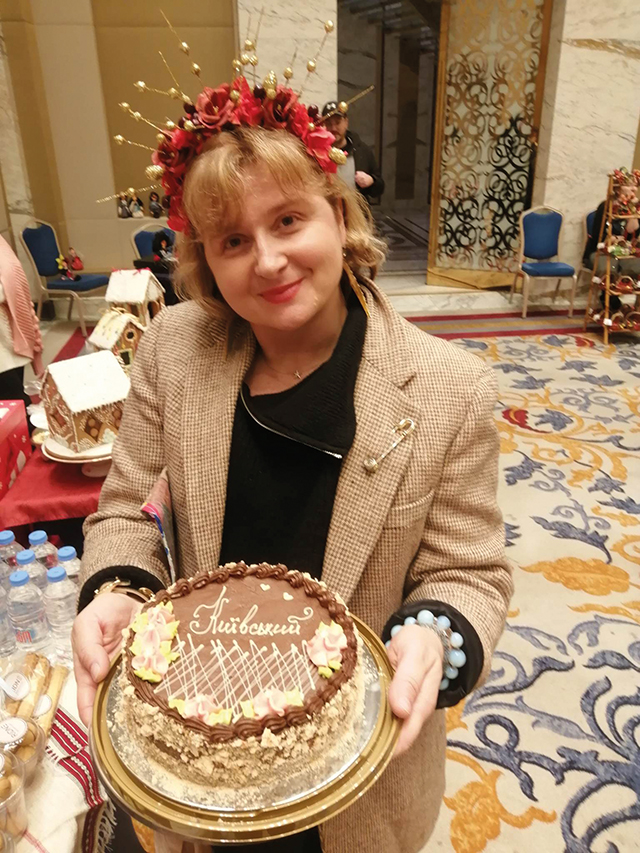 Ukrainian sweets and delicacies such as Pirogi, Sirnikis, and Sala (pork fat) have been on the must-try list for many years now. Sala and the dessert called Kyivskyi Tort are being named as the most memorable foods among both locals and visitors; a true heritage.
I remember as a young journalist, travelling to interview the then president Leonid Kuchma, I was happy to receive the multicolored, nutty meringue cake with its must-have ornament Kyivskyi written on it in Ukrainian in a plain white box, and a Petrykivka technique vase. So, when I heard about the cake ladies Aliona Ostapchuk and Natalia Rukavchuk, I knew I wanted to introduce them to our community.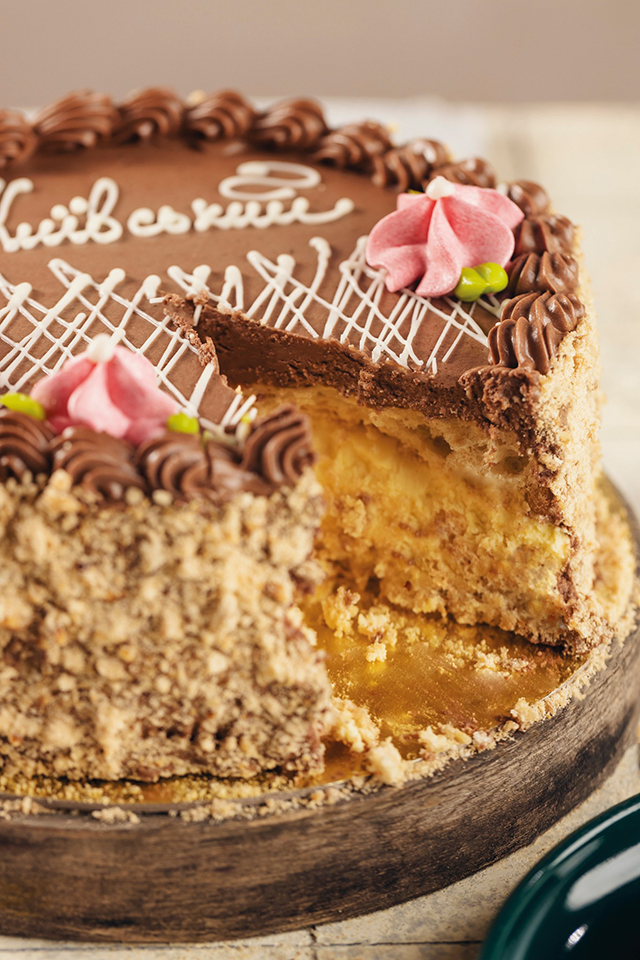 ''The business started in just four days," Natalia said, who is from Nikolayev and came to Georgia with her mother, who is helping her. ''I made the famous Medok (honey cake) for a friend who had asked for it online. I made it, but my best is Kyivskyi.''
The cake ladies united their knowledge, set goals, found the ideal premises and put the bakery together. Since then, orders have been flying out from all sides. The dessert cake was originally made on December 6, 1956, by the Karl Marx Confectionery Factory. It does have secret ingredients Aliona tells us: 82% Ukrainian butter is one of them, though it does have a touch of Georgia, the local hazelnuts. Originally, cashews were favored, but the recipe returned to using hazelnuts to lower the costs; crushed hazelnut mixed with egg layers is layered, covered with cream first and then chocolate buttercream and decorated with floral ornaments and writing. This is easier said than done, but the ladies do wonders.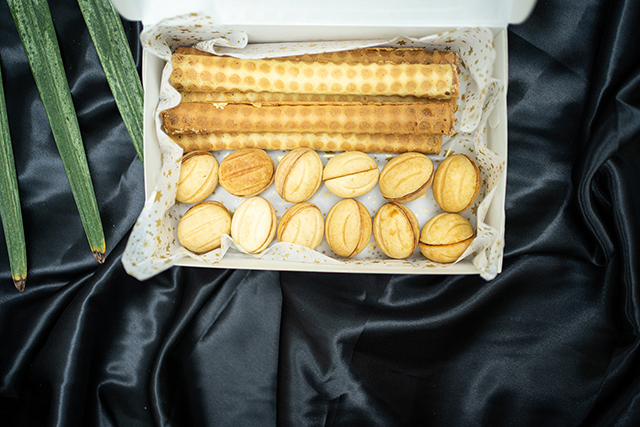 Pushing production up to even 50 a day at its peak, this quick decision has become a very serious business, and now they bake outside orders coming from cafes and restaurants; this in addition to individual orders! Several cafes even order the cake in single portions, which are ideal for the coffee break, the exact cup-sized cakes I witnessed them making during the interview as we spoke.
"We have a responsibility towards our friends and loved ones who financially helped us to start this venture. We also want to expand to higher levels; there is clearly a demand from clients in all circles of society, even the Russians!''

Today, Ukrainian refugees found themselves cooking and baking to handle both their war traumas and the forced distance from their parents, husbands and children; now the split families are united in Georgia, the country where the population showed incredible support to them and made them feel welcome. As many as 24,000 Ukrainians remain in Georgia, according to the statistics given by UNICEF Georgia. 180,000 have entered since the war, and the plan is to financially help over 3,000 children. There are many wonderful Ukrainian-led bakeries and cafes in Tbilisi these days, and I find myself often reading comments such as: "Please tell us which cafes are Ukrainian, making Varneikis or other sweets: We want to support them financially!"
I will simply name several of them here:
Gingerbread to order. Tbilisi (@gingerbread_tbilisi_ge)
Olya Boyko | Facebook
Platform of Ukrainians in Georgia Платформа українців Грузії (facebook.com)
Софія Дюльгер | Facebook
Some Ukrainians have been here since before the war, paving the way for those in desperate need today.
Ukrainians and Russians fled with their families to the border when the war began, and then more came when speculation grew that the Kremlin might bar mobilization-eligible men from leaving the country in May. Somehow, they found themselves living next to each other in these not-so-big cities, Tbilisi, and Batumi the seaside resort.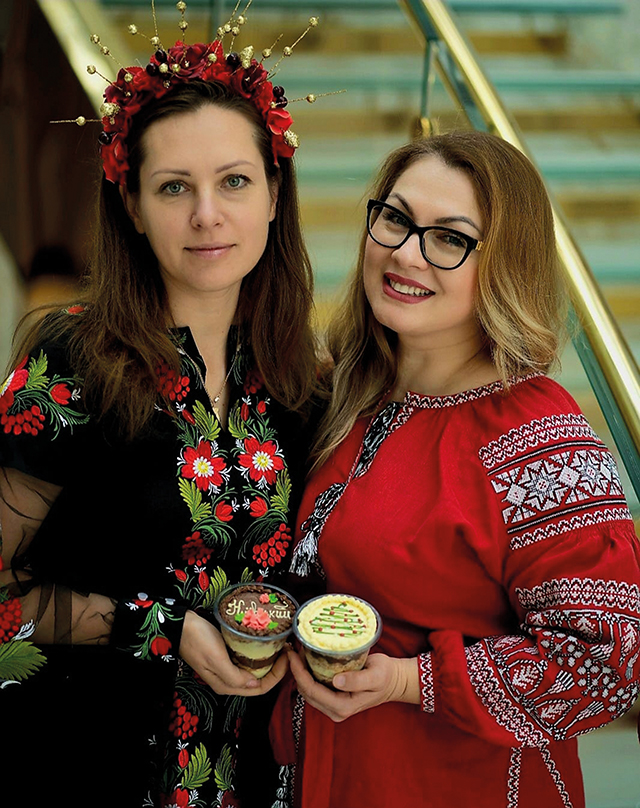 The Tort ladies told me they are extremely grateful to the Georgians. "We really feel supported here. The help is unbelievable. Georgians have shown themselves to be extremely tolerable people to my surprise."
Before I left the bakery, the ladies showed me the step-by-step process of making this mouth-watering delicacy, which tastes the same no matter where you have it or when. The taste lives on, and the secret is to keep the recipe exactly how it was. Layers are baked for two hours, then let aside.
"In total, it takes 3-4 hours to bake one cake," Aliona says.
"24 hours is what is needed to complete the process, let it set, decorating, starting at 8 a.m. every day," Natalia adds.
Very similar to the Bakewell Tart of Britain, when legend describes there was a small mistake made during the baking, resulting in the creation of the current form of the Bakewell dessert, the dessert from Kyiv has something of the same story. Yes, it's true that unintentional mistakes sometimes lead us to amazing discoveries. But one thing is for sure; war is always a mistake.
Keep baking, ladies, and be happy!
By Helena Bedwell