The Slovenian, Polish and Czech prime ministers, together with Poland's ruling party leader, took the long journey from Warsaw
Ukraine has praised the courage of three European leaders who made a long, risky journey by rail from Poland to Kyiv in a show of support as the city came under further Russian attack.
The prime ministers of Poland, Slovenia and Czechia met Ukraine's President Volodymyr Zelensky on Tuesday evening as a curfew began in Kyiv, reports the BBC.
They are the first Western leaders to visit Ukraine since Russia invaded.
The Czech leader, PM Petr Fiala, told the Ukrainians that they were "not alone".
"We admire your brave fight," Fiala wrote in a tweet. "We know that you're also fighting for our lives. You're not alone, our countries stand by your side."
"Your visit is a powerful expression of support for Ukraine," Mr. Zelensky is quoted as telling the group.
Following their visit, Zelensky also called on other European leaders to arrive in Kyiv as a form of expressing support during the Russian invasion.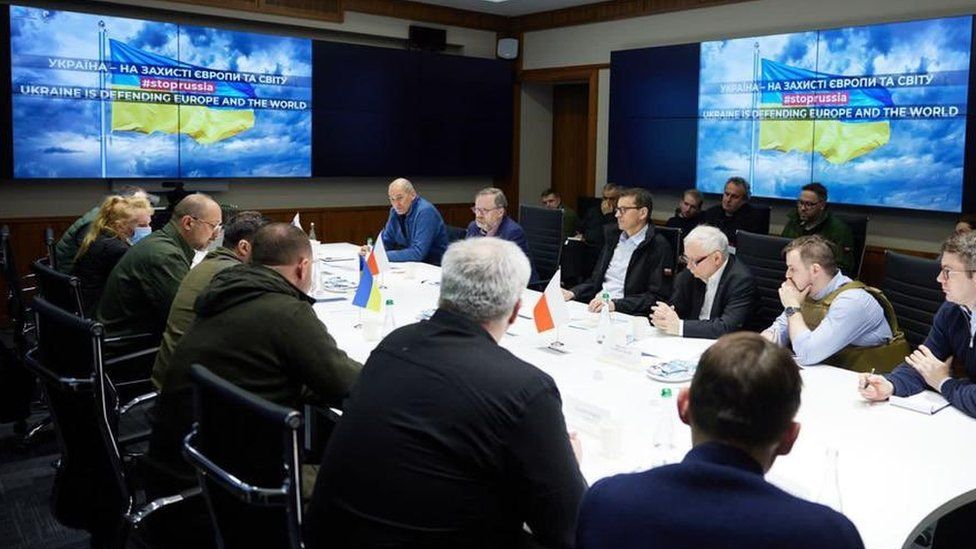 On Wednesday, Poland's Mateusz Morawiecki tweeted that Ukraine was reminding Europe what courage was. It was time for "sluggish and decayed" Europe to reawaken and "breakthrough her wall of indifference and give Ukraine hope," he said.