TSV Winery offers wine that presents the history of Georgia.
The variety of red and white wine and chacha can be purchased in specialized wine shops in Tbilisi, at "8000 Vintages" and others, as well as in hotels and restaurants, in Tbilisi and other regions of Georgia. Furthermore, wine lovers can purchase their wine and chacha online as well, through the company's social media page, even if the customer lives abroad.
To find out more, GEORGIA TODAY spoke to the founder of TSV Holding, Tika Svanidze Vancko.
"TSV Estate Winery was established in 2020, during the pandemic, and it represents the wine direction of TSV Holding (TSV Holding – Tika Svanidze Vancko Holding)," she tells us.
"The pandemic dealt the biggest blow to the tourism sector, which was my core business, so I had to change direction, and I chose wine.
"We put a lot of effort into the branding of the company, because, in addition to business interests, my main goal was to popularize Georgia," Svanidze Vancko says. "That's why the branding of the company is based on the history of Georgia and on archeological artefacts found in Georgia. Each bottle of wine tells the customer a story about Georgia. This was very important for us.
"My goal is to introduce Georgia to the world as the homeland of wine, as I believe that with its unique historical past, Georgian wine has invaluable potential, which should be developed so it can take its deserved place next to wine-producing countries such as France, Portugal, Italy and so on," she says.
"Georgian wine really has this potential, and this is an achievable task through the right and purposeful steps. I think the government and the wine sector should act together for this goal."
Tell us about the wide range of wines presented in TSV Winery.
The wine company offered its first product to wine and history lovers in December 2020: the wine named "King's Favorite", which was bottled in limited quantity, associated with the 300th anniversary of King Erekle II. According to legend, King Erekle's favorite type of wine was a blend of four grape varieties. The anniversary casting was given the look of a project and was successfully implemented in close collaboration with the National Center for Manuscripts. Why King Erekle? Because King Erekle II is the only monarch who weaves the theme of wine with such an important symbol of self-expression, as a signature, shaping the Georgian wine glass made of a horn – Khantsi.
The wine "King's Favorite" was recognized highly among Georgian and foreign wine lovers and professionals.
"My goal is to introduce Georgia to the world as the homeland of wine, as I believe that with its unique historical past, Georgian wine has invaluable potential…
Nowadays, the company offers four types of wine, made through the Qvevri winemaking technology method, and we are planning to make new types of wine made using the classic method.
The company also offers customers the high-alcohol beverage, chacha, presented in the form of classic white chacha and oak chacha.
The chacha produced by the company is a product of the "King's Favorite" line.
Where can people taste your wine?
Our wine can be purchased in specialized wine shops in Tbilisi, such as "8000 Vintages", as well as in hotels and restaurants in Tbilisi and other regions of Georgia. In addition, customers can buy wine and chacha online through our social media official page.
How is it possible for people living abroad to buy your wine?
TSV Winery's wine can be purchased at the online sales platform www.tikawine.com, which was activated in the Kingdom of the Netherlands a few months ago and operates successfully. It is logistically flexible and allows us to reach customers in Europe, Asia and in United States.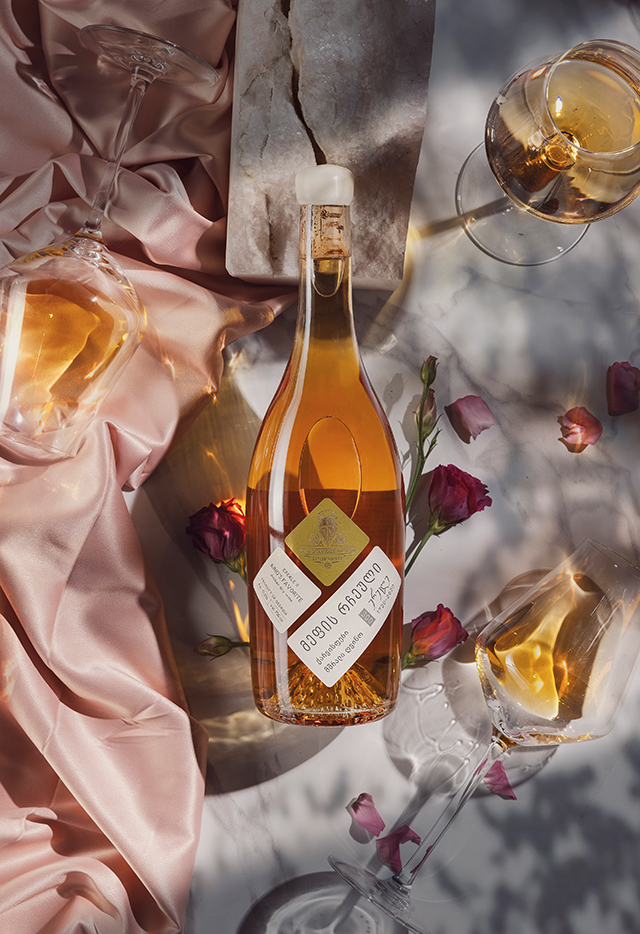 What are your future plans?
We have short-term and long-term plans for entering new markets, but for me, as a Georgian living abroad, the most important thing is to take active steps to popularize Georgia and Georgian wine along with business operations, and this is not just about product sales. This activity is connected with a very important mission for our company, in which all Georgians should contribute and help Georgian wine to take a worthy place in the international arena. My company and I have implemented a number of events to promote Georgian wine and we plan to implement large-scale projects in the future. Our goal is for as many people as possible to hear that Georgia is the homeland of wine and to carry this honorable historic legacy only with high quality and interesting wine.
You won a new brand nomination at the Georgian Brand Awards. What is the key to your success?
It was a great honor for me and my colleagues to win this nomination, and I'm glad that our activities in Georgia and abroad merited such an evaluation. Winning the nomination for the "Most successful new brand of the year" is a great incentive for us to introduce our history to even more foreigners with historical wine.
Interview by Mariam Mtivlishvili