The premiere of Daisi in Tbilisi Opera and Ballet State Theater was a great triumph. At the end of the performance, the audience could not hide their excitement, shouts of "Bravo" and long-standing ovations did not slow for a long time. April 29 and 30 was a real celebration of music and art. Everyone was at the height of the call – young soloists of the theater, people's artists of Georgia, choir, orchestra, and Georgian National Ballet "Sukhishvili."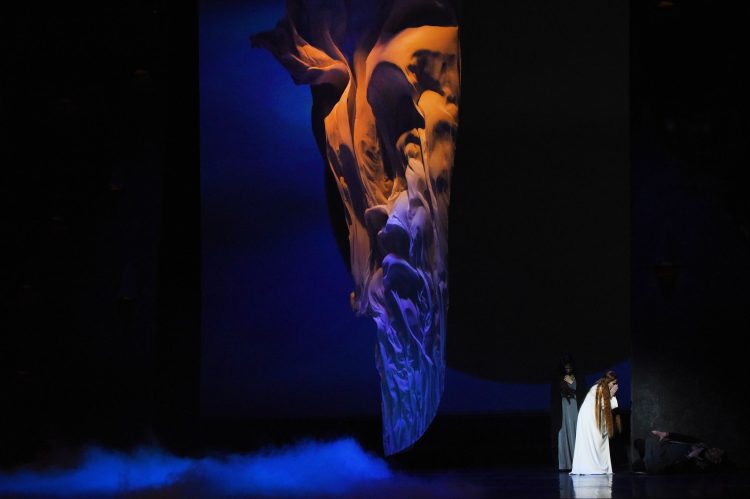 100 years have passed since the first staging of Daisi. To coincide with this anniversary date, Tbilisi Opera and Ballet Theater premiered the new production of the performance.
"100 years have passed since the premiere of Daisi," said Revaz Takidze, conductor. "We have been preparing very carefully for this anniversary date. This is a new production. Daisi is a favorite opera, not only for our theater, but for everyone. What makes it so special? It has an extraordinary libretto. Musical-scenic features are wonderfully formed, which one rarely sees in other operas. The whole musical community has been waiting for the return of this opera."
"We were very worried, first of all, because Daisi has not been staged on the Georgian stage for a long time," noted Gocha Kapanadze, stage director. "On the other hand, it is 100 years since this opera was written. This opera should have been staged by Gizo Jordania. Now I, his disciple, had to stage it. Great singers, great painting, great choreography. In this opera, the love story with its tragedy is intertwined with the fate of the homeland. All this has been seen in a new way, more drama was created, and more intense feelings appeared in the relationship. The intermezzo of "Tavo Chemo" was performed for the first time, which was never heard after Paliashvili's performance, which is both an additional charge and an additional responsibility for us. I would like to thank Badri Maisuradze, the artistic director of the theater, for expressing such trust in me. It has been my dream for a long time to stage a play in an opera house."
"Daisi is seen in a different way. I have no carts here, I have no peasants and princes. Here the chorus is the mass that forms the background," said Georgi Aleksi-Meskhishvili, scenographer, author of lighting and costumes. "The idea was to convey the theme of Pshav-Khevsureti in costumes and decorations. There are more symbols here – the sun, and the tree, which allow for abstraction. I didn't want to repeat what others have done. It took one year for my side to make this play, to think, to make a model and costumes, to perform. A lot of work has been done. It's one thing to make a mock-up and set, and it's another thing to set it up and use it on stage."
"For great Iliko, my grandfather, the Tbilisi Opera was like home, his career began here, he met Nino here, and many things connected him with the opera," said Iliko Sukhishvili, choreographer. "In Georgian operas, where there were Georgian choreographic parts, Zakaria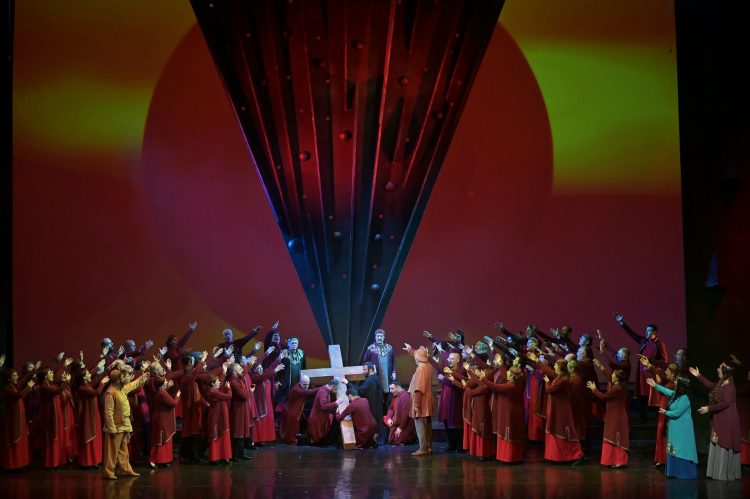 Paliashvili called my grandfather and they worked together on these operas. Back then there were real premiers. 100 years have passed since then. This is certainly a great responsibility for us. The music is classical, you can't change that and therefore the choreography doesn't change much. We tried to restore the dances without changing the classical style and to give them the characteristic, feeling, and environment that accompanies the opera, Daisi. For me personally, this is my favorite opera among Georgian operas. All dancers participate in this project with great joy."
"It is especially significant that 100 years ago the great Iliko Sukhishvili participated in staging dances and a 16-year-old boy himself, danced the leading parts in this opera," noted Nino Sukhishvili, Director of the Georgian National Ballet Sukhishvili. "Zakaria Paliashvili would arrive at his home in a phaeton and bring him to rehearsals. Now it seems like history is repeating itself. 100 year later, the younger Iliko Sukhishvili choreographed Daisi. This is a more modern solution."
"I am very happy that Daisi returned to the Tbilisi opera scene because Georgian people love and miss this opera very much," said Tamar Chkheidze, a descendant of Zakaria Paliashvili. "I enjoyed this wonderful production tremendously. Many thanks to the management of the theater for such a gift."
"Today is a special day, a national holiday," said Nana Pachuashvili, actress, People's Artist of Georgia. "As soon as the curtain opened, the audience was into the show. Do you know why? Because Daisi is Georgian, it is national. And when you see it, you get emotional. I would like to congratulate the theater on this success. Today is a holiday in the opera house."
"Daisi by Zakaria Paliashvili is our treasure," noted Marina Kakhiani, actress. "I am very happy that I had the opportunity to attend the 100th anniversary. Great singers, great staging, great art."
The next premiere of Daisi will be held at the Tbilisi Opera and Ballet Theater on May 5, 6, 7, 12, 13, 14.