CENN's momentous 25th anniversary coincided with a grand celebration held on June 5 at the iconic Stamba Hotel Rooftop. The event, dedicated to both World Environment Day and CENN's remarkable journey, drew together a distinguished gathering of diplomats, global development professionals, government officials, passionate environmentalists, media representatives, and influential business personalities.
Since 1998, CENN has been working with local communities and governments on regional initiatives to promote sustainable development and green growth. They have implemented up to 300 projects in the South Caucasus and laid the foundation for a greener future for all.
"We are honored to celebrate CENN's 25th anniversary on World Environment Day, which calls on the global community to create positive change through environmental actions," said CENN Executive Director Nana Janashia as she welcomed the guests. "World Environment Day is the biggest international day for the environment, initiated by the UNEP 50 years ago. It is the largest global platform for environmental outreach and is celebrated by millions of people across the world. Today, we unite under the theme 'Beat Plastic Pollution,' a call to action that resonates across borders, cultures, and sectors. Plastic pollution has reached alarming levels, endangering our ecosystems, wildlife, and even human health. But we are not here to complain about it or dwell on the problem; we are here to confront it head-on," she said, going on to thank the CENN team, partners, and donors present at the event.
"Your backing is instrumental in our efforts to advocate for policy changes, mobilize resources, and create an enabling environment for good governance and sustainable development. Your commitment to our cause empowers us to keep pushing forward, despite the challenges we face. Together, we have achieved incredible results to raise public environmental awareness, promote resource efficiency and circular economy, stimulate renewable energy, support sustainable agriculture, enhance waste management, protect biodiversity, and galvanize youth support for green values!" Janashia said.
Representatives from pivotal embassies in Georgia took center stage as they spoke of their profound objectives and strategic blueprints to propel environmental causes within the nation. A resounding tribute to their countries and organizations emerged, accentuating their roles in advancing Georgia's environmental agenda and driving the noble aspirations of the United Nations' Sustainable Development Goals (SDGs). A captivating glimpse into the diverse array of strategies and initiatives undertaken by stakeholders in the environmental realm ensued, enlightening guests with appealing prospects for future collaboration and partnership.
Minister of Environmental Protection and Agriculture of Georgia Otar Shamugia was in attendance, alongside Solomon Pavliashvili, Deputy Minister, signifying and speaking about the commitment of the Georgian government to environmental sustainability.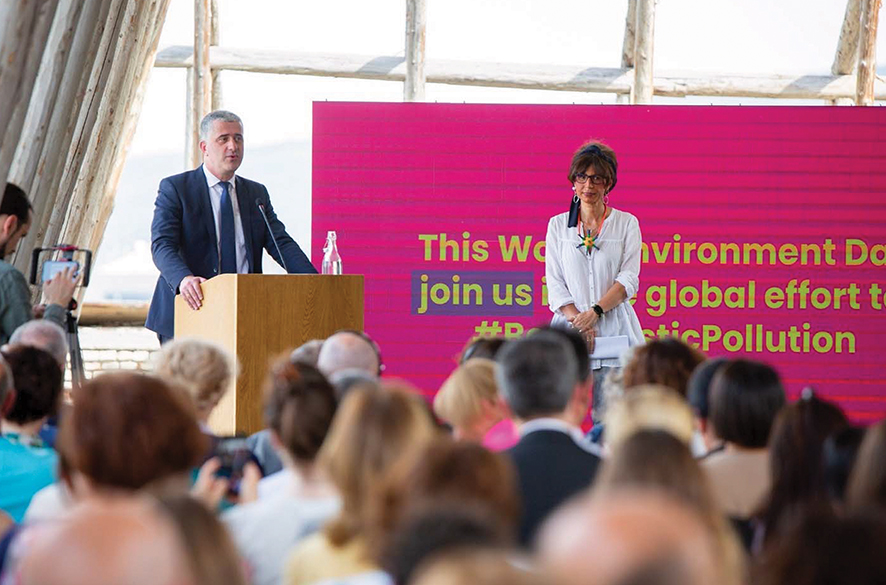 "This world is for everyone, and Georgia's part in protecting it is no less," Deputy Minister Pavliashvili noted. "I believe the steps and reforms our government is working on will see positive results toward our goal to move closer to the EU and its sustainable development goals. We are ready today, tomorrow, to do what we need to do for a clean environment, prevention of climate change, to improve waste management, and to educate our youth to take this responsibility into the future."
Pawel Herczynski, the Ambassador of the European Union in Georgia, which is CENN's largest donor, addressed the audience, underscoring the enduring commitment of the EU to its longstanding partnership with Georgia and the nation's resolute environmental aspirations aligned with the United Nations' Sustainable Development Goals.
"'Take care of the Earth and she will take care of you'—a mantra often echoed but seldom truly heeded," queried Ambassador Herczynski, challenging the audience. "We are urged to 'Reduce, Reuse, Recycle,' but do we truly respond?"
As the world marked World Environment Day, the ambassador urged a collective action, emphasizing the profound interdependence between the planet's well-being and our own. Gratitude was extended to the Georgian government, the nation's civil society, and the commendable efforts of CENN for their unwavering commitment. Ambassador Herczynski reminded all that environmental degradation respects no borders, thereby necessitating a unified and collaborative effort to combat it.
Actively championing Georgia's environmental journey, the European Union has remained a stalwart partner, collaborating to safeguard landscapes, foster sustainable agricultural practices, generate economic growth opportunities, and more. Recognizing the transformative potential of civil society, the EU, in concert with CENN and the Georgian government, reaffirmed their unwavering support for green policies, the promotion of sustainable consumption, and initiatives that empower local communities.
"We believe in the power of civil society as a catalyst for positive change. The EU, in partnership with CENN and the Georgian government, will continue to advocate for green policies, promote sustainable consumption, and support initiatives that empower local communities. CENN's dedication inspires us to do more and do better for our environment," noted the Ambassador.
Ms. Rian Harker Harris, Deputy Chief of Mission at the US Embassy Tbilisi, highlighted the collaborative efforts between the green team and CENN in tackling the "Beat Plastic Pollution" challenge. Additionally, the USAID team has been working diligently with CENN to promote recycling programs across Georgia, fostering a culture of responsible waste management. These endeavors exemplify the shared vision of governments, civil society, and individuals coming together to address climate change.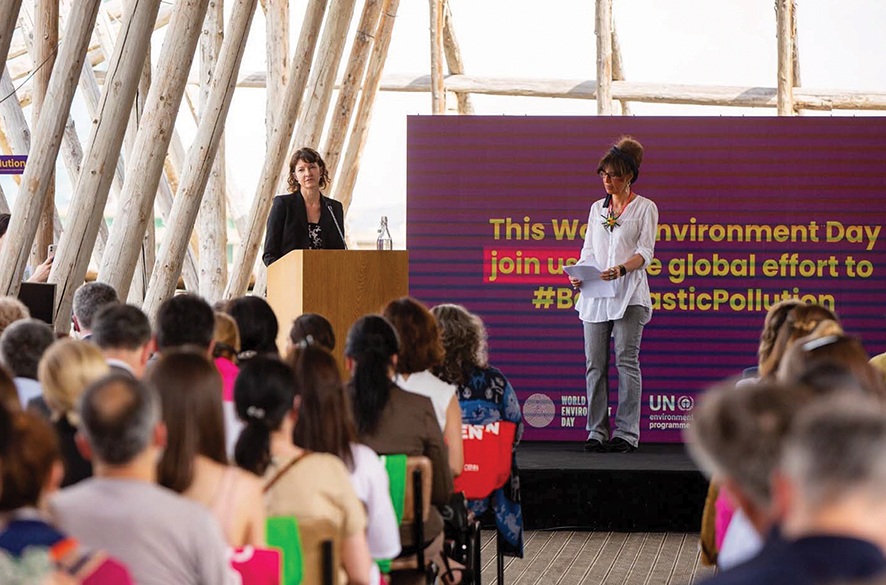 "The Biden-Harris Administration has made environmental protection and climate action a priority," Ms. Harris underscored. "The US is actively engaged in the development of National Parks and Protected Areas in Georgia, preserving the nation's natural landscapes for the benefit of all. Furthermore, collaboration with civil society partners and the forest service aims to mitigate the effects of deforestation and preserve biodiversity. The US also seeks to attract investment in renewable energy sectors such as wind, solar, and hydro, capitalizing on Georgia's abundant natural energy resources."
Ambassador Maaike van Koldam of the Kingdom of the Netherlands emphasized the importance of shaping the future through collective action. The Netherlands supports CENN in cultivating a strong and vibrant civil society, witnessed through the formation of eco clubs in schools across rural areas. Ambassador van Koldam expressed admiration for Georgia's environmentally conscious school children, who have taken up the responsibility of saving the planet. She emphasized that working together is the key to driving meaningful change.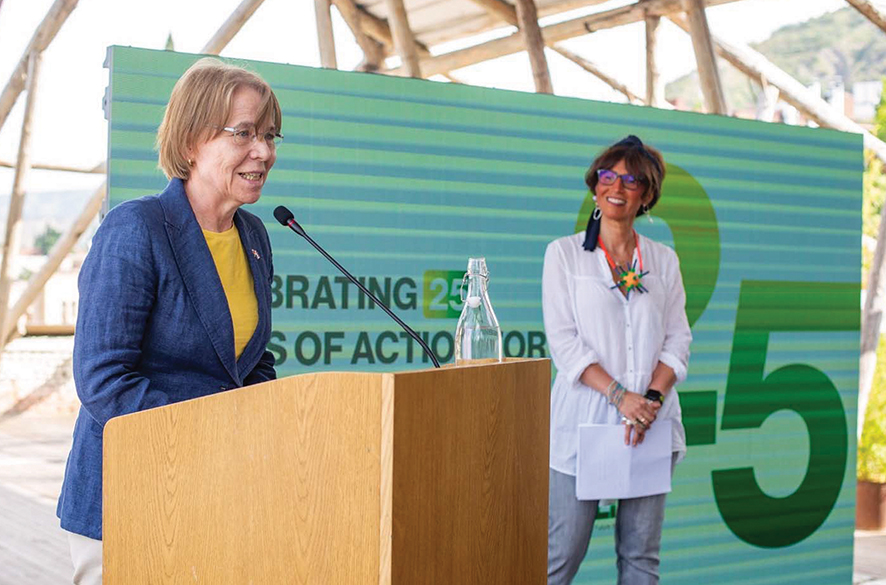 Marko Soldic, Charge d'Affaires of the Norwegian Embassy, highlighted the transformative potential of green transitions and the vital role played by investors, policymakers, and activists. Notably, the youngest generation is spearheading change, driving the global shift toward sustainable practices. He noted that Georgia and Norway can draw inspiration from larger trailblazers such as the EU, US, China, and India, and, by adopting well-designed regulations through the Association Agreement, Georgia can embrace pragmatic changes that improve the lives of its citizens.
Alexander Karner, Head of the Austrian Development Cooperation (ADC), commended CENN for its multi-faceted approach and its remarkable work with youth, particularly in rural areas. "The establishment of eco clubs in schools serves as an inclusive advocate for environmental protection. Additionally, CENN's policy work has helped foster a culture of compromise, facilitating delicate discussions on environmental issues," he noted.
Lidija Christmann, Head of Development Cooperation at the German Embassy, emphasized the successful collaboration between Germany and CENN in waste management and the promotion of forest sector reform. The German government, through CENN, provides capacity-building support and plays a crucial role in environmental and biodiversity protection, climate action, and greenhouse gas reduction. This partnership exemplifies the commitment to fostering positive changes in the lives of ordinary people.
Sweden, through the "Save the Nature Georgia" program, collaborates with MEPA and other agencies to comprehensively address challenges related to biodiversity protection and restoration. Recognizing Georgia's progress in adapting its regulatory framework, Erik Illes, Head of Development Cooperation and Deputy Head of Mission at the Embassy of Sweden, stressed the need for a robust government management system to ensure sustainable reforms. "Despite improvements in waste collection, there remains a gap in translating aspirations into tangible action," he said.
Sabine Machl, the UN Resident Coordinator in Georgia, highlighted the global plastic pollution crisis and Georgia's contribution to it. Astonishingly, the world produces 400 million tons of plastic annually, with only 10% being recycled. In Georgia alone, over 900,000 tons of waste is generated each year, with more than 75% ending up in landfills. Recycling programs are in place, but there is a pressing need for further expansion and diversification away from plastic. Ms. Machl stressed the importance of collective action in addressing gaps and fulfilling climate commitments.
These thought-provoking statements and remarkable statistics serve as a reminder of the urgent need for collaborative efforts to safeguard our environment. The event at Stamba Hotel Rooftop brought together diverse voices, united in their dedication to a sustainable future.
The celebratory event held on June 5 went beyond mere festivities, delving into insightful panel discussions on key aspects of Georgia's climate change policy, green economic growth, sustainable rural development, and youth empowerment. The distinguished panelists, comprising representatives from public agencies, civil society, and the business sector, shed light on these pressing topics, fueling the conversation with their expertise and innovative ideas.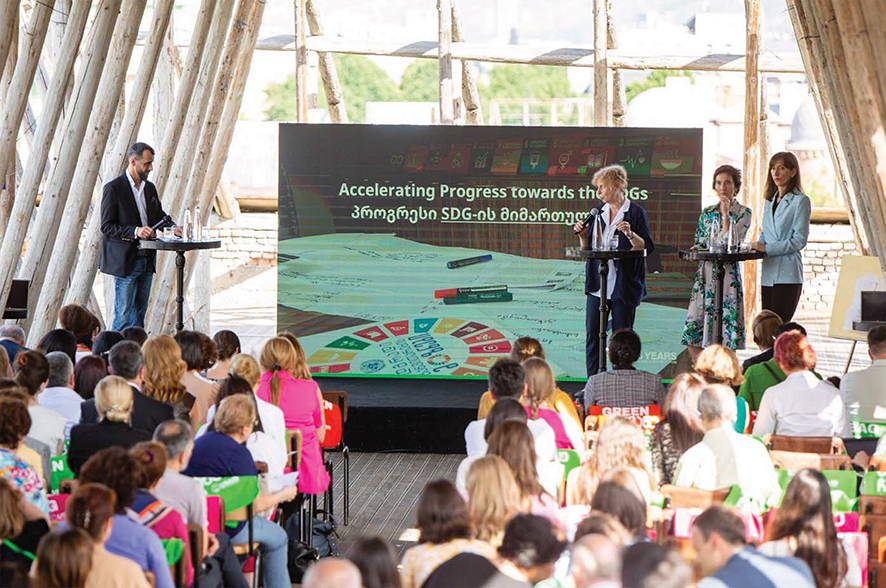 The first panel, titled "Climate Change, Environment, and Energy," kicked off with Nino Tkhilava, Head of the Environment and Climate Change Department at MEPA, who shared insights on "Driving Climate Action through Multi-Stakeholder Dialogue." The discussion then shifted to the "Long-Term Low-Emission Development (LED) Strategy of Georgia," presented by Nino Antadze, UNDP's Team Leader for Energy and Environment Portfolio. Natia Tsikaradze, Head of SDGs Council Secretariat, addressed the audience on the topic of "Accelerating Progress towards the SDGs," while Carl Amirgulashvili, a representative of MEPA, delved into the theme of "Harnessing Nature-based Solutions (NbS)."
The second panel, skillfully moderated by Irine Kikvadze, an energy efficiency expert and Procredit Bank of Georgia representative, focused on "Green Growth and Rural Development." Elene Margishvili from IRAO, Vienna Insurance Group, discussed the crucial role of the private sector in advancing sustainability. Giorgi Abuladze, representing Keda LAG, one of EU's astounding legacies for empowering local communities and socio-economic conditions, delved into innovative approaches for community-led development. Naira Bolkvadze, a member of Women Agricultural Cooperative Green Maradisi, highlighted the importance of "Climate-Resilient Agriculture: Strengthening Rural Livelihoods in a Changing Climate."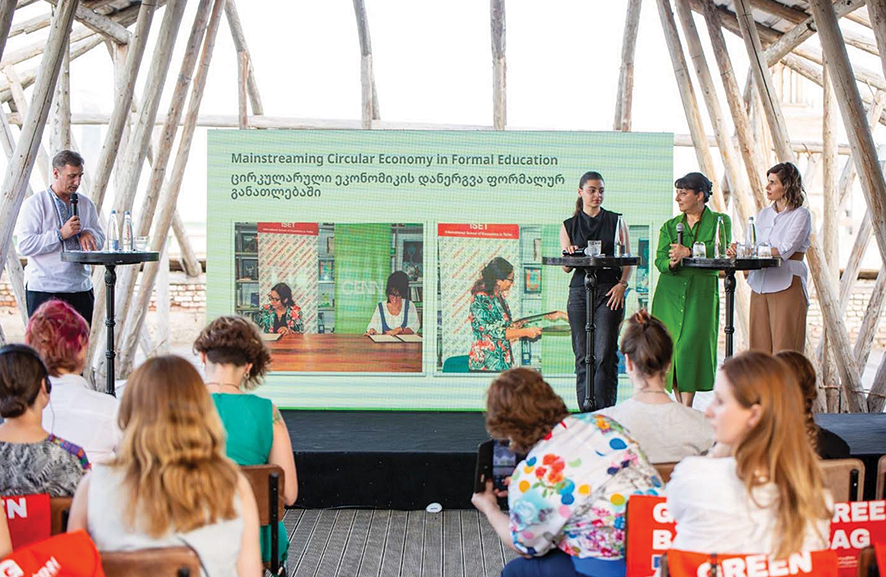 The third and final panel, moderated by Lado Apkazava, Chibati School, Teacher of the Year of 2017, ignited a whirlwind of emotions within the audience, and was nothing short of a captivating symphony of empowerment and inspiration. The panel, named "Youth Development and Women Empowerment," brought together a formidable lineup of trailblazers who stirred the hearts of all present. Tamar Sulukhia from ISET spoke of the introduction of a circular economy master's degree for the first time in Georgia, while Samira Bairamova, a fearless activist from Marneuli, exuded a raw courage that resonated with the room when she spoke of her own experiences as an activist and bridging the gap between the Georgian society and ethnic minorities. Mariam Abramishvili, a beacon of hope and an embodiment of dedication, representing Sachkhere #2 Public School, also touched the audience when she spoke about her personal journey through the Niko Ketskhoveli School Awards.
During the event, Nana Janashia, CENN's Executive Director, issued a powerful call to action, urging politicians, municipalities, companies, and civil society groups to join forces in the battle against environmental degradation and plastic pollution. Janashia emphasized CENN's remarkable journey of 25 years at the forefront of environmental protection and sustainable development in the Caucasus region. With a team of 70 dedicated individuals, most of whom are younger than CENN itself, the organization brings fresh perspectives, innovative ideas, ambitious goals, and unwavering passion to the table.
CENN's impact extends far beyond the capital, reaching all regions of Georgia, and even expanding its efforts in the broader Caucasus region. Through collaboration with partners, CENN has successfully implemented approximately 300 projects, transforming lives and landscapes. Guided by values of integrity, diversity, collaboration, and a positive approach, CENN unveiled a new strategy during the event, aiming to amplify its impact and effect change on a larger scale.
"Together, we must and will beat existing challenges, not only for ourselves but for future generations, who deserve a healthier, fairer, and more sustainable world."
***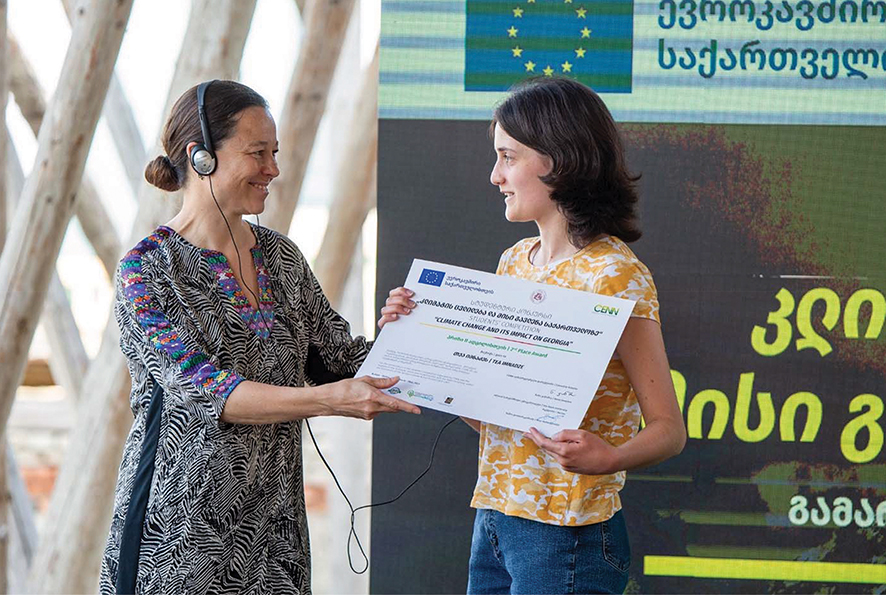 Before dinner and networking, the guests got to enjoy the awards ceremony of students participating in the competition "Climate Change and its Impact on Georgia." Click here to find out more about the competition and to see who won.
BY KATIE RUTH DAVIES