CENN, with the support of the European Union and in partnership with Ilia State University, within the framework of the "Georgian Climate Action Program (GEO-CAP)" project, ran a student competition on the preparation of scientific articles on the topic of climate change.
On June 5, World Environment Day and CENN's 25th anniversary, the winners were awarded.
The aim of the competition was to raise awareness of climate change issues in the field of academia and to encourage scientific orientation among students. Articles created by participants needed to cover the consequences and risks caused by global climate change in relation to Georgia and be based on desk research, review and analysis of recent articles on climate change.

Suggested topics included:
• Climate change and adaptation
• Climate change and mitigation
• Climate change and natural disasters
• Climate change and biodiversity
• Climate change and water resources
• Climate change and climate-smart agriculture
• Climate change, energy efficiency and renewable energies
The articles were evaluated by a competent jury consisting of representatives of CENN and Ilia State University. The authors of all articles that passed to the second stage were given a certificate of participation, while the 10 highest-scoring articles were presented and the winning three authors were awarded (1st place – 1500 GEL, 2nd place – 1200 GEL, 3rd place – 1000 GEL).
3rd place went to Maka Papashvili, from the National University of Georgia, with the theme "Agriculture resistant to climate change and its development in Georgia," was awarded 1000 GEL and a certificate from the EU, CENN & ILIuni.
2nd place went to Tea Imnadze, from the Agricultural University, who wrote on the theme "Climate change affects grape and wine plants and intelligent viticulture." She was awarded 1200 GEL and a certificate from the EU, CENN & ILIuni.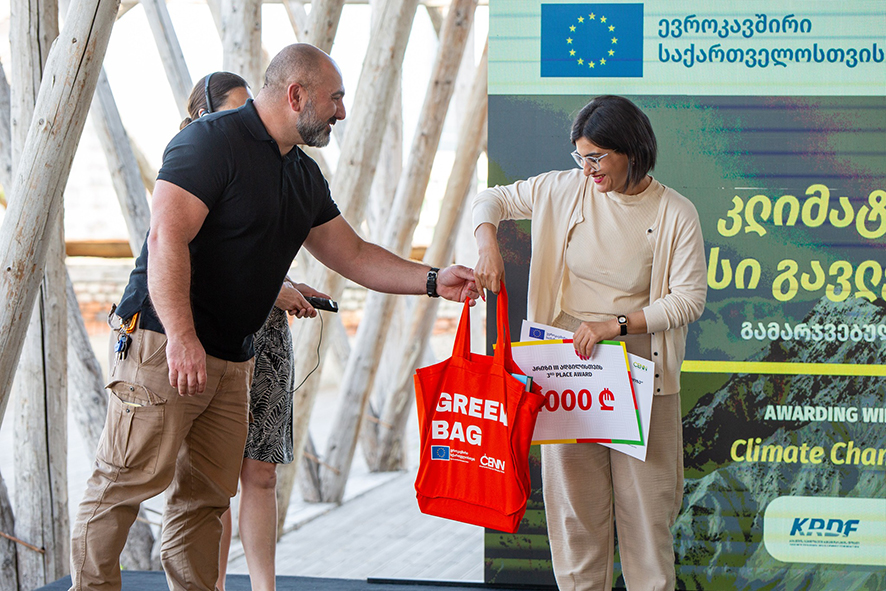 In 1st place was Mariam Kiladze, from Ilia State University, with the topic "Biochar and climate agriculture in Georgia". She won 1500 GEL and a certificate from the EU, CENN & ILIuni.
The competition was organized within the EU-funded project "Georgia Climate Action Project (GEO-CAP), which is being implemented by CENN with its partner organizations KRDF, ACU, YPU, and RLS-ADA. The project had four focal regions in Georgia: Guria, Imereti, Kakheti, and Racha-Lechkhumi and Lower Svaneti.
By Katie Ruth Davies