We can eat out again at last! Not just chilly picnics in a park, but at a table, with friends and friendly service, after which someone ELSE does the washing up! It's exciting, and to celebrate, we've compiled a list of suggestions of where Tbilisians can head for a bite out.
GREEN TERRACE
The dishes in the restaurant are carefully chosen from the cuisines around the world and put together creating a wonderful fusion of various tastes. We highly recommend trying one of their burgers on the cozy, beautifully decorated terrace [see main image], which is also a great place to head for sweets and coffee, too!
Expect to be served by friendly and welcoming staff.
11 Kekelidze Street, Vake, Tbilisi
(+995) 32 224 02 03
ZALA RESTAURANT & CELLAR
Zala expertly combines class, coziness and traditional Tbilisi dining with friendly, professional service and top notch food and presentation. Sit back in their brick-and-leafy interior, or enjoy their terrace as you choose from a menu of burgers, pasta and classy fusion dishes presenting only the best of Georgian cuisine.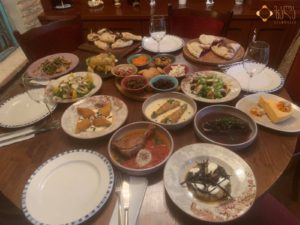 We particularly recommend the warm salad of wood mushrooms with tarragon and green beans and fried potatoes with Imereti cheese sauce. One guarantee: you'll be back for more!
12 pm to 8 pm
2, B.Belinski Street, Tbilisi
(+995) 599 19 01 24
MZIURI CAFÉ
Escape the city and head down into the green calm of Mziuri Park for coffee or lunch. The café serves healthy vegetarian/vegan-friendly food, so not only will you be escaping the stress of city life there, you'll also be doing your body a favor!
Staff are friendly and fun, offering professional service in a warm and welcoming environment.
Mziuri Park, Chavchavadze Avenue, Vake, Tbilisi
11 am – 8 pm
(+995) 577 68 75 75
SHAVI LOMI
The Shavi Lomi terrace offers a sparkly, green, natural and cozy place to dine with your friends. Shavi Lomi is renowned for being among the first to turn traditional Georgian cuisine on its head, and now offers top fusion dishes to delight all with excellent taste.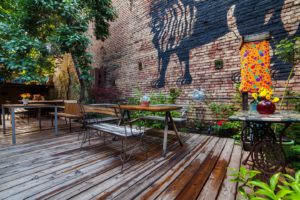 30 Qvivlividze Stree, Tbilisi
(+995) 32 296 09 56
TEA HOUSE
Both locations offer great outdoor seating- either facing the Opera House (Lagidze) or in the garden surrounded by greenery (Kiacheli). Service is friendly and professional, and the menu vast and sure to have something to please everyone.
Noodles, pizza and pasta, salads, soups, waffles and pancakes! And of course, plenty of tea and coffee to help you digest it all!
1 Kiacheli Street,  2 Lagidze Street
(+995) 591 80 11 77
GRILL MORE
The best option for choice cuts of meat, perfectly fried and presented fries, generous portions, and plenty of beer to enjoy with your friends. Service is friendly and professional and the terrace is located street-side but pleasantly enclosed with greenery.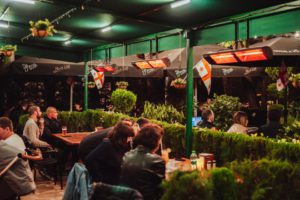 39 Kavtaradze Street
10 Chavchavadze Avenue
(+995) 32 283 83 80
FABRIKA COURTYARD
Once a soviet sewing factory, the buildings and internal courtyard have been repurposed and transformed into a multifunctional urban space that attracts a mixed and fun-loving crowd in any weather.
Their spacious courtyard comes highly recommended for meeting friends during the worrisome covid times, as tables are well spread out. Check out some of their resident eateries below.
8 Egnate Ninoshvili Street, Tbilisi
Choose from a variety of hot coffees to start your day, smoothies, milkshakes and tea. Then grab a crepe or waffle…just because.
(+995) 577 30 33 22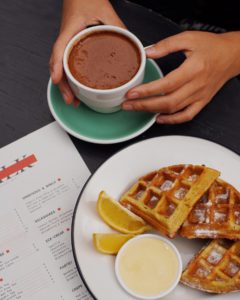 As advertised, they offer handcrafted burgers and their essential sides, fries, salads, created using only fresh, local products. Reviews are mixed, with some claiming it the best and others complaining of slow service or over-fried sides, but our personal experience has always been great there.
(+995) 32 256 05 59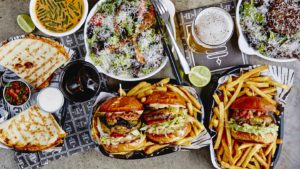 For class, cheese and wine, Tone is where you need to head. Pictured is a classic example of the magic they offer: Chicken pate, beef pate, cheese from Marletta farm, ham, Roquefort butter, home-made dried tomatoes, olives, pickle, walnuts, home-made fig jam, grapes, bread and biscuits.
(+995) 32 290 09 29
Ukve offers affordable and tasty sushi, noodles and rolls to delight all Asian food lovers, with delicious options for vegetarians too.
(+995) 32 242 04 42