From almost any vantage point in central Tbilisi, you can look up and see the pine forests of Tbilisi's iconic Mtatsminda Ridge turning brown. The culprits killing the trees include fungi, pests, miscalculated planting, and climate change. But work is underway to revitalize Tbilisi's "urban forest," led by the Development and Environment Foundation, under an agreement with Tbilisi City Hall and funded by the Cartu Foundation. This four-year project will enhance the forest's resilience, reduce natural hazards, and improve recreational infrastructure.
In the coming years, between 500,000-800,000 trees of nearly 40 different species will be planted on Mtatsminda Ridge, as will a system of irrigation to ensure its longevity.
Cartu Fund, established by Bidzina Ivanishvili, former Georgian PM and Chairman of the Georgian Dream party, is to fully finance the restoration of 700 ha of the forest, a project estimated at 16 million GEL.
GEORGIA TODAY spoke to Nikoloz Chkhetiani, Chairman of the Supervisory Board at Cartu Fund following the official announcement last year, and contacted him again this autumn for an update on the project.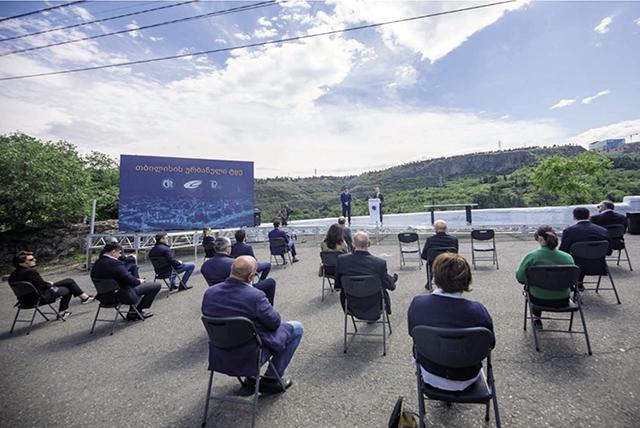 How big is the area earmarked for replanting, and where is it located?
It will span an area of 700 ha (7 square kilometers) from the Mother of Georgia statue on the Sololaki Range to Mount Mtatsminda, including the Vera Range and Turtle Lake.
When will the project start and how long will it last?
Preliminary planning was started in January 2020. The pandemic put that on hold, however, and we couldn't announce our project until the summer as, of course, everyone was focused on the pandemic. It's a long-term project that is expected to last around four years. This may be extended as necessary: this is difficult to calculate, as is the budget. 16 million GEL is the number we have at the moment, but it could ultimately increase.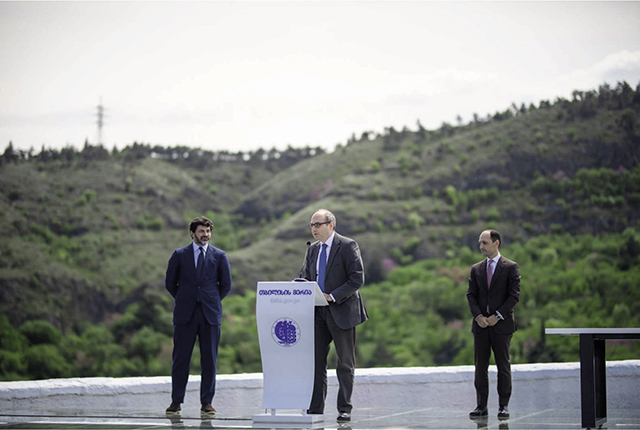 Why was it decided to fund this project?
Cartu Fund is a large charitable foundation that is also the oldest in Georgia. We fund hundreds of different projects in many directions- in 20 years we have given $3 bln to charitable causes in many spheres of life: culture, sports, science, education. The environment is very important to us as well, and we have funded many projects in various Protected Areas of Georgia, among them Vashlovani, Tusheti and Lagodekhi, so the environment and taking caring of it is nothing new for us. Tbilisi has a big environmental problem, which has built up over the decades. People can clearly see many dried-up or dead trees. Our once green capital is becoming ever dirtier, making this the right time to begin a project like this. Furthermore, Mtatsminda is one of most import sightseeing destinations in Tbilisi and we must protect it and ensure that it is as green as we remember it to be from our childhoods, for both citizens and guests.
What part of the project will deal with the forest and vegetation, and what part will concern infrastructure, such as pathways and picnic shelters?
There will be no concrete or brick, that is to say, permanent, structures. There will be tourist walkways, cycle tracks, and temporary eco-friendly infrastructure installed for picnics and such. The rest will be greenery.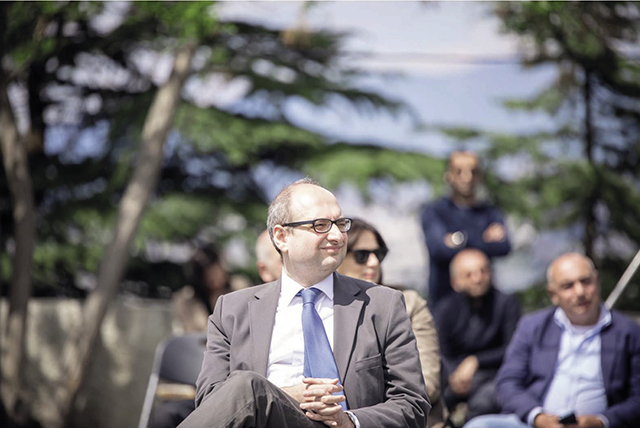 What challenges do you expect to face?
Mtatsminda has not always been green. It used to be a forested area during the medieval period, but over time, people used the woods for their own ends and this led to deforestation. Photographs from the 19th and early 20th centuries clearly show the mountain to be "bald" – mainly featuring grass, with hardly any trees. In the 1950s-60s, the Soviet government started to plant vegetation on Mtatsminda, and while we are grateful to our fathers and grandfathers who actually carried out this work, mistakes were made.
Some of the trees that were planted there were not endemic to Georgia, and being in a non-native habitat reduced their natural longevity. And everything was planted within a few years of each other, which is one of the reasons we are seeing them dying off en-masse, at the end of their lifespan. Other factors are also involved here: some trees are diseased or have pests. Not all of the trees on the Mount are dying, though, as some species are more resistant to environmental factors.
Choosing the correct vegetation to be planted there was one of our first challenges. We don't have the luxury to make mistakes and choose plants that will not survive beyond a few decades. It was the responsibility of our specialists to select endemic species, grown in Georgia-based nurseries. Anything brought from abroad will have already been tested in Georgia and will be known to be able to survive here. Cedar, for example, has been shown to be incredibly resilient in the Georgian environment. They live over 100 years, are healthy, grow large, and are very beautiful. We aim for diversity, but our focus is on plants that are endemic to Georgia. This essentially guarantees their survival. Their size and age at planting will depend on the species and will be based on specialist recommendations.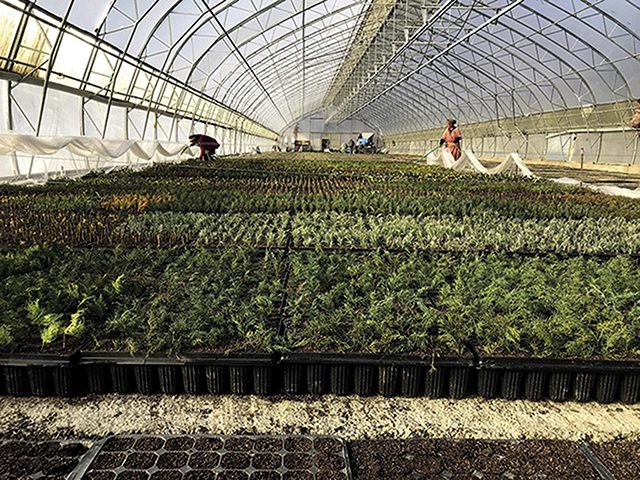 Tell us about the initial stages.
This is a long-term project set to last around four years. This deadline may be extended as necessary, and the budget may be increased if needed. Our goal was to begin the first wave of planting in autumn 2020.
Prior to that, we needed to remove the sick, damaged, and dead trees, and do so very carefully so that no diseased matter or pests are left behind to infect the remaining healthy trees.
If you look at the Mount, you can see entire swaths of dead vegetation, which indicates a monoculture of tree species; other areas, those with mixed species, have already evolved, meaning the removal of dead trees in those green zones will be barely noticeable. However, removing dead or diseased trees from those large areas will render a part of the Mount decidedly bare for a period of time, much like a desert.
Next, we will have to install a special irrigation network, which will be a costly endeavor. Our climate doesn't allow us to plant this vegetation and walk away, so this is a highly important step.
The walkways, lit in hazardous areas and featuring safety barriers, will be set up in parallel with the planting activities. In fact, dirt tracks, which make for interesting walks, already exist there. You can walk from Bombora (Mtatsminda) Park to Turtle Lake within two hours. For those in the city, the thought of walking to Turtle Lake on foot in just two hours, or at all, is hard to imagine; this is a journey usually taken by car. But the paths do exist and there's no need to wait four more years to enjoy them!
What are your main aims with this project?
This is a difficult project that consists of many diverse directions. Our ultimate goal is to stop the degradation of the vegetation. We've been working with top specialists from all over the country to study not only the landscape and vegetation, but also the fauna that is living or can live there. We want to bring back species that we lost, such as the legendary pheasant, for example [shot down in the 5th century by King Vakhtang Gorgasali, which led to the founding of Tbilisi as the capital city].
Who will be responsible for maintaining the area?
Tbilisi City Hall will grant this area the status of Urban Forest and take over its management. That means that the privatization of land plots will be forbidden and the area will be preserved for future generations due to this status. There will be no chance to buy plots of land for private houses and holiday homes, nor will hotels or restaurants be built there. The location will only feature eco-friendly infrastructure: walkways, picnic areas, and such. We're aiming for a minimum of civilization and carefully designed infrastructure that does not affect the feeling of wilderness and pure nature.
With City Hall taking over the responsibility of cleaning and maintaining the area, they will be the ones to elaborate the relevant plan. Part of the project is to clean the area and remove the garbage that accumulated there over the years.
Our intention at the onset was also to involve students and schoolchildren, getting them to assist with planting, or perhaps cleaning activities. We also have contacts in the universities of Tbilisi and there are many who would like to get involved. Unfortunately, because of the pandemic, this goal has been delayed as, due to Covid regulations, crowded events and promotions have been prohibited. We hope to implement this plan in the future when the situation in the country normalizes.
Are you prepared for criticism?
People often expect immediate results, but we must understand this is a long term project, and results cannot be seen in weeks, months, or even years. It will be tangible only after a long period of time.
A tree cannot grow in a week: that should be clear to everyone. And yet, criticism is often politically motivated, unfair, and aimed at finding a fault with everything we do. Naturally, this is unpleasant for us.
But we have not taken this project on for the sake of popularity: everyone agrees that this [the restoration of Mtatsminda] is something that needs to be done. This comes from the goodwill of the foundation, not the state budget. We'll do our job and time will judge our success.
How did Covid-19 delay and challenge the project?
Due to the Covid-19 pandemic, and cases found among project workers, the implementation of certain works was delayed- even one case meant that the whole group had to move to isolation.
Approximately how many people are being employed during the construction/planting process?
Around 100 people. Locals also have been involved in the working process, giving them the chance to earn additional income due to this project.
What stage are you at in implementation?
As of October 2021, 8 km of trails had been reconstructed from Mtatsminda Ridge to Turtle lake. The felling and planting process is also well underway. During the working process, it was found that more diseased trees had to be cut than that was calculated in the project's initial plan.
What should people expect to see 6 months from now?
As I mentioned above, we have already reconstructed part of the trails on Mtastminda Ridge, which people are already using. Almost 50,000 plants will be planted within the next 6 months- we are going to plant more trees in spring. Our goal is to involve more people in project activities, provided the pandemic situation starts looking up. It is vital to raise awareness about forest ecosystems, especially in the surroundings of big cities, where sometimes nature loses its position to urban development. Here, just a few steps from the capital, everybody can access Tbilisi Urban Forest to enjoy wild nature and picturesque views over the city.
By Katie Ruth Davies