During a discussion held in Bratislava for the Global Security Forum (GLOBSEC), Georgian Prime Minister Irakli Garibashvili stunned European and American audiences when asked what the cause was for Russia's invasion of Ukraine. "One of the reasons was NATO, the expansion of NATO," he asserted, adding that "I don't want to speculate on this, nor do I want to quote the Russian government, but one of the reasons was the will and intention of Ukraine to become a member of NATO, so we are seeing the results."
The NATO expansion response has been, even prior to the 2022 invasion, the excuse for the litany of overt and covert actions against Ukraine by Russia. The talking point is routinely parroted by pro-Kremlin propagandists and talk shows inside Russia, and continues to be at the nucleus of pro-war messaging.
Sadly, these talking points have even seeped into Western and now Georgian voices.
However, this point has been repeatedly debunked and a brief clarification is due. NATO's "expansion" by admitting new members is only fueled when nation's apply willingly, and these are only admitted after achieving stringent defense, economic, and judicial requirements. Conversely, Russia's expansion has unanimously been one of conquest by force. Crimea, Transnistria, South Ossetia, Abkhazia, Donetsk, and Lughansk never applied in an open and transparent process, but were taken under the boot of the Russian military.
These territories also show that Russia's fear about NATO expansion rings hollow. Georgia, Moldova, and Ukraine (until after the invasion) had little to no potential for NATO membership when they were targeted. In each case, the people of those nations sought protection from the very attack that was launched against them. Simply put, if one continues to abuse its neighbors, then why should that individual be surprised when those neighbors make friends with someone else for protection?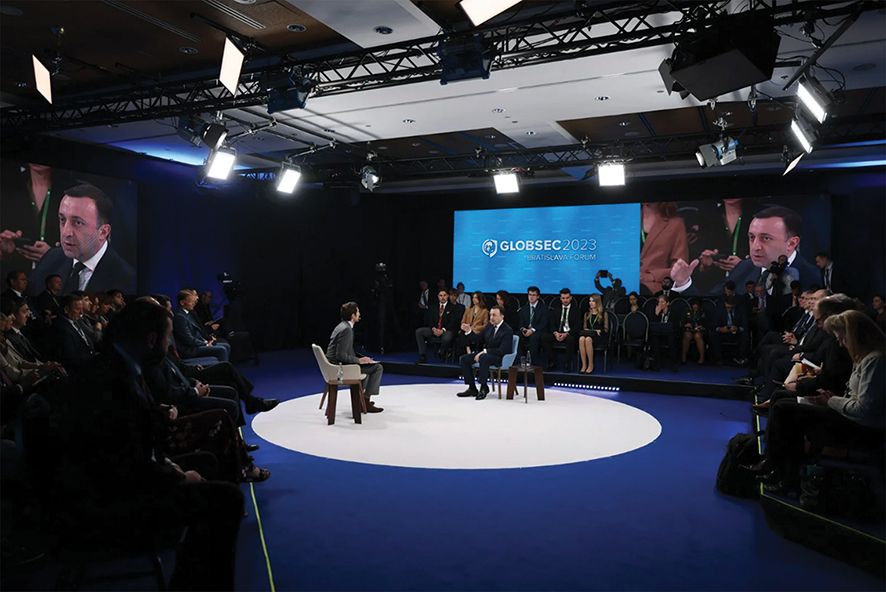 The link, or more accurately the lack thereof, between NATO's open door policy to new members and Russia's fear of encroachment is absurd. For self-loathing pundits in the West to claim that there is some moral fault for NATO and Europe at large is asinine and without foundation. Additionally, for Georgia's Prime Minister, who openly complains about not being given a shorter pathway to the West, it is puerile.
Almost concurrent to the Prime Minister's statements, President Salome Zurabishvili reaffirmed the nation's commitment to European integration. Speaking in Brussels at the European Parliament, she insisted that Georgia was aimed at a "reunification with its European family". She also sternly warned Russia from meddling in the nation's Western aspirations.
"I appeal to Russia, don't try to interfere with the aspirations of the people of Georgia, for Georgia's democracy," she said. "Defense against Russia is important. Even today, Russia continues to occupy Georgia and conducts a hybrid war against the Georgian people." Such a firm rebuke of the Kremlin should be the norm in Tbilisi, yet much of the government stands by the Prime Minister instead.
These dichotomous views on Russia frame the split Georgia is experiencing. Poll numbers still see high support for EU and NATO application. A National Democratic Institute (NDI) poll conducted in and around the capital in March saw 82 percent of respondents in favor of EU membership and 73 percent in favor of NATO membership. However, the ruling party seemingly refuses to capitulate to the wishes of the people they claim to represent.
In his predictably combative tone, Irakli Kobakhidze, chairman of the Georgian Dream party, echoed the Prime Minister's statements, saying "Russia did not like Ukraine's aspiration to join NATO and this was one of the reasons for the military aggression." MP Mamuka Mdinaradze likewise toed the line, reiterating that "yes, Russia is irritated by NATO's expansion, and yes, it is fighting against it." However, a multitude of Members of the European Parliament responded with heavy criticism.
"The current government of Georgia has become a carrier of the interests of the aggressor Russia," MEP Petras Austrevicius shared on social media, adding a call that the West should reassess its relationship with Georgia. A joint statement by 18 of the largest non-governmental organizations in Georgia, including the Human Rights Center and International Transparency-Georgia, responded to Garibashvili's statements with reminders about the reality of the situation surrounding Ukraine and NATO.
"We remind the Prime Minister that Ukraine's membership in NATO is a historical choice of the Ukrainian people, which is confirmed by the Constitution of Ukraine," their statement reads. "We also remind the Prime Minister that the Helsinki Act defines the sovereign right of each country to join any treaty or alliance at its own discretion." The 18 NGOs framed the PM's statements as "completely in line with the Kremlin's narrative" and reminded him that he "represents a state whose people, with an absolute majority" support a move towards the West.
Ultimately, for Georgia, the NATO question is not only one of foreign policy and diplomatic relations, but one of domestic priorities and sovereignty. Additionally, it should act as a call for citizens, diplomats, and the business communities to rally in support of pro-Western initiatives, and urge the government to reassess its incorrect, immoral, and unethical positions on Ukraine and Europe at large.
Op-Ed by Michael Godwin