During my mandate as the Youth Representative of Georgia at the United Nations, I learned about the importance of standing up for all injustices, in our own country, and outside its borders. With that goal in mind, I founded a Georgia-based nonprofit, Network of Former Youth Delegates to the United Nations, which unites like-minded UN Youth Delegates from around the world, and currently operates its programs in Georgia, Bosnia, Indonesia and Afghanistan.
Since the Taliban takeover in August 2021, all girls in Afghanistan have been banned from getting an education. They are not allowed to attend schools or universities. They are not allowed to have dreams and passions. They are not allowed to fulfill their potential and thrive.
I remember sitting in the classroom at Bennington College reading a short news article about this ban on education. The media did not give enough attention to this education crisis at the time- even today, we don't hear much about Afghan women and the human rights abuses against them on the news. As I watched, horrified, from the sidelines, I realized it was time to harness the skills I have to fight for the women and girls who are now completely without education in a country that has been dealing with the ravages of war for over two decades. By connecting with fellow peace activists and UN Youth Delegates of Afghanistan, Hasib Hamdard and Aisha Khurram, I started reaching out to Afghan female students from all over the country. I knew that the goal, to educate women oceans away in a country run by a terrorist organization, was bold, but I also knew it was achievable. Today, that goal has become a reality: My nonprofit's E-Learning Platform in Afghanistan is a response to the education crisis which is taking place in the aftermath of the Taliban's takeover.
Our E-Learning platform seeks to provide internet, digital resources, tech hardware, and college courses to Afghan girls who are forced to meet in secret to access this critical education. We have been operating in Afghanistan since December 2022, enrolling young women from different provinces of Afghanistan back into higher education. Through a partnership with Bennington College and Bard College, we offer students who pass our program college credits that can be transferred or accumulated toward a college degree.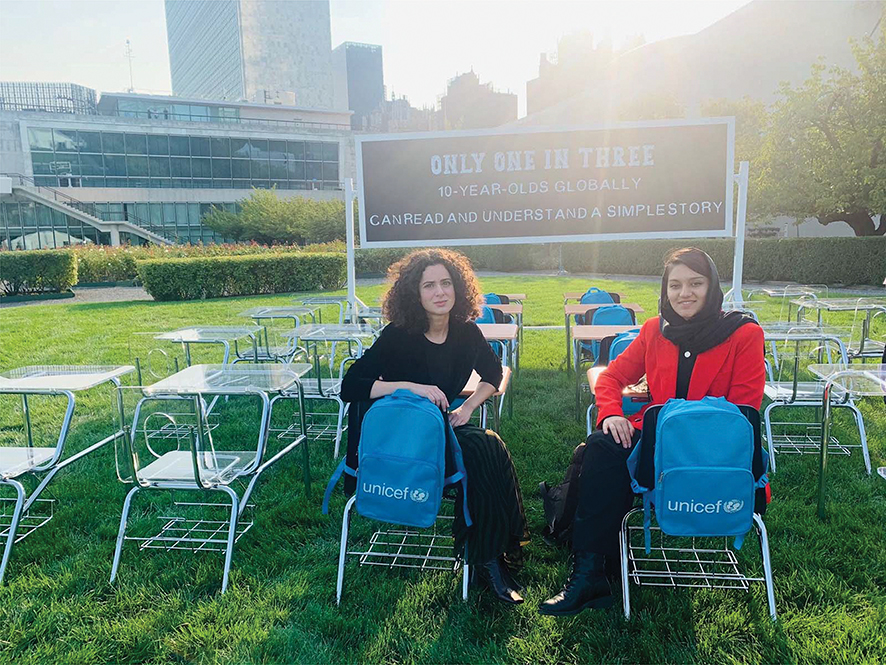 Using an on-the-ground team in Kabul, our E-Learning platform is rapidly expanding operations to girls most affected by the Taliban's abuses. Through seed funding provided by UNESCO (United Nations Educational, Scientific and Cultural Organization), we are growing and reaching more girls who are eager to learn. We currently offer courses in Computer Science, International Human Rights Law, Photojournalism and Management. The goal is to keep building our platform and provide full credit college courses to our students. We also plan to expand our student enrollment to all provinces of Afghanistan.
This E-Learning platform in Afghanistan is my bold assertion that we do not have to sit idly by as women are oppressed and largely forgotten. With education comes human dignity. This project seeks to further the belief that a better world is possible when we empower young people, and especially women, to pursue learning and acquire knowledge that inspires their curiosity. Our courses, rooted in practical knowledge that will someday be used to rebuild Afghanistan, provide the spark for a life-long commitment to learning that we hope to inspire in these girls.
No woman should be banned from getting an education. I am Georgian, but I believe that every young woman, regardless of nationality or religion, must be given a chance for a better life. Women of the world must stand up for Afghan women. I urge Georgian women to join me, and do whatever they can to be of help."
BLOG by Lika Torikashvili