Tamtaki, a culinary gem nestled in Tbilisi, on Dimitri Bakradze st #22, has gained widespread acclaim for its unique concept, blending the best of Georgian and European cuisines in a comfortable street setting. With its delectable assortment of pickled vegetables, mouthwatering dishes, and delightful desserts, Tamtaki offers a truly memorable dining experience. The recent accolades received by Tamtaki, including being recognized as one of the top 100 rhetoricians on the esteemed "Guru" platform and Chef Tamta Kikalishvili winning the prestigious "Best Female Chef of the Year" award, are a testament to the restaurant's commitment to excellence.
Tamtaki effortlessly merges the rich culinary traditions of Georgia and Europe, resulting in an exquisite menu that tantalizes the taste buds. Drawing inspiration from Georgian cuisine, renowned for its bold flavors and vibrant ingredients, Tamtaki infuses European influences to create a harmonious fusion of tastes.
At Tamtaki, customers are treated to an assortment of pickled vegetables that perfectly complement the main courses. The restaurant takes pride in its carefully crafted pickling process, which preserves the natural flavors and enhances the textures of the vegetables. the pickled vegetables at Tamtaki add a delightful burst of flavor to every bite.
For dessert lovers, Tamtaki's sweet offerings are a true delight.  Each dessert is crafted with meticulous attention to detail, ensuring a perfect balance of flavors and a visually stunning presentation.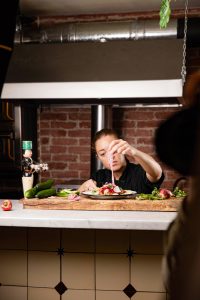 The recent recognition bestowed upon Tamtaki is a testament to its commitment to culinary excellence. Being named among the top 100 cafe on the esteemed "Guru" platform highlights the restaurant's unique vision and ability to captivate the senses. Tamtaki's dedication to quality and innovation is further exemplified by Chef Tamta Kikalishvili's achievement as the "Best Female Chef of the Year." Her exceptional skills, creativity, and passion have propelled Tamtaki to new heights.
Tamtaki has firmly established itself as a culinary destination where Georgian and European flavors harmoniously converge in a comfortable street setting. Through its delectable selection of pickled vegetables, enticing dishes, and divine desserts, Tamtaki offers a truly unforgettable dining experience. Whether you're a fan of Georgian cuisine or simply seeking a delightful gastronomic adventure, Tamtaki is a must-visit destination that promises to leave a lasting impression on every discerning palate.
By Mariam Gorkhelashvili