Between and following the two funerals of murdered young men I attended in my "home" village of Etseri, Upper Svaneti last week, I had time to do what I know brings huge joy back into my life when things are just too sad and painful. I walked and took photos.
Wandering around the village, at first the edges of our stream caught my eye. Constantly here, grasses dangling down to the water get splashed with the rushing water. As temperatures fall below zero, this turns to ice and accumulates. The results are a perfect visual inspiration for Georgia's national sweet, churchkhela: strings of walnuts dipped in flour-thickened grape juice and hung to dry. I used a slow shutter speed, about 1/30 second, to allow the water flow to blur enough while keeping the still ice sharp.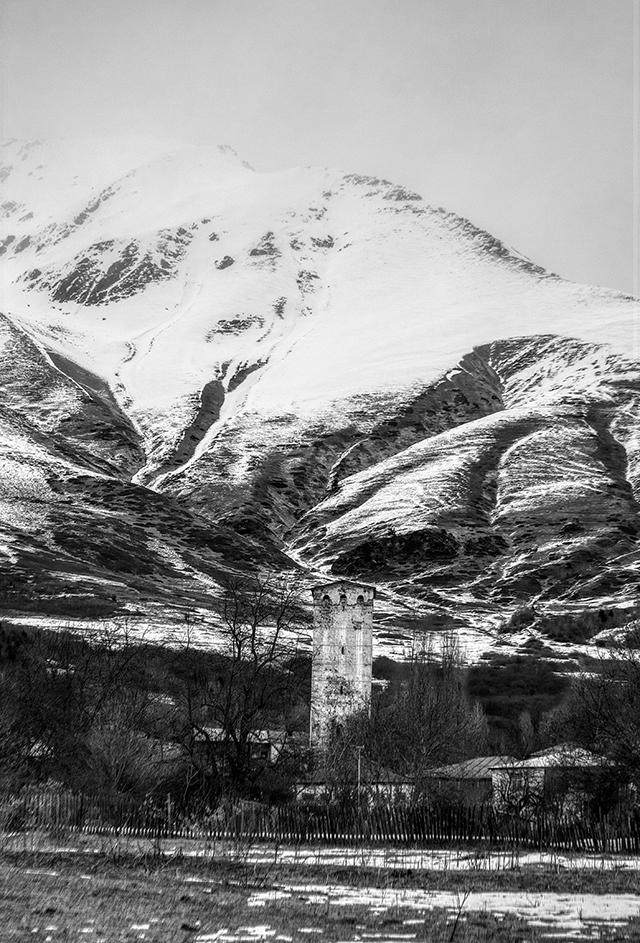 Fences and fields getting snow-covered make intriguing patterns too. If the snow is wet at near freezing, it sticks to everything; otherwise, in colder temperatures, it can be blown around the fields. Either case makes for wonderful textures, which are a mix of random and ordered. There is no need for color: indeed, it would be a distraction, so I'm post-processing everything in black and white and grays only. Eventually, later in the new year, there can be enough snow to nearly or completely cover unmoving vehicles, transforming them utterly. I have already started to write fables about the dragons and other beasts of cloud, snow and ice which inhabit Svaneti; now that my eyes are attuned to them, I see them in more and more places, on all scales, from millimeters to miles.
I was also pleased to point out to a lifelong resident of Etseri and good friend of mine the enormous mandrill's face which appears every winter, looking south-east from high above the village. He had never seen it before, but now will see it always.
The Dadeshkeliani Watchtower, claimed to be Svaneti's tallest, appeared like a ghost through the mist (see last week's photo). I often look for new visions of this prominent landmark, and that one was unique. In a few other shots of it, there was just enough snow on the mountain behind to highlight its texture down to the tiniest crack and crevasse.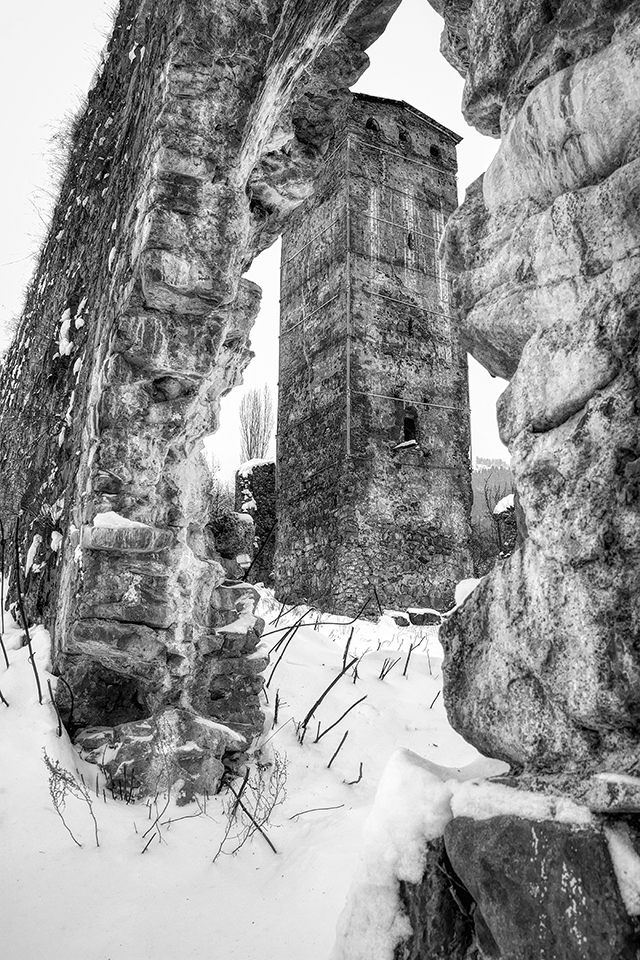 Taking a minivan-bus down all the way to Tbilisi meant that I was free from having to concentrate on the road, not driving, and could look out the window. There was just enough snow to half-cover all the roughly vertical mountain wall faces. However, not driving also meant that I was not free to stop anywhere, everywhere, and take photos at will, the hundreds of thousands of them which beckoned to me. The myriad faces of angels or gargoyles, people or animals or simply mythical or cartoon creatures, passed me by. (I am afflicted, or I would say blessed, with an acute case of permanent pareidolia: the finding of patterns among the random forms of nature.) They grinned or grimaced at me, leered or laughed silently, and I let them all go. The time for telling their story will come.
We didn't stop to eat breakfast in the village of Barjashi, a first ever for me on this much-traveled route. We did, however, make an ablution stop just at its edge. I used the 10-minute opportunity to take some more hurried shots of something new the light snow had etched in sharp relief: The bottom of what used to be the Enguri Dam lake, which is still these last two years at its lowest level I have ever seen it in my 22 years here. New fractal cracking textures dazzled me, although my frustration at distracting electricity wires made me long for my next photographic purchase, still in the future: A drone, to go where my feet can't. Must get.
Everywhere I went, I felt my soul topping up with delight, having been drained utterly by the anguish of the recent funerals. Perhaps because of this, the 450 km journey home to Tbilisi, which can be quite draining, seemed the lightest I've had in some years. Home to my wife's waiting arms, central heating, almost permanent electricity and water; but memories and images of the beauty filling me sustain me even now.
BLOG by Tony Hanmer
Tony Hanmer has lived in Georgia since 1999, in Svaneti since 2007, and been a weekly writer and photographer for GT since early 2011. He runs the "Svaneti Renaissance" Facebook group, now with nearly 2000 members, at www.facebook.com/groups/SvanetiRenaissance/
He and his wife also run their own guest house in Etseri: www.facebook.com/hanmer.house.svaneti