Some friends have just visited us to take in Svaneti for the first time before they leave Georgia. They asked me to accompany them as a guide to one of our famous waterfalls, the Shdugra branching set, which is above the top of Becho village. I gladly agreed: any excuse to visit this lovely valley and its almost constant views of Ushba! And it has been a few years since my last visit, when I stupidly forgot to check my camera battery before leaving and it died before we got close and so I had to make do with the phone camera. Not this time.
The weather started off cloudless, and was quite hot for Svaneti, although quite a bit cooler than Georgia's lowlands, which are humid this side of the Rikoti Pass, and dry in the east, but capable of reaching 40 degrees C this time of year. Our nights now, by contrast, can still bottom out at 12 or 13…
We drove as far as we could, which gets you now across the river to a charming log-cabin complex called Hikers Inn. Someone has gone to great lengths to make this a little paradise, your last food and drink stop before a few-km walk to the falls. There is no electricity except what a generator can provide, and I hope most or all of the woodcutting was done on the spot, to save transporting all those logs.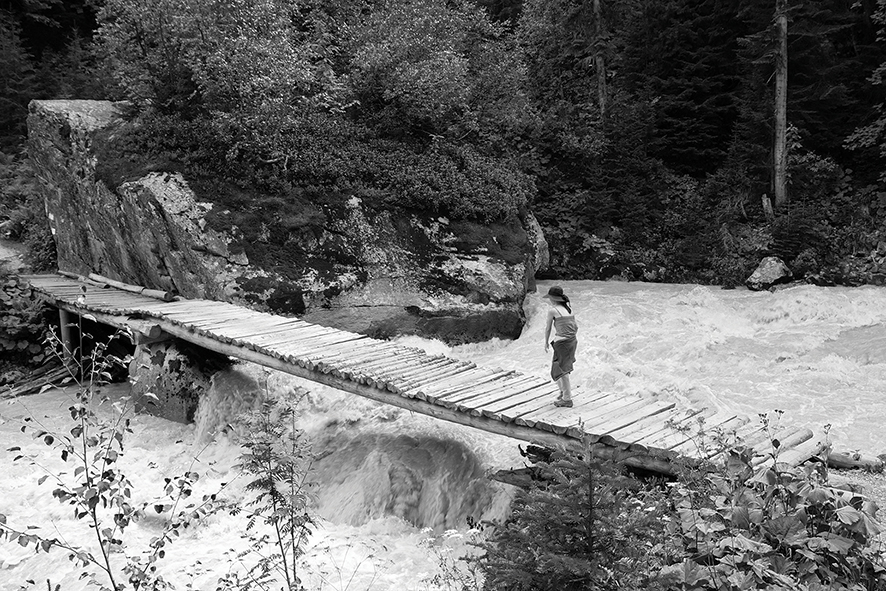 The Inn includes what you would expect: a shop and cafe offering hot and cold food and drinks. But there is so much more. A sauna! A dammed swimming pool and, below it, a trout pool where you can catch your lunch! Hammocks and deckchairs everywhere! Even a diving platform. True, I got into the pool to ankle depth and lost the feeling in my feet from the coldness of the water, which is pure snow-melt. It was too much, even on this hot, hot day, and I chickened out. But all around me people, even children, were braving the chill, and not even screaming, as I would have, if breath had remained to me from diving in.
This failure was after the walk to the falls, though. It is a well-marked trail, largely through forest for nice shade, quite rocky but doable in sports shoes with no sticks, as I was. You go through a Georgian border guards' checkpoint, but will only need to register and show ID if you intend spending the night past this point, which gets you very close to the border of the Russian North Caucasus.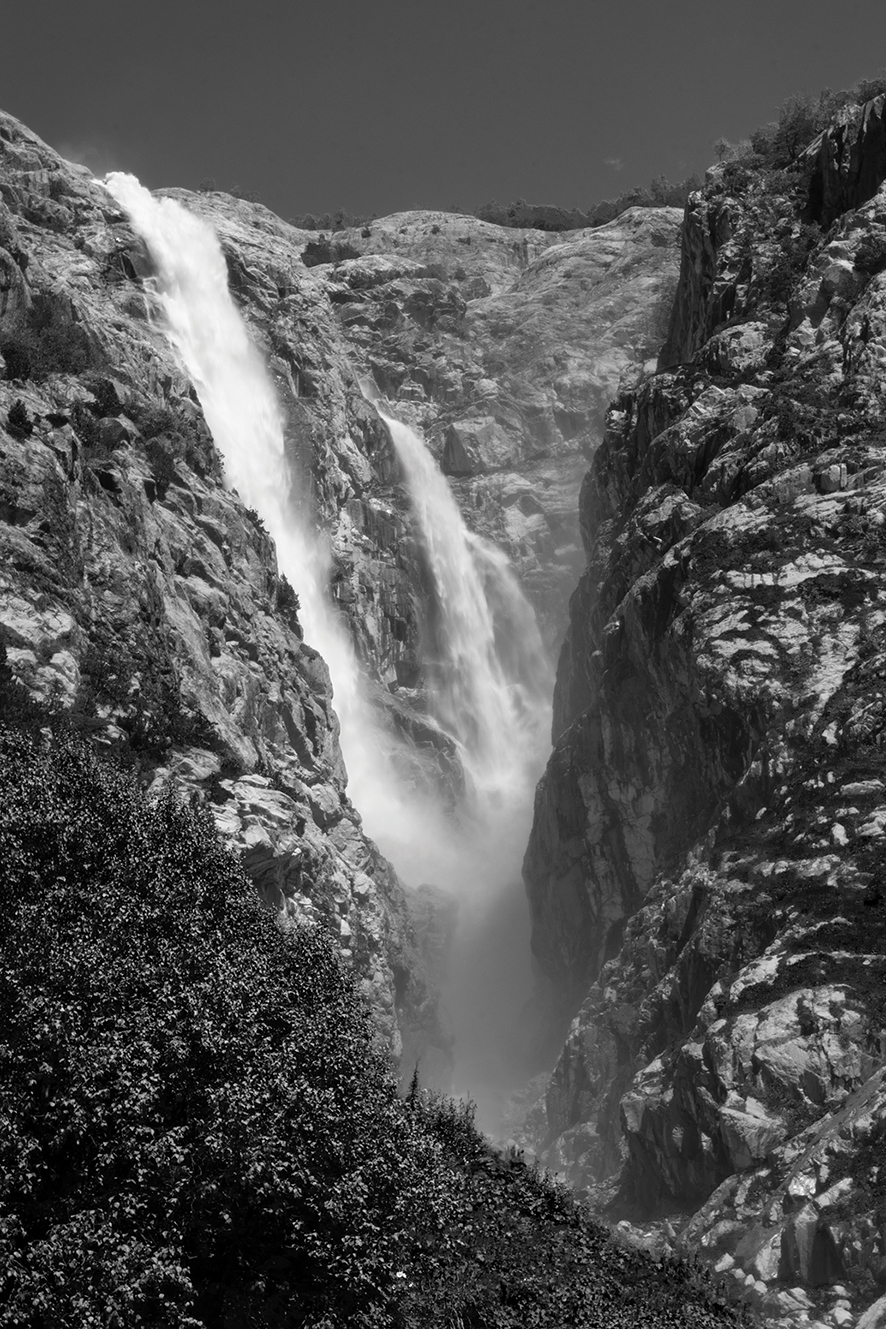 Many people of various nationalities met us in both directions, as I had found recently when walking to the glacier base of Mt. Shkhara above Ushguli, Georgia's highest mountain and source of the headwaters of the Enguri river. But now, as then, it was never what I would call crowded.
I kept a lookout for new angle views of Ushba, my muse mountain, but from this walk you will only see his shoulder, which is what you also see from our house in Etseri. Nonetheless, one point showed me an ogre's fanged face formed by the shadows on the planes of this shoulder at this time of day, which I found most gratifying. I am always looking for faces on Ushba or part of it, and this was one of these.
One of the best things about reaching as close to the falls as you can is the sudden wind and drop in temperature of about 10 degrees, a welcome respite on a hot sunny day. A branching path will take you up above them to a glacier, from which I suspect another view of Ushba will emerge, but that will have to wait for more willing walking partners.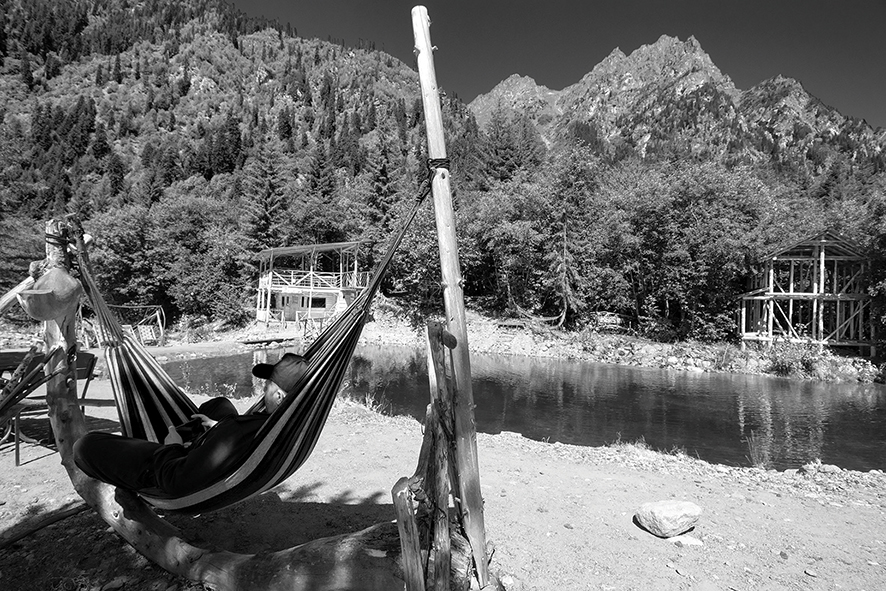 We walked back, had our pack lunches in the pleasant shade of the border guards' camp, and then returned to the Hikers Inn, where I lost my nerve for the freezing water. If I had sauna'd first, and got even hotter, I might have managed it; but the sunshine was really hot enough, and yet not enough to persuade me to dip. Oh well.
I highly recommend this place if you are ever in Becho: it's worth a few hours if you have them, to see a unique and popular part of Svaneti. And cool right off.
Tony Hanmer has lived in Georgia since 1999, in Svaneti since 2007, and been a weekly writer and photographer for GT since early 2011. He runs the "Svaneti Renaissance" Facebook group, now with nearly 2000 members, at www.facebook.com/groups/SvanetiRenaissance/
He and his wife also run their own guest house in Etseri: www.facebook.com/hanmer.house.svaneti
BLOG by Tony Hanmer