Tobacco consumption is a significant public health concern worldwide and imposes a significant economic burden on healthcare systems. The situation in Georgia is no exception. The country has implemented several tobacco control measures, such as increasing taxes on tobacco products and implementing smoking bans in public places, but their impact on smoking rates has yet to be fully evaluated.
To better understand the status of tobacco consumption in Georgia, the NGO Healthy Initiatives conducted a survey with the help of CRRC Georgia. The sample size was 1,201 individuals, and the fieldwork was conducted between November 1-29, 2022, using interviewer-administered telephone surveys in Georgian, Armenian, Azerbaijani, and Russian languages. The results were weighted using the 2014 National Census data to account for respondents' gender, age, education, ethnic identity, and residence.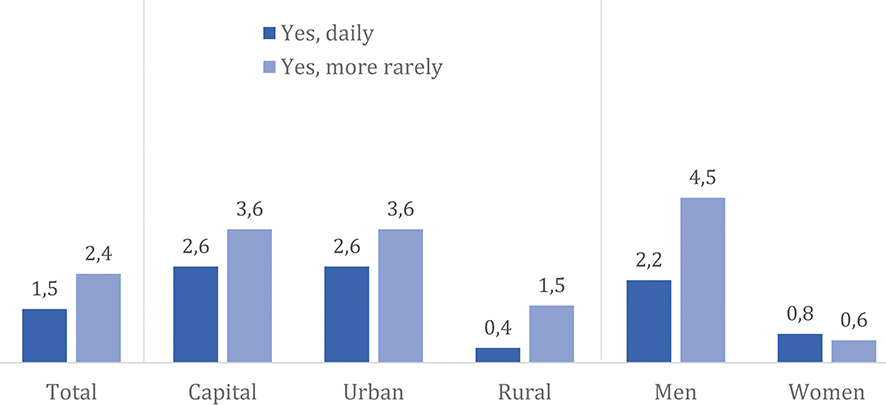 Smoking prevalence and use of SNPs
The survey results showed that 26.4% of the adult population in Georgia smokes tobacco products (combustible cigarettes) daily, with 1.5% smoking less frequently. There was a significant gender difference, with 49.8% of men reporting daily tobacco use compared to 5.9% of women. Tbilisi had a higher rate of daily tobacco use (28.8%) compared to other urban (27.9%) and rural settlements (23.9%). The results revealed a 2.2 percentage point increase in daily smoking prevalence compared to the previous survey with the same design conducted in 2021.
The results also showed that, despite an increase compared to 2021, only a small percentage of the adult population uses safer nicotine products (SNPs) such as e-cigarettes and heated tobacco products. Specifically, 1.5% of adults use e-cigarettes daily and 2.4% less frequently, while 1.0% use heated tobacco products daily and 1.3% occasionally. There was a gender disparity in the use of e-cigarettes and heated tobacco products, with higher use among men. On the regional level, Tbilisi and other urban areas had higher rates of use for both e-cigarettes and heated tobacco products.
Giving up smoking
The survey also found limited demand for quitting smoking services in Georgia, which might be due to the absence of a national smoking cessation program. Only 7.5% of respondents reported using nicotine replacement therapy, other medications, or seeking consultation at healthcare facilities, but this figure was a substantial increase compared to 2.2% in 2021. The largest group of smokers (37.8%) tried to quit without any additional aids, relying solely on self-control, while only 2.8% reported switching to e-cigarettes or heated tobacco products.
Public opinion on SNPs
The low popularity of e-cigarettes and heated tobacco products in Georgia might be due to low awareness and misinformation. A study by Jin and colleagues (2023) found that misinformation strongly affects consumer perceptions of the riskiness of e-cigarettes. Authors concluded that the information shock observed in the US in 2019 reduced e-cigarette demand and use of e-cigarettes for smoking cessation by about 30%.
In Georgia, the majority of respondents (53.7%) did not know whether vaping e-cigarettes is more harmful than smoking regular cigarettes. Among those who had an opinion, 32.8% believed that vaping e-cigarettes is more harmful, while 13.5% disagreed. Women were more likely than men to not know the answer, while men were more likely to believe that vaping e-cigarettes is more harmful. Results varied by settlement type, with the lowest proportion of respondents who disagreed that vaping e-cigarettes is more harmful being found in rural areas (11.9%), where the prevalence of vaping was also at its lowest.
The impact of prices on vaping
The cost of e-cigarettes is another important factor that can impact a smoker's decision to switch to vaping. According to a study by Huang and colleagues (2014), a higher price of e-cigarettes is linked to a decrease in their use among adults, suggesting that consumers are price-sensitive and may revert to traditional smoking if the cost is too high. Another study by Stoklosa and colleagues (2016) found that for every 10% increase in the price of e-cigarettes, sales dropped by about 8.2%.
However, in the case of Georgia, the survey results do not show a strong correlation between e-cigarette prices and the decision of tobacco users to switch to vaping. The majority of respondents (60.4%) reported that price did not influence their decision to use e-cigarettes, with only 13.2% saying that it was an important factor. The results did not vary significantly by demographic characteristics.
Conclusion
In conclusion, the survey highlights the need for further improvements in tobacco control legislation, the provision of national cessation programs, and increased taxes. The impact of legislative and tax measures implemented in 2017-2019 seemed to fade away as the prevalence of smoking in Georgia increased in 2022 compared to the previous year. Moreover, greater efforts are needed to raise awareness and educate the population of Georgia about the dangers and benefits of e-cigarettes and heated tobacco products compared to traditional cigarettes. This can be achieved through effective tobacco control policies and programs that encourage quitting smoking and the adoption of safer alternatives.
Disclosure:
This blog was produced by the team of NGO "Healthy Initiatives" with the help of a grant from the Foundation for a Smoke-Free World, Inc. (FSFW), a U.S. nonprofit 501(c) (3) private foundation. This study is, under the terms of the grant agreement with FSFW, editorially independent of FSFW. The contents, selection, and presentation of facts, as well as any opinions expressed herein are the sole responsibility of the authors and under no circumstances shall be regarded as reflecting the position of FSFW. FSFW had no role in the planning or execution of this study, data analysis, or publication of results.
Analysis by Giorgi Mzhavanadze