Data-Driven Transformation for Georgia
On June 1, Silknet, Georgia's leading convergent telecommunication company, announced partnership with SAS, a world leader in advanced analytics. According to the agreement, SAS will provide its customer data analytics solutions to Silknet. In parallel, both companies partner to bring SAS solutions to Silknet clients – various businesses and organizations.
As a SAS customer, Silknet will implement SAS solutions, such as a campaign management system, taking its customer experience to the next level by delivering even more innovative and smoother services in the form of tailored offers based on customer needs. Apart from this, the SAS solution will provide one of the best in class customer loyalty systems, which will help Silknet to advance its customer-centric services further.
As a strategic partner of SAS in Georgia, Silknet will become the first company to deliver the most advanced and sophisticated data analytical solutions to the Georgian market.
"I am excited to welcome SAS to Georgia and to launch our partnership," says George Ramishvili, Chairman of Silknet's Supervisory Board. "This is a very important event for the whole country as this partnership is the first of its kind in Georgia. Essentially, it means building a digital bridge between Georgia and America. I am proud to say that SAS has chosen our company as its local partner. Silknet, Georgia's leading telecommunications provider, together with SAS, will enable companies and organizations to implement state-of-the-art data-driven processes. For Silknet, this is another successful step in introducing the latest technologies to Georgia for the benefit of the whole country."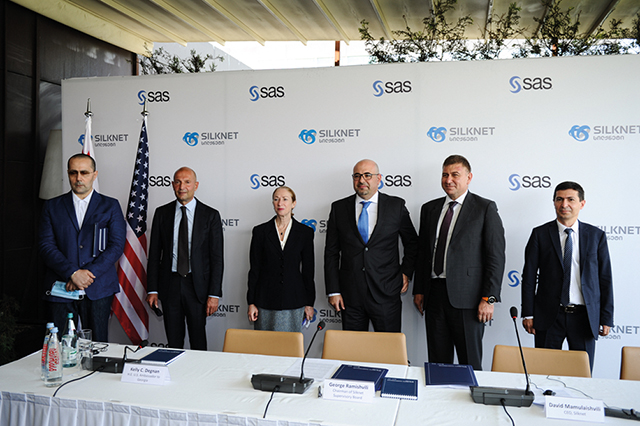 "The needs of our customers drives Silknet, and I am happy to announce the bringing of SAS data analytics solutions that will help us to serve our customers better," notes CEO of Silknet, David Mamulaishvili. "Silknet will be the first user of SAS Marketing solutions in Georgia. At the same time, we will help our clients- businesses and organizations -to create and enrich their own data analytics capabilities based on SAS technologies."
"This partnership agreement brings together Georgia and the US to work in an innovative new sector: the digital sector," Ambassador Kelly Degnan noted on the signing day. "This is an opportunity that we hope will lead to follow on initiatives in this sector– data analytics and varied uses of the information that data analytics allows companies. It's so important that it can improve the efficiency of utilities; it can help agricultural industries improve their productivity; it can improve companies' efficiencies and abilities to work together; it can make life easier for consumers. There are so many applications of this, and I think we have seen many of them during the past year with Covid. So, we are really thrilled to see an American company and Georgian company working together in the sector that is not the future, it is of the now. The US Embassy is always very happy to support American companies who are looking for opportunities in Georgia and we hope to see more important events, like the signing of the partnership agreement today."
SAS is a trusted analytics powerhouse for organizations seeking immediate value from their data. With SAS, companies can discover insights from data and make sense of it all, identify what's working and fix what isn't, make more intelligent decisions and drive relevant change.
"We are building a digital bridge between Georgia and America." – George Ramishvili, Chairman of Silknet Supervisory Board
More than 83,000 organizations rely on SAS to help them make better decisions. 91 of the top 100 companies on the 2020 Fortune Global 500® are SAS customers. SAS supports a wide range of industries, from finance, telecommunications to retail & CPG, manufacturing, utilities and government institutions. SAS is leading digital government initiatives in government finance, public safety and criminal justice, infrastructure and transportation, health care, smart cities and many more data-driven projects.
"We are delighted to announce that we are collaborating with Silknet, the largest telecommunications company in Georgia and the Caucasus region," Shukri Dabaghi, Regional Vice President, SAS Central Eastern Europe Middle East & Africa (CEMEA) at SAS, says. "Advanced analytics and SAS know-how, combined with Silknet capabilities and understanding of the market, will provide an engine to accelerate digitalization in both the public and private sector. Meaningful data and knowledge are important factors for organizations to gain a competitive advantage."
"SAS, as a leader in advanced analytics with more than 40 years of experience, is helping its customers build a competitive advantage based on transforming data into insights," Tayfun Topkoç, Managing Director, SAS Southeast Europe, highlights. "SAS technology will help Silknet to offer an excellent customer journey and advance its customer-centric services. With our expertise in the analytics domain and our partnership with Silknet, we are ready to help businesses and organizations in Georgia for sustainable growth through data-driven digital transformation."
Silknet is the largest convergent, fixed, and mobile network operator and multimedia content provider in Georgia, bringing connectivity to almost every family and organization throughout the country.
It is part of Silk Road Group, one of the leading investment groups in the region. Silknet's Eurobonds are listed on Euronext Dublin.