Shangri La, the luxurious oasis of entertainment in Tbilisi, once again outdid itself as it celebrated its birthday on September 28th, 2023. This spectacular evening was filled with an array of entertainment that left everyone in awe, making it a night to remember.
As guests entered the entertainment center, they were welcomed by stilt-walkers and mimes who added an air of whimsy to the celebration. It wasn't just confined to the indoors; meeting guests on the street and on the stairs, these performers set the tone for an evening that promised to be nothing short of magical.
One of the highlights of the night was the "Mad Mozart" performance. This quirky rendition of classical music brought Mozart's genius to life with a playful twist. Air acrobatics left the audience breathless as performers defied gravity in a show of strength and grace. Meanwhile, marionette dances added an enchanting touch to the evening. As the night continued, a dance show featuring mirror costumes dazzled the audience with its optical illusions. The fire show, featuring five talented artists, lit up the street near the entrance, leaving spectators in awe of their daring feats.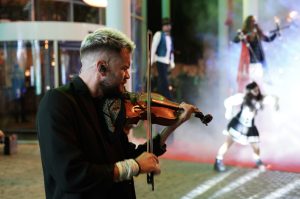 As the headliner of the night the one and only STEPHANE took the audience on a musical journey, blending modern jazz, blues, and pop in a way that only he can, ensuring that the crowd was on their feet, dancing and singing along.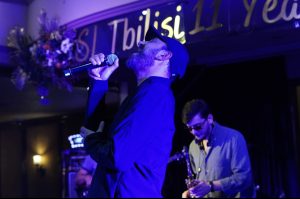 Of course, no birthday celebration is complete without a cake, and Shangri La's birthday cake was big and tasty, just as promised. It was the perfect centerpiece to a night filled with delectable treats and drinks.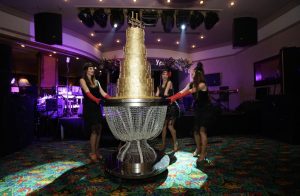 VIP guests at the Shangri La XO club were treated to a special lottery with a staggering 260,000 GEL prize fund. Lucky winners walked away with substantial rewards, making the night even more unforgettable.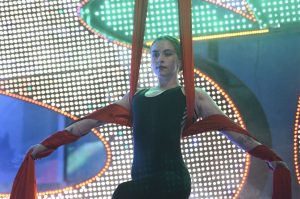 In summary, Shangri La's birthday celebration on September 28th was a night to remember. From the enchanting performances on the street to the captivating shows within the venue, it was a whirlwind of entertainment and excitement. With the perfect blend of music, art, and surprises, Shangri La truly outdid itself, living up to its reputation as the ultimate entertainment destination in Tbilisi.