As Russian forces advance, Ukraine's allies in Europe have promised to increase aid, cut Russian oil imports and work to ship Ukrainian grain out of the country.
In the 13th week of Russia's invasion of Ukraine, US President Joe Biden pledged to send Ukraine more advanced rocket systems and munitions to more precisely strike key targets on the battlefield. The White House has to date been hesitant to send the weapons, which have long been requested by Kyiv.
Biden vowed that the US will "continue to provide Ukraine with weapons and equipment to defend itself" against Russia's invasion.
The $700 million aid package, which includes an advanced rocket-launcher system known by the acronym HIMARS, will "provide timely and critical aid to the Ukrainian military," Biden said in a statement, a day after The New York Times published an opinion essay penned by Biden, who wrote that the US does not want Ukraine to fire those rockets into Russia. "We are not encouraging or enabling Ukraine to strike beyond its borders. We do not want to prolong the war just to inflict pain on Russia," he wrote.
The office of Ukrainian President Volodymyr Zelensky welcomed the $700 million in new military aid allocated by the United States.
"The US has announced a new package of military aid for Ukraine. Thanks allies," Zelensky advisor Andriy Yermak tweeted after listing what the package would include, along with emoji showing a handshake between the Ukrainian and US flags.
But Kremlin spokesperson Dmitry Peskov said the US is being provocative by supplying longer-range rocket systems to Ukraine.
"We believe that the US is deliberately pouring oil on the fire. They are obviously holding the line that it will fight Russia to the last Ukrainian," Peskov told reporters, according to Reuters.
His comments echo those made by Russian Deputy Foreign Minister Sergei Ryabkov who claimed President Joe Biden's administration had increased the risk of direct clashes between Moscow and Washington by supplying rockets to Ukraine.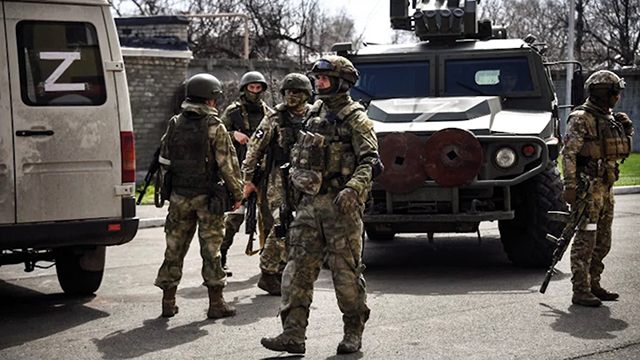 Fighting rages on in Donbas
Zelensky has described Russian bombing in the front-line eastern city of Sievierodonetsk as "insanity" given the presence of a large-scale chemical plant. He reaffirmed that the situation in the Donbas region is "very difficult."
Residents of Sievierodonetsk have been warned not to leave bomb shelters due to the risk posed by toxic fumes after a Russian airstrike hit a nitric acid tank in the city.
"Russian forces have seized control of approximately 70% of Sievierodonetsk," said Luhansk Regional Governor Serhiy Haidai, adding, however, that the eastern city of Lysychansk remains "completely" under Ukrainian control.
"That said, all free settlements of the Luhansk region are under constant fire, and evacuation efforts have been suspended," he noted.
The Ukrainians are mounting a counteroffensive against the captured southern city of Kherson, partly in hopes of forcing Russia to divert forces from Donbas.
Ukraine: Russia forcibly deported more than 200,000 children
Russia has forcibly deported more than 200 000 Ukrainian children, Zelensky claims.
"These are orphans from orphanages. Children with parents. Children separated from their families," he said.
Nearly 700 children have been injured or killed as a result of Russia's attacks, with a further 139 children missing, the President added.
UNICEF reported that, on average, more than two children are killed and more than four are injured every day in Ukraine, due mostly to attacks using explosive weapons in populated areas, based on reports verified by the Office of the United Nations High Commissioner for Human Rights.
UK to send rocket systems, Germany to send IRIS-T air defense system to Ukraine
Germany will supply Ukraine with the IRIS-T air defense system, Chancellor Olaf Scholz said, following pleas from Kyiv and German opposition parties to step up heavy weapons deliveries.
Scholz said Germany had been "delivering continuously since the beginning of the war," pointing to more than 15 million rounds of ammunition, 100,000 grenades and over 5,000 anti-tank mines sent to Ukraine since Russia invaded the country on February 24.
"Most recently, the government has decided that we will deliver the most modern air defense system that Germany has: the IRIS-T," Scholz told lawmakers in the Bundestag.
The United Kingdom will send multiple-launch rocket systems to Ukraine. British Defense Secretary Ben Wallace noted, "These highly capable multiple-launch rocket systems will enable our Ukrainian friends to better protect themselves against Russia's brutal use of long-range artillery, which Putin's forces have used indiscriminately to flatten patterns."
Oil group OPEC+ reportedly considering suspending Russia from supply deal
Some members of the energy alliance OPEC+ are considering whether to suspend Russia from an oil production deal, The Wall Street Journal has reported, citing unnamed OPEC delegates.
This comes at a time when non-OPEC leader Russia, a major player in global energy markets, faces a barrage of Western sanctions and a partial oil ban from the European Union in the wake of the onslaught in Ukraine.
OPEC delegates are reportedly concerned about the growing economic pressure on Russia and its ability to pump more crude to cool soaring prices.
Black Sea Grain Talks Gain Momentum
Ankara is in negotiations with Moscow and Kyiv to open a corridor via Turkey for grain exports from Ukraine, a senior Turkish official told Reuters on Thursday.
An effort to ship grain stranded by the Russia-Ukraine war showed progress Wednesday, as a top Russian official blessed Turkey's role in removing mines from the Black Sea and a top US official said Washington was working to keep sanctions from blocking Russia's exports, the Washington Post reported.
United Nations Secretary-General António Guterres has been leading discussions to find a way to ship grain and sunflower oil that has been blockaded in Ukrainian ports on the Black Sea, and to get Russian grain and fertilizer to world markets.
Turkey hasn't confirmed any deal but said it was negotiating with Russia toward establishing a safe sea lane to export food products from Ukraine.
NATO Chief to meet Officials from Finland, Sweden & Turkey
NATO Secretary-General Jens Stoltenberg said he's convening a meeting of senior officials from Finland, Sweden and Turkey to try to overcome Ankara's objections to the two Nordic countries joining the alliance.
Stoltenberg told reporters that the talks will be held in Brussels "in a few days, with senior officials," but provided no further details.
"I'm confident that we will find a way forward," he said.
Roused by security concerns over Russia's war on Ukraine, Finland and Sweden applied to join NATO last month.
But Turkish President Recep Tayyip Erdogan is blocking their path, saying they're "not doing enough to fight Kurdish extremism."
By Ana Dumbadze