GEORGIA TODAY, in partnership with CENN and the British Embassy in Georgia, is running a joint awareness-raising campaign to try and turn things around with Georgia's food waste issue. As part of the campaign, we are talking to those in the know – chefs and industry experts – to find out their views on the food waste problem, what they are doing to combat it, and what they suggest could be done in future.
This week, we spoke with restaurateur and gastronomy expert & consultant Levan Qoqiashvili, who boasts 17 years' experience in the hospitality industry and runs his own agency, Gastronaut.
Two years ago, he was elected the Executive Director of the Gastronomic Association of Georgia, and is a co-founder of the same association.
"Our main goal here is to popularize Georgian gastronomy, both abroad and in the country itself, advocating education and research in the gastronomy industry," he tells us. "We currently have 105 members in the association, among them people from the regions, family cellars, family restaurants, family accommodation, general gastronomic locations, and, of course, the best Chefs of Georgia.
"Gastronomy is the science that studies the culture of food," Qoqiashvili says. "We are trying to introduce this food culture in Georgia; to develop our country in this direction. Gastronomic tourism is a very important part of this."
Gastronaut currently has some interesting food establishments as its members, notably Barbarestan Restaurant, Puri Guliani Bakery & Kitchen, Rigi Gastrodouqan and many others. In collaboration with the Gastronomic Association of Georgia, and with the support of the Georgian Agricultural Ministry, the first National Chefs Championship, the world's prestigious Bocuse d'Or, was held in Tbilisi 2019. Gastronaut also works abroad to help Georgian restaurants develop and present Georgian cuisine by matching it to the tastes of that particular country.
"When I was a student, even though I was studying law, I started working in the field of hospitality," Qoqiashvili tells GEORGIA TODAY. "Georgia is a hospitable nation, and I was brought up surrounded by such traditions. My love for guests and communication was deepened by the fascinating uniqueness of Georgia's gastronomic culture. Gastronomy is considered one of the best ambassadors in the world, considered to be the 'ambassador of peace.' There is no country that isn't interested in sharing the love for another's cuisine."
One-third of food produced each year is lost or wasted. Food waste is caused by overproduction, spoilage, overbuying, and a lot more! Food waste is also said to be one of the biggest contributors to climate change, accounting for 8% of the greenhouse gas emissions.
What has your experience been with regards to food waste in Georgia, and how have you worked to combat it?
The situation in Georgia is bad in this regard. A third of products are lost in the world, despite there being 700 million people hungry on Earth. When we established communication in 2012 with the University of Gastronomic Culture in Italy, the largest research organization trying to promote proper use of food, it was the first time we'd heard of "food waste," and it really got us thinking.
Even nowadays, very little is known about this topic in Georgia, which is unfortunate. When we meet and host the world's best chefs and gastronomy enthusiasts here in Georgia, almost all of them are obsessed with the heritage of Georgian cuisine, our gastronomic traditions and unique recipes. But the famous Georgian Feast keeps such gastro travelers confused, as most of the food remains uneaten and is literally thrown away. This common situation for us unfortunately has the real gastronomy influencers leaving Georgia with the term "food waste" on their minds.
When we did the Bocuse d'Or National Chefs Championship in 2018, many of our people first heard about food waste there, and the highest score was given to chefs who reduced food waste properly, for example, for the proper use of bone, fish heads, or the use of parts that are usually thrown in the trash.
As such, before the competition, we had to explain to our chefs how to work in a waste-limiting manner.
We plan to hold another National Championship in 2022, and higher qualification will be given to the importance of food waste, and we will strengthen this propaganda in young chefs and in the hospitality sector in general.
Important things happened during the Covid-19 pandemic: health became important; more and more people started cooking food at home; and the price increase of products since has been huge. Restaurants are being forced to think not about increasing the price for customers, but about feeding them quality food. To achieve this, one possibility is to reduce portions.
Food waste should be managed properly, and restaurants should see the current reality as an opportunity. The more correctly you use a product, the more revenue you generate.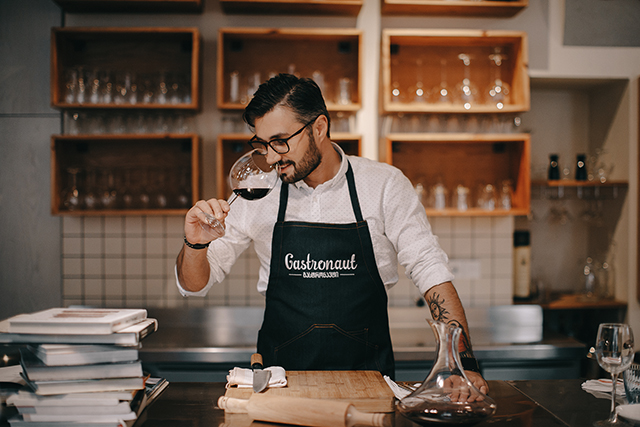 What advice can you give to reduce food wastage?
They say you can reduce a restaurant's daily expenses by 40-45% if you know how to process a product properly. So, my first suggestion is to use as little product as possible. Prepare small portions of food, no need for large portions, which allows us to save daily and not generate waste. When a guest in a restaurant orders a salad, they are often served enough for 2 or 3 people. The same thing happens in homes: people prepare more food than is needed. Buy less, use less, serve acceptable sized portions.
In general, the human body can be satisfied with 600 grams of food per meal. In restaurants, there is the general view that a guest should eat at least three things: a starter, a main course, and a dessert, for example, but always three things. And we professionals are told that that 600 should be divided into three: the salad should be 220 grams, hot dish 230 grams and dessert up to 150 grams. But this wouldn't be an acceptable practice in today's Georgia.
Whatever you put on the plate, eat to the end, and before ordering in a restaurant, ask the waiter about the dish: they should be able to explain it well to you. Whether you eat at home or in a restaurant, pay attention to how many grams the product is.
Buy only as much as you can use. Georgia is in a bad situation in this regard. Make a list of what you need and be guided by that list; it will save the planet when we take care of ourselves, and will also reflect on our pockets.
People are less likely to buy and consume fruits and vegetables if they are unaesthetic or physically irregular. As such, one third of the fruits and vegetables globally do not make it to our grocery store shelves because they are rejected to avoid complaints of bad quality product by the consumers.
Where do you buy the ingredients you use in your kitchen? Do you choose aesthetically pleasing, or are you happy to buy "ugly"?
People instinctively try to buy beautiful products. I advise them not to judge a product by how it looks: a natural bio product rarely comes out beautiful. Georgians have delicious strawberries, I tasted strawberries in eight different countries, strawberries they told me were "good," but even our worst-looking strawberries taste better. You know why? Because we're a poor country and poor farmers don't have the means to cultivate excess products, so they cultivate what they have with extra care.
We shouldn't distinguish either fruits or vegetables visually: a visually imperfect product can be just as tasty. When a product has a worm, it means it's healthy. But as children, we're often taught the opposite. The truth is, we won't find worms in products where fertilizers and poisonous pesticides were used, because the worms can't find the desired nutrients in such products. Organic farming is opposed to such poisoning because it removes things that are very necessary substances; things that both worms and humans eat. If the fruit is damaged, simply remove the damaged part and eat the rest. When people see an apple with a worm in, in Georgia, they will likely throw it away. It's common in Georgia for this to happen, and it comes down to education.
I try to buy most of my products from farmers, and I have great communication with family farms. I try to buy everything at the Navtlukhi market. I also trust AgroHub.
In short, a product, even if "ugly" can turn out even more delicious.
40% of waste in Georgia is organic waste, a large portion of which is food. What effect does this have on the environment? How do you suggest we reduce this percentage?
Another important thing is to clean the refrigerator, check the temperature, control what products you store, and know the expiry date of the product. Learn which products can be put together in the refrigerator: refrigerators have different shelves, and each shelf is for different things. Unfortunately, refrigerators tend to be very untidy in Georgia, often resulting in food waste.
Composting is also very important, meaning making use of product waste for something else, including stalks and stems.
As a result of the pandemic, the poverty levels are expected to rise to up to 125 million, and 2020 marks the most severe increase in global food insecurity, impacting vulnerable households in almost every country. Yet we continue to waste a third of perfectly edible food. What work have you done in the past/will you do in future to help the vulnerable with regards to food waste?
Share with friends what "food waste" is. It's very important for the country and the people to talk about it, and to share that knowledge.
The biggest danger in the long run is the misuse of products. Globalization is taking place and the world is becoming less productive, with desertification being seen over a large part of the planet. Globalization is reducing the possibility of production, yet companies around the world seek to offer a wider variety of products, despite the fact that 700 million people are starving.
On Earth, we produce more than we eat. This affects both our health and the planet. Many of the products people throw in the trash can actually be used. For example, machine coffee, which nearly all of us drink, leaves residue. This residue can be used by farmers as a fertilizer. So, we should collect the remnants of this coffee and send it out to farmers. In some countries, there is even a law allowing food establishments to store such waste.
Awareness should be raised in the community. We should all be talking about food waste and how to reduce it. Unfortunately, awareness of such issues is very low in Georgia. But it has to change, as it is our responsibility to the planet and to each other that together we take better care of our Earth.
Exclusive Interview by Ketevan Skhirtladze