The increasingly concerning issue of great power competition between the East and West has again come into focus with Russian and NATO relations. Lurking behind these events is the rapidly ambitious Chinese. With their hosting of the 2022 Winter Olympics, they are once again seizing the opportunity to utilize the levers of power to gain more legitimacy and influence on the world stage.
In a recent series of events, the Hoover Institution has deeply examined this expansionism and how China's leader, Xi Jinping, could use these levers to expand his authority and outreach to other sectors of the globe. The Hoover Institution, a public policy research organization and think tank attached to Stanford University, has a wide portfolio of some of the globe's brightest minds in politics, democracy, foreign policy, and social issues.
Convening with some of those bright minds on the matter, the Hoover Institution brought together George Soros, Chair of the Soros Fund Management and Open Society Foundations; Oriana Skylar Mastro, Center Fellow at Stanford University's Freeman Spogli Institute for International Studies; Matt Pottinger, a Distinguished Visiting Fellow at the Hoover Institution and Former US Deputy National Security Advisor; and Orville Schell, Director of the Center on U.S.-China Relations at the Asia Society.
Soros postulates that 2022 is going to be a particularly unique year, noting such pivotal events as the French presidential, American mid-term, and Hungarian parliamentary elections. These coupled with the current NATO tensions with Russia makes the year increasingly decisive for Europe as a whole. With this backdrop, China's Xi intends to replicate the 1936 Olympics in Germany and score a propaganda victory, he says.
As a furtherance of this, Xi has undone much of his predecessor's work to draw investment and business to his nation. He has worked tirelessly to bring all that was once in the private sphere under government control, including various social institutions and the military. This firm grip on the country, amplified by the development and use of artificial intelligence and digital censorship, has been carefully coordinated to insure his indefinite rule.
However, Soros puts forward the idea that there are cracks beginning to form within the Chinese Communist Party (CCP). Elites within the party, watching the absorption of industry by the state as a potential threat to their own profits, could see the party headed for a monumental schism. With the Chinese economy under threat from an imminent real estate crisis, Soros sees the current model as unstable. Chinese land and housing prices are falling and, when paired with a declining birth rate, the prospects of Xi's glorious vision could be a delusion.
In his closing statements, Soros outlines that while Xi has the tools to rectify the situation, it is doubtful that he will do so. The only viable solution is for him to be replaced with someone with more reasonable ideas and a drive to move the nation in a more desirable path. As the Chinese 20th Party Congress looms, the billionaire and philanthropist proposes that Xi intends to enshrine himself as the "leader-for-life" alongside his longtime idol, Mao Zedong.
In a subsequent discussion between Matt Pottinger and Oriana Skylar Mastro, the pair attempt to understand the ambitions of the Chinese President. From his possible attempt at a third term in his position, typically limited to only two terms, to the ramifications of his military, social, and foreign relations reforms, each shares their insights on Xi.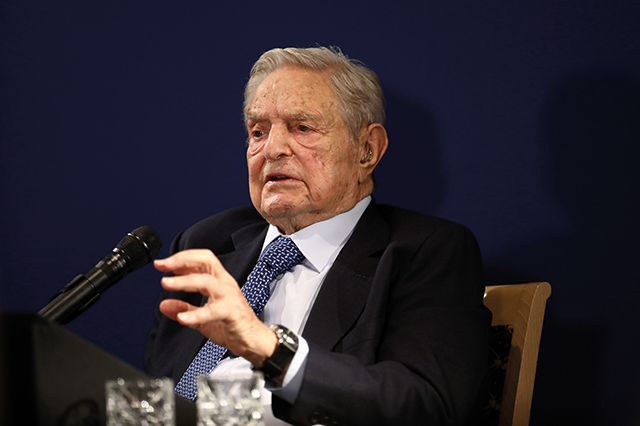 Mastro believes that Xi intends on staying in power for, at a minimum, another decade. He has structured the nation's institutions, particularly the military, to be in his favor. By doing this, it acts as an insurance policy for his re-election and a significant lever against any internal opposition. That opposition, Pottinger suggests, will not be the traditional grassroots ousting seen in other corners of the world. Rather, it will be other Chinese elites within the CCP that move to usher Xi out. Xi's only alternative is to install his daughter, Xi Mingze, groomed in his own (which is to say, Mao's) image, as the next leader.
Both Pottinger and Mastro agree that the West is largely not taking Xi's ideological campaign seriously. Internally, Xi has won the favor of the people by supposedly rooting out corruption, accomplished by eliminating any opposition in the government. These purges are notorious for swiftly removing those who fail to accurately toe Xi's model of party ideals.
In addition, he angles the populace against foreign influences and ideologies. A recent speech, largely ignored by Western press, praised Mao and the Communist forces in the Korean War. Pushing for preemptive actions against the West, particularly the United States, Xi states that by one early punch they can prevent a war of a thousand punches. Holistically, Xi's promulgated ideology centers around the Stalinistic principles of party preservation over all.
As a part of that party preservation, the development and expansion of the Chinese military, combined with its role as a nationalistic propaganda tool, cements the party's power. China's military, like the Russian military, has gone through widespread and immense reforms in both structure and technical modernization. Mastro states that China can only be in one of two states; undeterred and happy or deterred and angry. This modernization is a push to achieve the former as well as deterring the West from capping Chinese global influence.
This global influence contest is a precursor to the next competition between East and West. As a rising shortage of semiconductors looms on the horizon, China is already positioning itself as the dominant producer. Pottinger urges the West to cut Xi from gaining this upper hand and ramping up production. Adding to this, Mastro says the West must move to control the leak of advanced technologies to China in order to maintain any edge.
In order for the West to truly compete, they have to do so in the third world, states Mastro. When compared to organizations like USAID and EU support programs, Xi's China aims not to elevate the small nations but to rather economically enslave. Pottinger outlines that at the same time the West tries to fight corruption, an uphill battle at best, China uses it to their advantage and weaponizes it.
China also expands this on a global scale. Pottinger explains that the World Bank, a largely American institution that receives the majority of its funds from the United States, has China as its largest recipient.
While many of these are indirect, stating that approximately 39% of funds go to Chinese state-owned enterprises, Pottinger explains that a mechanism to prevent this from happening has to be in place.
As China prepares to host this year's Winter Olympics in Beijing, this is merely a cover for the outward expansion and internal crisis Xi is dealing with. It is for these reasons that the potential for a massive propaganda victory with the Olympics is imperative to his upcoming bid for a third, and potential indefinite, term as the Chinese President. While it's undoubtedly true that the West must seek a symbiotic relationship with China, they must also contend with Xi's aggressive ambitions in the globe that threaten any harmony from forming.
By Michael Godwin