"Violence of any form or type is categorically unacceptable." – President Salome Zurabishvili
Georgian President Salome Zurabishvili responded to yesterday's attack on Formula TV journalist Vakho Sanaia, condemning any type and form of violence She pointed out that "it is especially unacceptable amid such controversy and polarization."
"I appeal to the law enforcement bodies to quickly investigate the case and punish the perpetrators so that violence is not encouraged," the President said.
Prime Minister of Georgia Irakli Garibashvili also publicly condemned the attack on journalist Vakho Sanaia and his family, and expressed gratitude to the Ministry of Internal Affairs for the efficient arrest of the attackers.
Law enforcers arrested three people on charges of assaulting formula TV host Vakho Sanaia and a relative of his wife.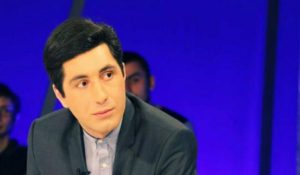 The offense envisages a maximum sentence of up to two years in prison.
The investigation established that the accused, who were drunk, carried out physical violence against the journalist of the Formula TV company and a relative of his wife, N.M., born in 1986.
By Ana Dumbadze
Related Story: PM: I Unequivocally Condemn Any Kind of Violence Against Any Citizen