During the hot summer season, everyone is looking for the perfect accommodation, a place to stay that comes with all the necessary comfort, as close to the sea as possible, to guarantee unforgettable holidays. Many people also dream of being able to live in such place whenever they want, not only in summer.
For those seeking maximum comfort and relaxation in Batumi, Georgia's charming seaside town in Adjara, the company AR Meridians, with its years of experience in the field, has kicked off development of a unique multifunctional complex called WHITE SAILS, consisting of premium class hotels and apartments.
The complex is distinguished by its ecological environment, diverse infrastructure and the best location on the first line of the sea, on the New Batumi Boulevard. Importantly, the complex provides beautiful views of the sea, and as it is right on the boulevard, residents are guaranteed no construction will be launched nearby, meaning you can always enjoy these fantastic views.
The complex WHITE SAILS includes two 16-storey and two 18-storey Aparthotels, one 20-storey residential building and two branded hotels, one of which is Ibis Styles Batumi.
Notably, since the constructor company cares about the health and recreation of its residents, the whole 13,000 square meters of land are dedicated only to recreation, which is a unique feature compared to similar complexes.
More than 1000 apartments built according to international standards will be provided with ultimate comfort and high-quality service.
The complex includes a yard, a 27-meter outdoor swimming pool for both adults and children, as well as restaurants, cafes, fast food outlets, sports grounds and halls, entertainment and recreation zones and free parking space.
The project is managed by investment company AR Meridians, which has been operating successfully since 2015 on the basis of the architectural company BWC Project Group, which has more than 10 years of experience in this field. The construction is being carried out by ANAGI, the largest construction company in Georgia, which has been operating on the market since 1989.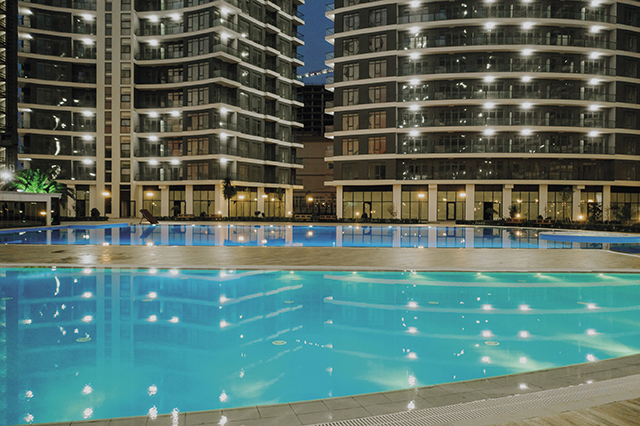 What does WHITE SAILS offer?
Renovated apartments at the seaside – completely renovated apartments, with central heating and a cooling system, and Smart House functions.
The main priority is to provide customers with comfortable environment. In order to achieve this, the company decided to equip all its apartments with home automation system "SMART HOUSE," which will allow residents to remotely manage their apartment. The four functions of a Smart House are:
Motion detector, Smoke detector, Water leak detector, and Window-door opening-closing sensor.
A Reliable and Profitable Investment
If you wish, the company can provide apartment rental management, giving you the possibility of additional income without extra effort.
Located on the new Batumi Boulevard, the residential complex is already completed and ready to receive residents, while Hotel ibis will be opened in May 2022. Apartments with full renovation, already available for sale/rent, await. 832 apartments are now fully equipped. Purchasing a apartment in the complex is a particularly smart investment. In addition, renting out a apartment in Batumi can be a good source of extra income.
A big swimming pool and a huge territory dedicated to greenery are yet another distinguished feature of the multifunctional complex. The complex combines everything in one space, including a hypermarket and a casino, so that you don't even need to leave the territory to buy something or have fun. Residents and holidaymakers can enjoy the free parking and swimming pool for free. Soon, a restaurant will also be opened in the complex, which will provide delicious meals for those staying or living there.
Children's entertainment is also important to the complex management, so they included a big stadium and a pool for kids on the grounds. The complex is fully equipped for families and for people of any age and taste, from the younger generation to the elderly, everyone can find inner peace and enjoy maximum comfort there.
All the apartments have balconies, so that residents can enjoy spectacular views of Batumi. All the apartments are full of light and air and are easily ventilated.
Such a project is unique in the Adjara region, the first of its kind to have such a big recreational zone and an open swimming pool. Coziness, greenery, pool, entertainment areas – all these make visitors to the complex want to come back for more!
Considering the conditions created by the pandemic, safety has become especially important. This is strictly observed in the multifunctional complex. Observing social distancing is very easy there due to the layout: the pool is big, so guests can swim peacefully, and the residential blocks are well-separated, so residents can avoid close contact with others.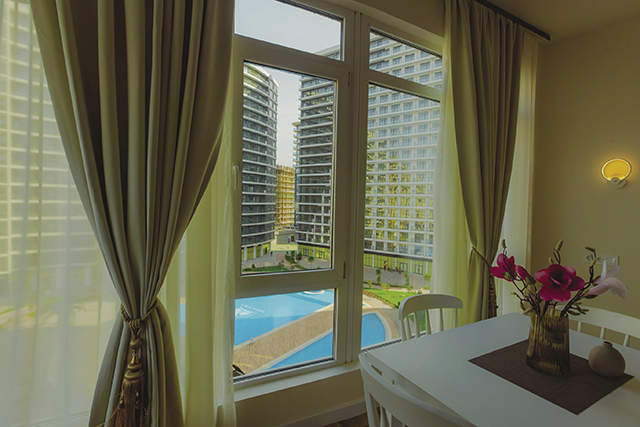 In terms of investment, purchasing a apartment in the complex is sure to be profitable. Despite the fact that it's newly opened, the demand is already high, exceeding all expectations, and undoubtedly due to the unique features of its recreational area, greenery and the complex in general.
The main advantage of purchasing/renting out a apartment in the complex is that everything is already completed: customers can see exactly what is available for them instead of getting mere promises.
Furthermore, they can receive cashback within only one year.
Comfortable apartments are available for rent both long-term and daily. Customer satisfaction is high, and groups/individuals who stayed there are eager to return there in future. Despite the COVID situation, the activity and demand of customers in August reached up to 70%.
Apart from families, the complex is sure to be exciting for business sector representatives, as ibis Hotel which will be opened in May, will offer them a conference space equipped with all the necessary inventory. A similar space is also planned within the residential complex, so its residents can also enjoy this comfort for holding conferences, business meetings, etc.
A hotel and residential complex in one space is a big comfort for residents, as they can enjoy all the comfort of a hotel, such as 24/7 security, reception, technical group service when necessary, concierge, etc.
Creating harmonious living conditions for their valuable residents is the main priority for the management team.
Typically, the majority of customers who choose to buy apartments there are from Israel, Poland, China, Ukraine, and of course, Georgia. The main attraction for them in this case is credibility, as they trust the management group due to its high reputation, which was obtained in a short period of time.
All those who wish to rent out an apartment in the complex have individual data available, through which they can monitor the processes. Further, the "Smart House" function allows them to remotely check their apartment and ensure that it's actually rented for the period of time agreed.
Creating conditions for a healthy lifestyle and relaxation for everyone is the main principle of the team behind WHITE SAILS, and this is what makes the complex in Batumi a perfect place to live and why it offers a chance for both reasonable and beneficial investment.