Russian journalist Vladimir Pozner on his website 'pozneronline.ru' recalls the events surrounding his visit to Tbilisi last week, and says that he has no resentment for Georgia or Georgians, is an honorable Kakhetian (a region of Georgia), and will come to Georgia again.
"I would like to thank everyone who wished me a happy birthday. You can't imagine, there were too many birthday wishes and I couldn't reply and thank each one. So, I wanted to do this today.
"I would also like to thank everyone who was worried about my condition when we were in Tbilisi with friends to celebrate my birthday there. It's a kind of a tradition, we've done it twice before, and what happened during the third visit…
"I have already said that I would not comment on these events, but because they keep asking too many questions, I decided to do it now for everyone and do it briefly and clearly.
"As I understand, there is an intense political struggle underway in Georgia and the opposition used my visit to organize, I do not know how to call it, a "rally." They recalled my statement about Abkhazia, made three years ago, and started to throw eggs at our bus. It seems like they have enough chicken eggs… Then they started hitting on the walls of our restaurant to make noise, shouting under the balconies of our hotel, and so on. I made the decision to leave, why should I endanger my friends, at least? We returned to Moscow and celebrated my birthday perfectly. This experience of Tbilisi helped us a lot, no matter how strange it may seem to you. I want to say with all clarity that I have no resentment against Georgia or Georgians, at the same time, I am an honorable Kakhetian and I, of course, will come to Georgia again, undoubtedly.
"Such lovers of throwing eggs, especially if they are paid for it, exist in every country, and they do not deserve attention," Pozner wrote.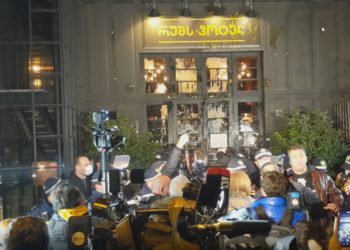 Vladimir Pozner came to Georgia with his guests to celebrate his birthday, but due to the protest of Georgian activists, he had to leave Tbilisi on a charter flight the next morning, earlier than planned. Activists claimed that Pozner was the author of a statement that "Abkhazia will never be part of Georgia" and that he should leave Georgia immediately. Civil activists threw eggs at the Russian guests' bus and hotel in protest.
By Ana Dumbadze
Related Story: Russian Side on Pozner Protests: Traveling to Georgia not Safe for our Citizens