USAID's program Supporting Youth and Women Entrepreneurship in Georgia (YES-Georgia) supports Georgia's economic development by working with aspiring entrepreneurs to advance their business skills and ability to secure funding for their businesses.
The program is implemented by Crystal Fund with the financial support of USAID, the Women's Global Development and Prosperity (W-GDP) Initiative, and JSC MFO Crystal.
USAID YES-Georgia supports economic growth and empowers Georgia's youth and women by encouraging innovation and promoting entrepreneurship, and in so doing enhancing youth and women's employability. The program provides emerging entrepreneurs and professionals with skills development, business training, mentoring, and access to finance.
Over the last two years, the program has been focusing on working with women entrepreneurs from Georgia, providing training and consultancy in business skills development, mentorship, and access to legal and accounting services. To reach out to more women in rural areas, the program has developed mobile business services through its "Buzz-Georgia" and School for Young Entrepreneurs initiatives. The program aims to empower local women to nourish their potential through making use of abundant opportunities that are designed to help.
Since 2015, USAID YES-Georgia has worked with more than 4,000 youth, providing them with business training. In total, 339 entrepreneurs have been able to develop business plans, 78 of whom have already obtained co-financing for the expansion of their businesses. In 2019, USAID YES-Georgia received additional funding, as it was selected by the Women's Global Development and Prosperity (W-GDP) Fund, part of the US Government's broader W-GDP initiative. It was one of 14 activities selected worldwide and the only one from the Europe and Eurasia region.
It merits mention that USAID YES-Georgia's work with women entrepreneurs helps tackle deep-rooted gender dogmas about the leadership role of women in Georgian society. The experience of the program participants demonstrates how successful women entrepreneurs can break persistent patterns of judgement that posit men naturally more potent in business and other fields traditionally dominated by men. Winemaking is just one example, although the program covers other sectors too. With USAID YES-Georgia's assistance, many women entrepreneurs have succeeded in either starting up family businesses or joining forces with other women to engage in wine tourism or wine marketing activities.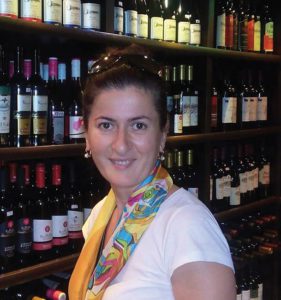 For instance, Sopio Samteladze and Shorena Pataridze from Racha have managed to successfully revive their family winemaking traditions and practices. Sofia told the Entrepreneur: "Viticulture has long been a tradition in our family. We made wine for personal consumption, which merited immense approval from our circle of friends and acquaintances. With the help of the USAID YES-Georgia program, I managed to bottle our family wine and offer it to other people. Today, we produce four types of wine: Khvanchkara, Tetra / Tkbili, Alexandrouli and Tsulukidze Tetra. Through the program, I met many strong, purposeful, and talented women from Georgia, who helped me take on far more challenging tasks with a better, more refined attitude . Such projects give small entrepreneurs significant knowledge and teach them to plan a business properly, calculate the risks, and get it right."
Similarly, Tea Makhalatashvili, Natia Gurashvili, Mariam Gorashvili, and Khatia Khidisheli started up successful winemaking business projects in Georgia's eastern region of Kakheti. Mariam Merebashvili took a step further, getting involved in wine tourism in her village in Georgia's Shida Kartli region. Mariam told the Entrepreneur: "In recent years, we have revived the centuries-old cellar of our ancestors and created a place that is popular with tourists. We produce typical wine types for Kartli, such as Chinuri, Goruli Mtsvane and Tavkveri. Participating in the USAID YES-Georgia program was a unique experience that taught me diverse skills and approaches needed to grow my business. In the near future, we plan to cultivate a unique Shavkapito vineyard and arrange an ethno-restaurant, where visitors will be able to taste both Shida Kartli and Ossetian cuisine."
All these women take care of the vineyards all by themselves, produce all kinds of wine, from powerful reds to delicate whites, and make sure it reaches others too.
Going forward, USAID YES-Georgia will continue to learn from the above-mentioned success stories, empowering more women entrepreneurs to increase their self-efficacy, confidence, and skills to follow in the footsteps of other successful women. By early 2024, USAID YES-Georgia aims to provide business management training, legal and accounting services, mentoring and networking opportunities to over 2,500 women.
By Elene Dzebisashvili