Tbilisi street art festival 'Tbilisi Mural Fest' began on August 20 and is scheduled to end on October 4.
Since its establishment in 2019, Tbilisi Mural Fest has brought together a number of artists to create remarkable murals in Georgia's capital. Local and world-renowned muralists display their work during the festival. The vision of the annual festival is to turn the entire city into a single, massive public exhibition space that showcases some of the finest works of contemporary street art. Sightseers have the opportunity to observe artwork being created up close and interact with artists at public events including workshops and podium discussions throughout the festival.
Tbilisi, the capital of Georgia, is a historic city that is now in the midst of major transformations. Since the collapse of the Soviet Union, Georgia's artistic community has been progressively growing. On the streets of Tbilisi, this is obvious. Tbilisi Mural Fest produces examples of successful post-soviet urban intervention, and aspires to transform unattractive buildings into pieces of art after years of disorganized and chaotic construction projects.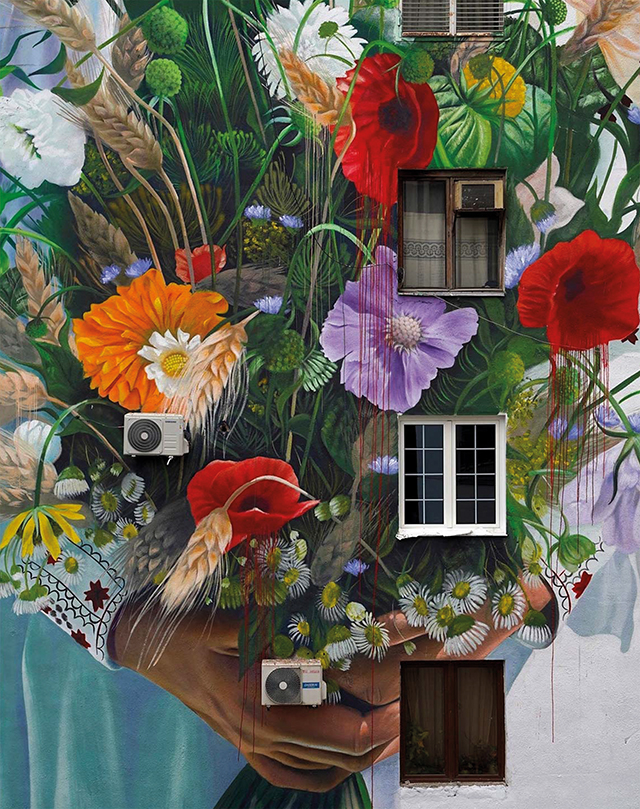 "The streets of Tbilisi and other southern nations are incredibly vibrant and lively, providing a fantastic chance for the creation of high-caliber street art. Due to this, we established the Tbilisi Mural Festival, for which we have received widespread acclaim," stated Besik Maziashvili, the founder of Tbilisi Mural Fest.
The festival has been working to foster new artistic relationships, viewpoints, and experience to be exchanged between mural artists. Allowing some great Georgian artists, such as Dante, Musya, Luka Japaridze, V45, Kade90 and David Samkharadze to collaborate alongside their famous colleagues in the line-up.
Since the festival's inception, Tbilisi Mural Fest has sought to provide encouragement and inspiration to the next generation of talented artists by entering academic settings. Students were thrilled to take part in workshops at the prestigious State Art Academy, to see the building's façade being painted, or to watch murals being created at the brand-new Kutaisi University of Technology.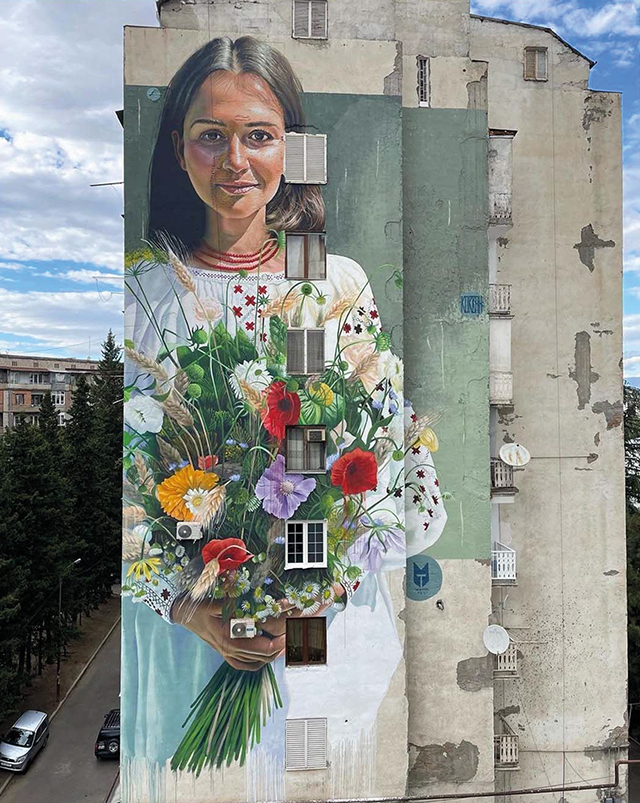 Unknown to the street art world until recently, Tbilisi has emerged as one of the most intriguing places for it. Famous artists from around the world, like Faith47, Case Maclaim, 1010, Monkeybird, Artez, JDL, Innerfields, El Bocho, and many more, have produced a vast number of big-scale works, ranging from stencils to abstract murals.
The festival invites artists to use the power of art to voice global messages and leave a legacy. Sasha Korban, Fintan Magee, Tina Chertova, David Machavariani, Mohamed I'Ghacham, Luis Gomez, Vesod, and Artez are among the performers at the Tbilisi Mural Fest 2022. The aforementioned mural painters come from Italy, Germany, Ukraine, Georgia, Serbia, Portugal, Australia, the Netherlands, and Spain. Each participating artist comes from a distinct background and walk of life, which is reflected in their variety of styles.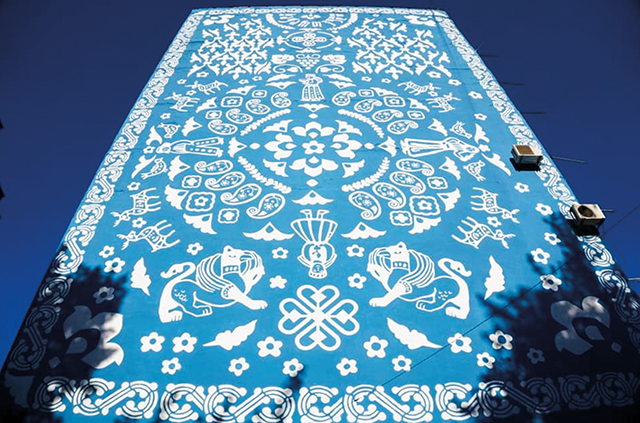 The 2022 Tbilisi Mural Fest artists, countries, dates, and locations:
Sasha Korban, Ukraine, 20 Aug – 04 Sep, 75 Chavchavadze St.;
Tina Chertova, Georgia, 20 Aug – 01 Sep, 12 Bakhtrioni St.;
Fintan Magee, Australia, 25 Aug – 10 Sep, 12 Bakhtrioni St.;
David Machavariani & Kade 90, Collaboration of two Georgian artists, 29 Aug-10 Sep, 24 Chonkadze St.;
Mohamed I'Ghacham, Spain, 08 Sep – 19 Sep, 31 Makashvili St.;
Artez, Serbia, 20 Sep – 30 Sep, Mindeli St.;
Vesod, Italy, 30 Sep – 04 Oct, 18 Tabidze St.;
Luis Gomez, Portugal, 01 Oct – 04 Oct, 1 Mindeli St.
Take a virtual tour of some of the city's most colorful streets without the need to lose time in Tbilisi's alleys to discover some fantastic street art. Here is a visual tour of the diverse urban artworks so far created at the Tbilisi Mural Fest 2022, which range from an inspiring proud Ukrainian lady to traditional Georgian elements. These are those recently finished; the remaining pieces have yet to be revealed.
Sasha Korban
Sasha Korban, this year's Ukrainian artist of the Tbilisi Mural Fest, stated that the wall on which he painted the mural was the hardest wall he has ever worked on in emotional terms. He recalled the conversation he had with Maziashvili, in which he found out that Tbilisi Mural Fest had prepared a special wall for him opposite of the Russian Federation Interests Section at the Embassy of Switzerland in Tbilisi.
"I portrayed a Ukrainian woman in a traditional embroidered shirt holding a huge bouquet of wildflowers with ears of wheat," Korban noted. "She is proud and full of light. She looks straight ahead, with a barely noticeable smile, at all the obstacles and fears before her. It symbolizes our strength, inner energy, freedom and will. Despite the terrible and cruel war, we, as a nation, will endure, become even stronger, and we will live!"
"There were several situations when people from the opposite building tried to stop me from working on the mural just because a Ukrainian was drawing there," he added.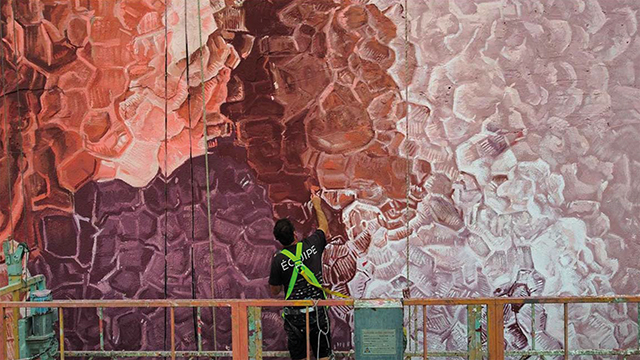 Tina Chertova
"The inspiration for this mural came from Georgian traditional ornaments. I made a mix of old Georgian ornaments from books and composed a Georgian Blue Tablecloth that I spread on the wall. My goal was to show traditional ornaments in a modern art shape and space. As a bonus, there is a hidden story of a woman entrepreneur – a writer, a doctor, an agronomist, and a winemaker," said Tina Chertova, one of the Georgian artists participating in the 2022 Tbilisi Mural Fest.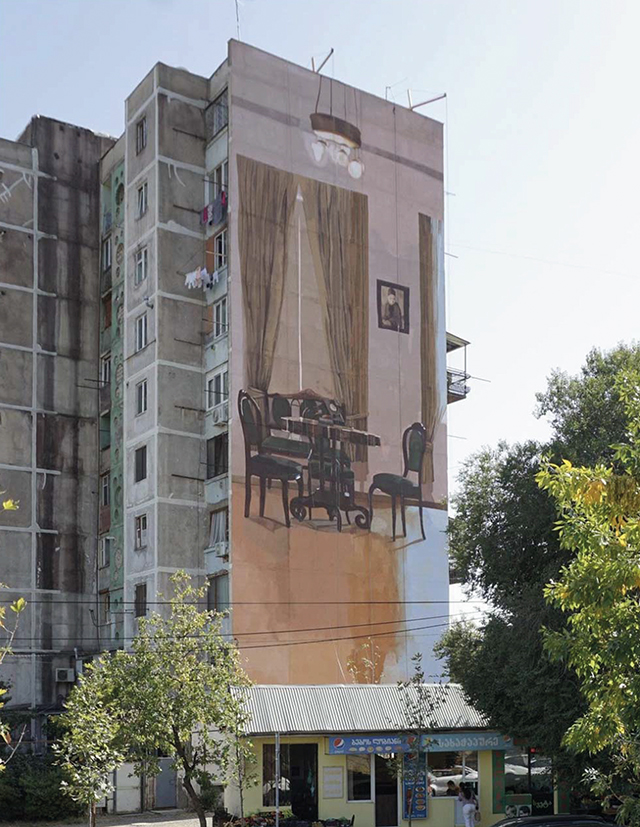 Fintan Magee
Tbilisi Mural Fest artist Fintan Magee said, "I'm taking part in the Tbilisi Mural Fest for the first time. I genuinely enjoy it. I draw inspiration from the people living here. The painting on the wall will feature two ladies, one of whom will be holding artifacts. The festival is an opportunity to send out the right message and make homes a lot more colorful."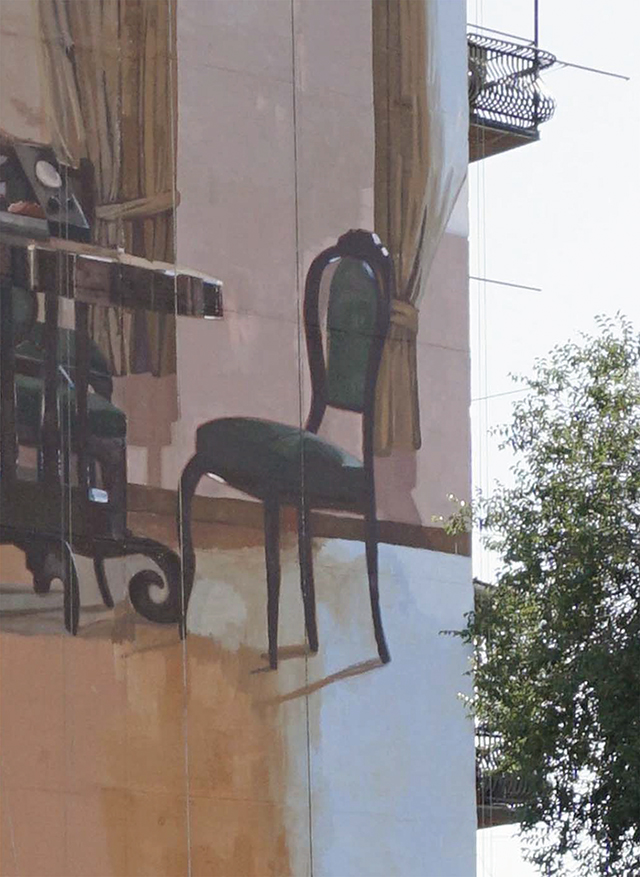 Mohamed I'Ghacham
Mohamed I'Ghacham's artwork is known as "Ilia's house."
Tbilisi Mural Fest is partnered with Tbilisi City Hall, ReBank, Adjara Group, Alpina Paints, and Montana Cans. Along with the Embassy of Ukraine in Georgia, the Embassy of Italy in Georgia, Dephani AD, Artarea, and Unfound Door are supporters.
In 2020, Tbilisi Mural Fest created an app called Tbilisi Murals, which enables users to locate murals from Tbilisi Mural Fest, as well as to see the murals and learn more about the artists that created them.
By Sophie Hodler