The National Center for Disease Control (NCDC) has appealed to Alma, the company whose banners aimed at promoting the vaccination process in Georgia have been replaced by political banners against the opposition United National Movement party (UNM). The NCDC calls for the immediate restoration of the vaccine-supporting banners.
A few days ago, anti-opposition, hate speech banners appeared in the streets of Tbilisi, with the text "No to Natsis (referring to the UNM)! No to evil! No to betrayal!" On the banners, photos of representatives of opposition parties, including former Prime Minister Giorgi Gakharia, and the media managers of two opposition-minded TV channels, are displayed against a red background, symbolizing blood.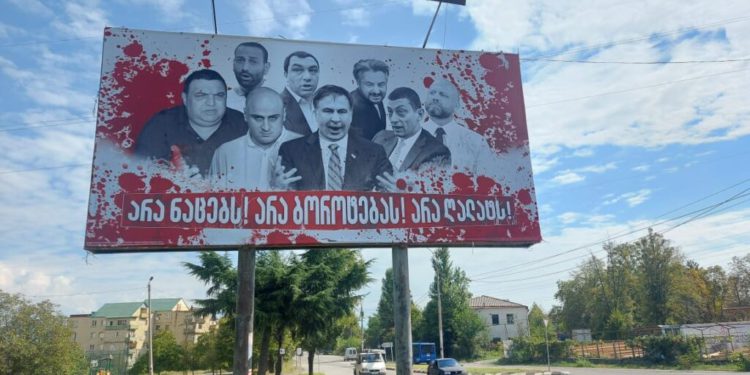 Amiran Gamkrelidze, head of the NCDC, hopes that Alma will realize the responsibilities that all individuals and companies have in the process of promoting vaccination.
"Under the Covid-19 pandemic, when thousands of people get sick and dozens die every day, and considering that at the same time, the vaccination process has been declining in recent days, replacing the vaccination banner with any other content banner will have quite a negative effect.
"In addition, according to the contractual practice between us, it is possible to change the banners only with the prior agreement of the parties, which did not happen in this particular case," stated the NCDC.
'Alma' released a statement regarding the political banners containing hate speech, saying that the company has nothing to do with the content.
"All of our customers know that 'Alma' has nothing to do with the content of the banners, their design, visual elements, target audience, or anything else. 'Alma' only sells / rents space on billboards or buildings.
"In this particular case, too, the role of our company was limited to the fact that we received an order from the customer and placed it on the billboards owned by the company," reads the statement.
Regarding the position of the members of the ruling party Georgian Dream, they note that they "also don't like the content of the banners, however, they have no connection with the fact and, moreover, everyone has freedom of expression in the country, which should be protected."
Vaccination rates in the country have decreased in recent days. Health officials are alarmed, and are calling on the population to get vaccinated.
"There is a serious need to stimulate the vaccination program," stated Tamar Gabunia, Georgia's deputy health minister.
By Ana Dumbadze
Related Story: Gabunia: Rate of Vaccination Down! Citizens Need More Encouragement