It's a new and strange reality we have to live in nowadays. The global pandemic turned everything upside down, affecting each sector and changing our lifestyles, bringing human tragedy and posing serious challenges for the business sector and economies worldwide.
Tourism and agriculture, the two main directions and pillars of the Georgian economy, closely connected to each other due to their specifics, are also in the same struggle. At such times, it is important to have as qualified field experts who can help share their experience and maintain stability with well-developed crisis management strategies that keep businesses diversified and strong, and staff employed and feeling secure.
We discovered one such professional, boasting years of experience in the agricultural sphere, Erhan Zorlu. He is the General Director of two leading different profile companies in the Georgian market: WG TECHNO and MZA CHITILI, whose contribution to the development of local agriculture is significant, and which have both adapted particularly well during the crisis.
MZA CHITILI offers customers a sophisticated, flexible service and high quality vegetable and flower seedlings. It produces vegetable and flower seeds and fresh vegetables in its greenhouses, and then distributes them to supermarket networks.
MZA CHITILI is the first company in Georgia to produce not only ordinary but also grafted seedlings, for which the latest Italian technologies and robotics are used. The aim is to take and implement foreign technologies in Georgia, which will help the local farmers improve their knowledge and skills in the field and get a larger, higher quality yield at lower cost.
In the near future, it is planned to export seedlings from MZA CHITILI, alongside the agricultural tools, such as pipes, fittings, etc., produced by WG TECHNO, to neighboring countries.
GEORGIA TODAY was interested how Zorlu had brought his companies through a crisis which was so devastating to the agriculture sector as a whole. We spoke to him about his crisis management strategy, the future prospects of agriculture, and MZA CHITILI's current offers for both customers just now stepping into the world of gardening and private agriculture, and those with long-term experience in this direction.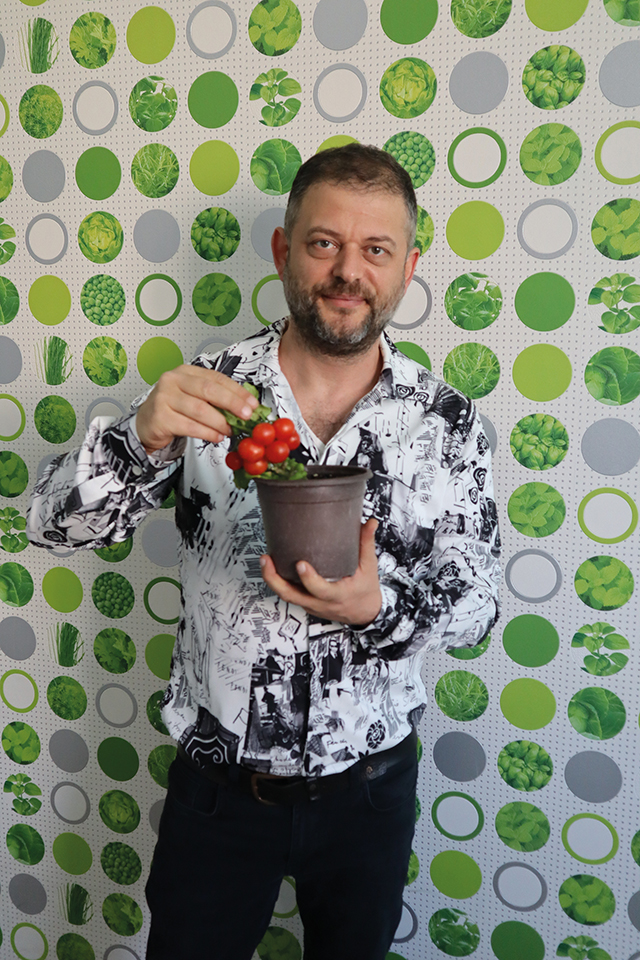 What are the main challenges for your business and agricultural companies today?
The main difficulty for companies has been the fact that due to the pandemic and travel restrictions, the number of tourists coming to the country significantly decreased, with the knock-on effect that many restaurants and cafes were closed, and, accordingly, the demand for vegetables went down. This lack of demand led to a drop in prices, and a lot of farmers, discouraged, didn't even bother to harvest their crops last year, leaving fruit and vegetables to rot in the field. Naturally, this meant that bankruptcy was high, and some farmers chose to give up farming entirely, afraid of a repeat situation this year.
Higher prices on vegetables are expected as a result in 2021, as are prices on polyethylene and the other plastic materials we need to produce agricultural equipment and containers.
However, against this background, a lot of individuals have developed an interest in growing their own vegetables in their private gardens, guaranteeing them natural and healthy products produced as a result of their own labor.
How did the company's strategy change during the pandemic?
In terms of crisis management, when MZA CHITILI lost a share from farmers in the market, it turned its attention to those mentioned individuals newly engaging in agriculture. As a result, today, we are growing the same amount of seedlings, but have changed our direction of marketing, trying to reach people who have houses in villages and need seeds for their gardens.
We're spending more time on digital marketing and digital services in general. And internet statistics show that ladies are particularly interested in gardening, so the company's marketing strategy is currently working with that focus.
In our shops, customers can find almost everything they might need for their gardening and vegetable-growing work, in one space. And, to make shopping easier and more comfortable, people can shop online at www.farmershop.ge, a site offering everything for the successful operation of both an individual's and experienced farmers' businesses, from seedlings and fertilizers to irrigation and greenhouse systems and pipes.
During the economic crisis, many businesses have been forced to reduce the number of employees. How is the situation in your companies?
Despite the difficult situation, we managed to keep all our employees, appreciating their experience and hard work, and recognizing that our success is based on their work and knowledge.
We realize that in such stressful times, companies need to boost their employees' feeling of belonging and unity, so as to protect their mental health and keep them motivated. We've been doing so intensively by improving our team's skills through various trainings, showing them support and appreciation, and being that company which shows it cares. We are a united and strong team.
What would you advise other businesses?
Based on my own experience, I would advise other business representatives in such difficult situations to be flexible and, if necessary, change their business focus. Even small changes can bring about a big effect. Adapting to the existing conditions and keeping staff motivated is the only way for a company to survive such crises.
How do you see the future of agriculture?
If we all, and here I mean both private individuals and business representatives, are careful and work to protect the safety norms in the country, we can get tourism back on track and start hosting foreign guests again. Along with the increasing number of tourists, naturally, the demand from restaurants for fruit and vegetables will increase, which itself will improve the situation for agricultural companies.
All businesses have an impact on each other, and the agricultural sector, just like the hospitality industry, is cautiously hopeful that the summer will bring an improved epidemiological situation, a decreased number of coronavirus cases, and more tourists to demand their products.
I believe that Georgia can become a production hub in the near future, from which diverse materials will be exported to the neighboring countries. The two companies I manage will use all their resources and our team will spare no efforts to significantly contribute to this process and the development of the agrarian sector in the country.
Interview by Ana Dumbadze