Mochiko, a family-owned Asian dessert shop in Kutaisi, has made waves as the first establishment in the city to offer Mochi Japanese sweets. These delectable treats, crafted from glutinous rice flour, have quickly captured the attention of the Georgian market. Entrepreneur Tako Kintsurashvili, the mastermind behind Mochiko, expressed his surprise at the overwhelming interest the shop has received, prompting plans for future expansion and diversification.
"We embarked on this venture as trailblazers, introducing mochi desserts to the Georgian market. While we anticipated some level of interest, the response has far exceeded our expectations. Within just one month, our reputation has spread throughout Kutaisi, and our social media presence has earned us recognition in other cities as well," Tako Kintsurashvili revealed.
Despite being in the nascent stage of its journey, Mochiko is brimming with ambitious plans for growth and expansion. In the foreseeable future, the shop aims to broaden its product range, venturing beyond desserts and exploring innovative rice flour-based creations.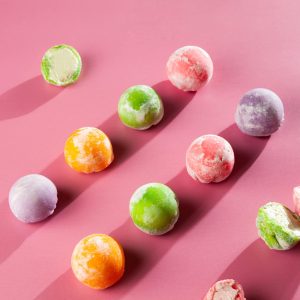 Since its establishment on May 23, 2023, Mochiko has garnered a loyal following by offering a diverse selection of thirteen distinctive dessert options. Additionally, customers can indulge in three variations of creamy mochi, each distinguished by its unique texture and flavor profile.
Mochi, a Japanese ice cream delicacy, is made from "Mochigome" —a type of Japanese round grain sticky rice. It is renowned for its intriguing taste and distinctively soft, chewy texture that envelops a delectable ice cream filling. Mochiko's introduction of this culinary treasure to Kutaisi has undoubtedly sparked a delightful revolution in the local dessert scene.
As the popularity of Mochiko continues to soar, one can only imagine the exciting possibilities that lie ahead for Tako Kintsurashvili and his team. With their entrepreneurial spirit, commitment to quality, and the allure of their enticing creations, Mochiko is poised to become a household name not only in Kutaisi but throughout Georgia.
By Mariam Gorkhelashvili