MM Goods is the first innovative Georgian online platform in the area of interior design. It unifies brand new and second-hand interior objects from different brands. MM Goods offers its customers a comfortable, trustworthy and high-quality service, with plans to diversify in the near future. For more information, GEORGIA TODAY spoke to founders Mananiko Khurtsidze and Mariam Abuladze.
"The times of uncertainty caused by COVID19 affected the business sector and forced it to transition from physical stores to the online market. We decided to make this experience more enjoyable and convenient for customers by creating an innovative, inclusive and sophisticated platform of interior design," Khurtsidze tells us. "We were inspired primarily by our interest in this area, as well as our desire to enable our customers to access and compare interior objects from various brands in one space. We have partnered with many interesting Georgian companies who manufacture or import furniture and other interior decorations. The MM Goods, for the Best Online Interior Design Concepts number of our partners is continually growing, making our platform more and more inclusive. 'MM' represents our initials and
'Goods' unifi es all the items that are sold on our platform."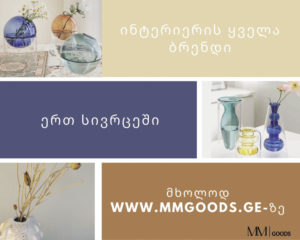 TELL US ABOUT THE SERVICES YOU OFFER CUSTOMERS.
Our web-page comprises of two main aspects. Firstly, as already mentioned, we offer our customers a wide variety of interior objects by Georgian and international brands. Additionally, what makes our service unique is the fact that everyone can create their own online shop within two minutes and sell their brand new or pre-owned decorations/furniture.
Finally, we provide a safe and convenient delivery service, which is an important aspect of our broad service.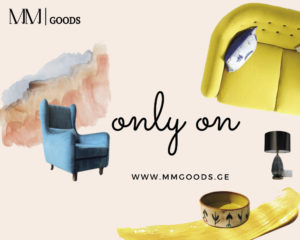 WHAT MAKES MM GOODS STAND OUT?
MM Goods is the first innovative interior design platform, which has no alternatives on the Georgian market. Our main focus, revolving around interior design and the idea of combining brand new objects with pre-owned furniture, is truly what makes us special. We've brought forward many interesting and newly founded Georgian brands, allowing them to reach a larger audience.
Our web-page has numerous convenient functions which makes it possible for customers to compare the characteristics of any items they might want to purchase. Once our customers place an order, we take care of the rest, ensuring safe and timely delivery of their new goods. Customer satisfaction is very important to us.
WHAT ARE YOUR FUTURE PLANS?
We believe that our idea has great potential. We're planning to add new and unique categories to our web-page related to interior design, and to launch our own line of interior products. For the time being, our platform functions only in Georgia, but we're already considering expanding our services abroad. This will definitely be a fascinating challenge for us.
Contact information: www.mmgoods.ge, info@mmgoods.ge