General Riho Terras is an Estonian politician and a former military officer serving as a member of the European Parliament since 1 February 2020. Prior to that, he was the Commander of the Estonian Defense Forces from 2011 to 2018. Radio Free Europe sat down with him to pick his brains on the war, and the West and Russia's current thinking.
Following the Poland missile incident, should there be more alarm in the West?
Well, if there's war on the borders of NATO, there's always potential for an incident. I think [that missile] rather helps Ukraine to get more support. And the meeting in Rammstein showed us that countries are willing to give more weapons and more economical support to Ukraine.
It hasn't been enough so far. I even wrote a letter to NATO to that effect, together with General Breedlove and other generals, right after February 24, saying that we need to create air superiority over Ukraine. NATO didn't accept it. It doesn't matter whether it is NATO or the countries of NATO who do it, I still think they need to control the airspace over Ukraine.
All the NATO countries, except for Hungary and Turkey, which are playing their own games, are very unified behind Ukraine, and the support is increasing. I have the feeling that the US could end the war very quickly if they wanted to. Russia is talking about NATO being at war with Russia, but NATO has not arrived yet, and Russia is losing already. A couple squadrons of F-35s would end the war. Of course, I understand the context of nuclear and that is another facet. China doesn't want Russia going nuclear. For China, the current situation is actually the best it could be: They can earn money from this war, but they aren't really willing to have a nuclear conflict, because the only thing where China is not the world power is in nuclear arsenal. They don't want to be a smaller brother, and Russia needs China, at least for it not to be against Russia. It's important for the Russians that the Chinese aren't taking sides. I don't think a nuclear conflict is likely, but there's always a possibility of it with this mad government of Russia.
After the Polish incident, a very prevalent and cynical line made the rounds on Twitter: "NATO will not start WW3 over two farmers". Just what would it take for NATO to get involved?
Well, if NATO's territory is attacked, and the Polish incident cannot be seen as such, NATO will become part of the conflict.
Nobody actually believed that Russia was suicidal enough to attack Ukraine from five different corners. There was a thinking that perhaps Russia might push into eastern Ukraine, perhaps into Kherson, but, really, everybody who could read, write and calculate was absolutely convinced that Russia would not attack Kyiv. But it did. So the question is, how far will they go? Logically, if you look at what the forces of Russia were on February 24, any military analyst would say – not logical, not possible, Russia will not do it, but they did.
Why? Don't they have their own military analysts?
I guess it was more to do with the assumption that the Ukrainians would celebrate their "liberation". That's the game the FSB junta around Putin played, and they were very surprised when they saw that nothing of the kind happened in Kyiv as had happened in Crimea when it was taken over. I very often have this feeling that people don't give Putin the real analyses; they just want to please him, and then they go and make sure his ideas are supported by the analyses, which is misleading.
Today, we see the Ukrainian army has become Europe's most powerful army, even compared to the Russian army. We need to beef up that Ukrainian army with assault weapons, battle tanks and planes, in order to give them the possibility to liberate Ukraine's occupied territories.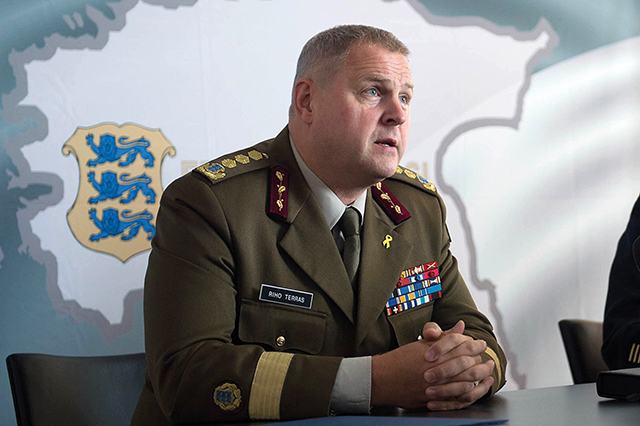 You are a firm believer of Ukraine's victory on the battlefield. Can you guide us through how you see that happening, tactically?
I think the next objective should or could be Melitopol, which has always been important, key terrain. Second, the Ukrainians would need to take in other centers of the oblasts, in Donetsk and Lugansk. Donetsk especially would be a good case of victory, another Kherson for them. And to push beyond what was the line on February 24 would be very important, because it would show "We will take not only what was taken from us since February, no, we won't be satisfied with that: We want it all back!" This area of Donbas is very rich in raw materials, the biggest lithium reserves in Europe, fourth biggest in the world. So I think that would be a sign at which the world would then say, now we need to [help them] take it to the end. Today, still, there is not much trust that the Ukrainian army can do it. I believe in that possibility, though.
How exactly do you see that happening? In Donetsk, the Ukrainians had to retreat. How do you see them coming back and flushing the entire Russian defense line out?
Well, first they would need to do exactly what they have done to date: Move with good discipline, mission command at all levels, which is the secret to a good advance, shown in the Ukrainian but not in the Russian command structure. The Russian army has an immense shortage of command personnel. They're giving officer ranks to soldiers who just finished their studies in university- teachers, welders, no matter for the Russians: if you studied, you can be an officer. And that, of course shows that the training is very, very low. And on the other side, the Ukrainians are going through training in the European Union, a course we want to pass 15,000 soldiers through. So, good education, training and, of course, the Ukrainians themselves being very good at the art of war, doing things by surprise. Take Kharkiv for example- nobody was expecting them to go forward in the Kharkiv Oblast, but they are liberating it, the Russians are on the run! So I think the element of surprise will be there as well. Russians still have lots of stupid bombs and grenades, but they are being used against civilians. It's much more difficult to kill the Ukrainian soldiers, because they know how to behave.
The targeting of civilians seems deliberate, with the aim to lower Ukrainian morale by drastically diminishing their living standards. Might it work?
Well, I think it very much influences the morale of Ukrainians– they now hate the Russians even more. It's working to the opposite effect. It is, again, an assumption which comes from the Russian side and is completely wrong. Do they think that if they keep bombing, the Ukrainians will start to lose their faith in their government? I haven't seen it. And the polls don't say it. It's more that every Ukrainian is very angry at the Russians.
Another thing is Russia's diplomacy and propaganda working hard and very effectively on European citizens, telling them, "Please end the war, it is a bloody war. We don't need war in Europe. Please stop. Go to the negotiation table." But even Joe Biden and his administration understand that Zelensky cannot be pushed to the peace negotiations, because it will be Zelensky's political death sentence in Ukraine.
I think from the very beginning, the US wasn't particularly interested in this conflict and escalation. I saw signs which, in my opinion, show that for Biden's administration, the best scenario would have been the scenario of the 2008 Georgia conflict: A small conflict, not too many killed, a change of government- one that gives out nice words about how they want to join NATO and the European Union, whose representatives go to Brussels and Strasbourg in nice suits, but who, in reality, are really not willing to do what they need to do to join, making it is easy for the EU and NATO not to take them- because they prefer cooperation with Russia. That is what happening in Georgia, in my opinion. And that's only on the government- as I know, the Georgian people themselves want to be part of Europe and part of NATO, but the current government, I don't see them doing anything. I mean, Georgia was the best pupil for years when it came to progress towards NATO and the European Union. But today, there's nothing. The same was a very comfortable scenario for Ukraine, too. Biden even said, and then after his press people corrected it and said he didn't mean it, that in the event of small conflict, they will not intervene. The US will not intervene. That was just before the war.
The other thing was when the American Embassy staff evacuated Kyiv before the others, really showing that they are willing to give it up. And the idea of the US government offering Zelensky the chance to leave the country was another. So I think they thought: Three days, new government in Ukraine, they'll still have talks about neutrality, perhaps about the EU, but not NATO, blah, blah, blah. But the problem was that they didn't give that memo to Zelensky, and so he didn't know that he should do that. He decided to fight back, and, it turns out, very successfully.
In early April, the Americans started to really believe that change is possible, that it is possible that the Ukrainians might win. And then they started to organize the support and started to send weapons, and they still are. Now they need to increase that support, because if the war doesn't end with a Ukrainian victory, the Russian junta state will still be a problem for the world around it for years to come.
The important thing that everybody needs to understand, and what the West fails to understand, is that while the Russians can endure, can suffer and win, as they did in the Second World War, so can the Ukrainians. And that is the difference – the Ukrainians aren't the western softies Putin likes to call them, but hardened fighters. They are the ones who invented partisan warfare, back in the times of Napoleon, and they showed it again during the WW2. The Ukrainians aren't easy to take on. They have the spirit, and we need to send them enough weapons [to see it through]. That's a problem in itself, because the European defense industry isn't geared towards doing so. We are giving them what we have in stock, but we will soon run out ourselves, if we don't start producing more.
But I am still a limited optimist here: I cannot see Russia winning. Ukraine has already won, even if they have to lose territory – comparable to Finland in 1939, the Winter War, when they had to give up Karelia, but kept their independence. Ukraine has already won the war for independence; now the question is whether we can make Russia lose, and that's another step we need to make. Europeans need to understand that one or three degrees less heat in their offices or at home will save Ukrainian lives. We need to understand that war is going on in Europe, not just in Ukraine. People ask me – are you afraid, in Estonia? My answer is: "Talinn is exactly the same distance from Moscow that Berlin is, yet we don't have Russian speakers here, we don't have Russians demonstrating in support of Putin here as we have seen in Berlin, so you should understand that you are in the war as much as we are."
Interview by Vazha Tavberidze