Lost Ridge Inn is a two-floor, beautifully converted country house with that perfect blend of modern and old. You'll enter through a covered terrace into the cozy living area with tables, sofas, tiled floors and a large fireplace. In front of you is the bar area and a friendly face or two to welcome you. Two bedrooms are on the first floor; four others upstairs. Surrounding the house is a lawned garden featuring a summer kitchen, hammocks, and an overall sense of tranquility.
Attached to the house is a brewery, its shiny metal tanks on display through the glass as they quietly work to ferment the Inn's own craft beer, inspired by herbs and fruits of the region and beyond.
In last week's newspaper, we shared our impressions of the place after a wonderful stay there. To round-off our visit, GEORGIA TODAY sat down with co-founders John Wurdeman* and Ia Tabagari** to find out more about the business.
What inspired you to set up a ranch, then Inn?
JOHN: I've always had a passion for horses since my childhood. My grandfather had horses in Virginia where I grew up. I first came to Kakheti and Tusheti in 1996, and I enjoyed riding horses through the countryside. I bought a small home in Sighnaghi and wanted to have the experience I had in the mountains close to home. So with a few friends, I bought some Tushetian breed horses and set up a horse ranch in Khornabudji. At this point, we weren't thinking about tourism so much, as tourism hadn't taken off in the region – it was simply to have outdoor experiences for myself and family and friends.
Some years later, Ia and I founded Living Roots as an inbound tourism company, with a focus on quality culinary and wine experiences, blended with outdoor adventure tourism for diversity of experience, which came about because of our shared passion for the outdoors. Ia grew up with horseback riding and had a vision of how that could be an extra enhancement for our guests inbetween and amongst great gastro experiences. So we moved my horses and added some others to the village of Qedeli, which was in close proximity to Bodbe Monastery and Sighnaghi – two destinations we loved, as did our visitors. Also, it was in close proximity to my winery, Pheasant's Tears, and Pheasant's Tears Restaurant, where we also do a fair amount of entertaining.
Annie Lucas and Doug Grimmes from Seattle, WA, veterans in the Post-Soviet space travel world joined us, bringing deep experience in international travel and a passion for well-crafted beers to our Qedeli enterprise. In Kakheti and Georgia at large, wine is the most celebrated drink, but well-crafted beer highlighting local ingredients has been a welcomed addition to the culinary landscape of Georgia. We developed the Inn and guest rooms to help bring more people to stay in our village for longer stints, and give them a place to stay that had the same attention to detail we offered in our tours, horse trekking, winery, and restaurants. Over time, we had many guests that wanted to dine or have events onsite, so we developed various kitchens for special events, catering, and that has evolved into a destination farm-to-table dining venue. We've also been developing vegetable gardens and orchards to augment our sourcing of ingredients at our Ranch Café, as well as to supply to other local venues.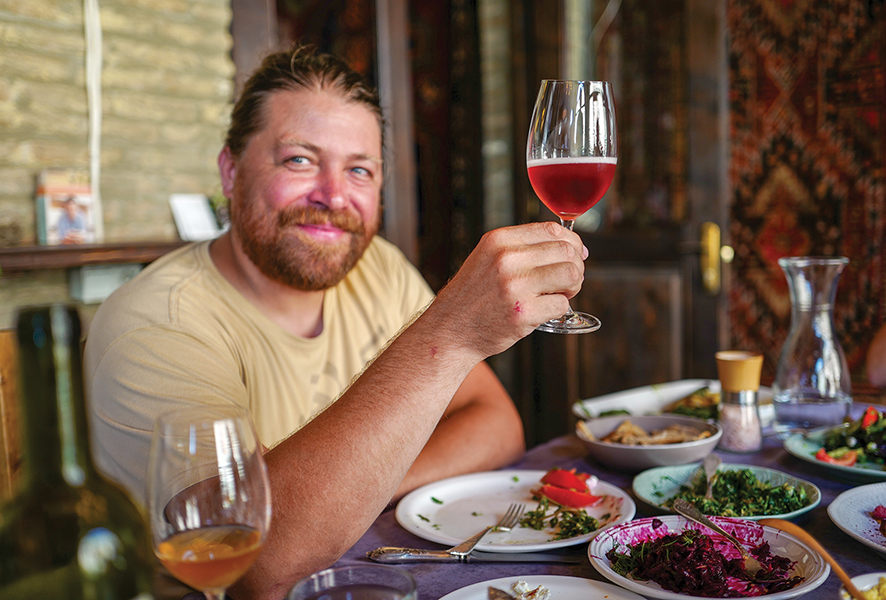 Why Kakheti?
I was first attracted to Kakheti due to its special melismatic style of polyphonic singing, and its beautiful wine culture. I also adore Tusheti, and Kakheti was the gateway to the Eastern Highlands.
Tell us how you came into wine/beer/restaurants/horses and inns.
By profession, I'm an artist, but I was also very fond of music, especially ethnic singing, and I've cooked since my childhood. My early years in Georgia, I divided my time between collecting folk songs and painting; a decade later, I became curious about how to bring back some rare varieties of grapes and attention to indigenous winemaking methods, and we launched Pheasant's Tears in 2007. One year later, we realized we needed a restaurant to share our wines together with seasonal cuisine that, like our wines, reflected a deep knowledge and respect for traditions, while also constantly experimenting and contributing to the tradition we loved and revered so much – so we opened Pheasant's Tears restaurant in 2008. In Qedeli, we established a homestead that receives guests, and where a full circle of gardening, composting, brewing, cooking and serving takes place, offering high quality fresh seasonal cuisine with the best beers and wine of Georgia.
Ia, tell us about your team- managers, chefs, stablehands, etc.
We are extremely lucky to have a gifted team of amazing horse specialists, cooks, hosts, gardeners, and storytellers. When you visit us, you visit a family, where everyone has their specialty but we all complement and support one another. We also collaborate with other farmers, cheesemakers, restaurants and tour companies, making Lost Ridge a catalyst for a revival of high quality rural tourism in the region at large.
What makes Lost Ridge stand out?
We bought land in an abandoned village, restored several hundred-year-old houses to preserve the traditional style characteristic of Kiziqi architecture, using the experience of local wood craftsmen and natural materials. After brewing, we feed the leftovers to the horses, we take the horse manure to the permaculture garden, where there are fruit trees and vegetables. The grass grows there, with which we feed the horses: It has resulted in such an interesting circular cycle! We've also employed amazing people from the neighboring village, who brought us experience in gardening, cooking, and many other treats of hidden knowledge. We treat our guests to seasonal vegetables and fruits grown in our vegetable garden.
Our employees have registered as small entrepreneurs, so the procurement process has been simplified. The morning breakfast boasts village eggs, sour cream, fresh cheese, Tone bread (Shotis puri), homemade jams and syrups. We pay special attention to gastronomic issues, the quality of wine and beer. We have a lot to do, but there are also many of us, and we help each other. During the day, the horses need to be taken care of horses or taken out on horse riding tours, meals need to be cooked, we might be working remotely on new projects and new horse riding routes, receiving and transferring guests to the hotel, holding lectures on eco-tourism, wine and beer tasting, planning next year's tours…
What are your business plans- anything new?
We're in the process of erecting a historic wooden home from Adjara at Lost Ridge, one that would have been destroyed if we hadn't salvaged it to put in our permaculture food forest. We plan to entertain guests in the gardens, cook meals from local wildly foraged ingredients and the bounty of our gardens, as well as continue to make our own specialties, developing a line of jams, compotes, sauces, and pickles from our gardens. The off-grid wooden home will be a center for both our culinary experiments and a base to share them with our guests, in the garden where they were grown, with a few rooms to stay in as well.
Our permaculture gardens are an ongoing activity that takes time, but will continue to adorn our tables with delicious fruits and veggies while being farmed in a way that causes no damage to the Earth.
In addition to this, we are continuing to develop and expand our horse treks, including options for foraging and combining culinary and outdoor adventures. We even have chefs that double as trained horse guides.
Our ultimate aim is to form an eco-village, get bio-gas, and be solar powered.
We are gradually becoming an agro-tourist destination, offering riding lessons and participation in the process of horse care; mountain and nature reserve riding tours and expeditions; wine and gastronomic tours in the area; fire kitchen with ovens, where the complete cooking process takes place; brewery and delicious craft beer; hotel and recreational space; lectures and tasting of grape varieties in the 120-variety Pheasant's Tears vineyard. Most of our offers are seasonal, some are available throughout the year.
Our main "vein" or tour company Living Roots is currently reviving from the global pandemic, operating its tailor-made experiences, gastronomic, culture, special-interest and adventure journeys across Georgia, offering two-way cultural experiences, exploring the history and traditions in the now, forging intercultural friendships and supporting sustainability.
How does Georgia/Kakheti stand in terms of tourism development? Is there anything that could be done to better help businesses like yours?
Georgia can become even more attractive if the right goals are set, and plans implemented. That strategic projects are left incomplete is one of the biggest problems. In order to attract foreign tourists and for our own well-being, the most important thing is to establish new and maintain current protected areas, to protect our forests and rivers from harmful projects. The fact that our cultural heritage is being damaged is directly proportional to damage being done to the country's image. There is even a danger that cultural tourism will be limited only to museums and disappear from reality. After overcoming the pandemic, the development of small businesses in tourism is one of the most important links to the recovery of the sector. Green tourism should become our main direction.
*John Wurdeman has lived in Georgia since 1996. He co-founded Pheasant's Tears Winery in Kakheti with Gela Patalishvili in 2007, and in 2010 established Tbilisi's top natural wine bar, Vino Underground. He is among the founders of the country's Natural Wine Association, organizers of the annual natural wine fair Zero Compromise. Wurdeman's other projects include a travel agency called Living Roots, a wine distribution company, a brewery, and several restaurants in Tbilisi and Sighnaghi.
**Ia Tabagari graduated from the Faculty of Oriental Studies, then became an ethnologist and realized that, to proceed in tourism, she needed experience in business administration, and so studied marketing, financial management, and event management, combining these with real-life adventure tourism and international training opportunities. She says, "I didn't find myself in tourism by chance… I always wanted to share amazing places, adventures and sensations with others, get to know interesting people, rare dishes and wine, little-known ethno-culture and the natural environment. The main idea in what we do is to live more interestingly, create things together, and coexist with nature."
| | |
| --- | --- |
| Address | 8 Ninoshvili Street, Qedeli Community, Sighnaghi, Kakheti |
| Open | Year-round |
| Road Access | Easy, newly paved road |
| Accommodation | 6 rooms in the house, 2 restored 19th century cottages on the grounds. You can book a room at Lost Ridge Inn online via their website, at + 995 599 795529, or on Booking.com. |
Interview by Katie Ruth Davies, translation by Ana Dumbadze