The ever-growing Georgian market of cash-free payments demands a proper tech supporter, which will guarantee our citizens and tourists pay only digitally. That provider is world famous tech giant, Mastercard, which has led the Georgian market for years. Among the 210 countries the company operates in, Georgia is one of the most developed in public use of digital payments, surpassing most European countries as well as its Caucasian neighbors. Speaking about neighbors, on the regional level, Georgia and Armenia are in the same basket for obvious reasons, and David Zgudadze is the country manager for both.
"I joined the Mastercard team two years ago. My previous post was as account manager, where I was responsible for communicating with the financial sector. But when the position of country manager became vacant, I applied for it. Since August, I have represented Mastercard on the regional level in Georgia and Armenia."
David Zgudadze has 15 years of experience in the banking sector, but his path to the country manager position was much longer. After graduating from the Georgian Technical University, he decided to complete a master's degree in Business Administration as well. That's how he received a double diploma from the Grenoble and Caucasian Business Schools. The young Zgudadze started working as a web developer at the Internet provider company "Saneti". Still, his actual career began when Cartu Bank offered him his first serious job as an IT specialist.
"I started my career at Cartu Bank in 2006, and my initiatives began to significantly develop the digital commercialization sector. The bank became the first ever Georgian company to receive an internet payment licence. Then I decided to join the TBC Bank team, where I worked for 10 years. Through that time, we achieved a lot in the digital commercialization sector. While at TBC, I had a close partnership with the Mastercard team, which helped me get closer to the company. Now I'm here, speaking as a country manager of Mastercard, and I feel proud that I managed it."
Mastercard opened its local office back in 2018. For four years, the number of team members was low, but as the demand for paying digitally increased, in the summer of 2022, they decided to recruit more people and appoint a new country manager.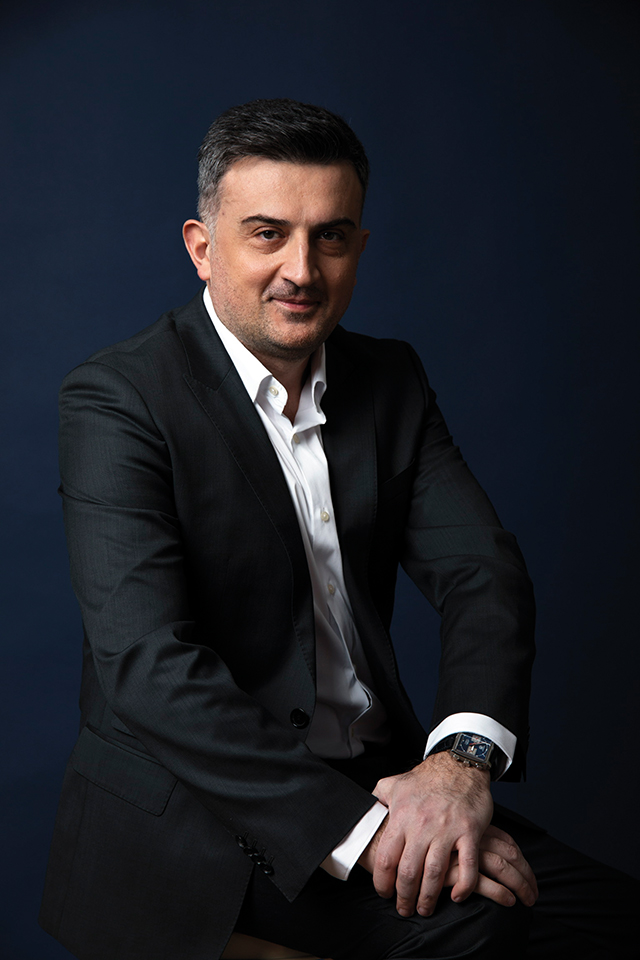 "Only three people were working here when the office was opened, but this year we decided to add more jobs, and now we have three new specialists from the banking sector. I'm proud to say that the team, uniting six members, deals with issues not just on the local but Armenian level as well."
2022 was full of exciting changes. While Georgians paid their final farewell to Covid-19, Google Pay arrived on the market, and Mastercard had a leading role in the negotiations with Google.
"These days, more Georgians use local internet payment systems than ever before, meaning internet sales are growing in popularity in Georgia. The only issue we had was that, unlike Apple users, Android smartphone owners didn't have a chance to pay digitally. Digital transactions are way safer than paying by cash or card. Modern technologies slightly reduce fraud risks, as every operation is conducted virtually via copies of transactions. I'm proud to say that it is possible thanks to Mastercard MDES technology, which converts our cards into digital tokens. For Google to enter the Georgian market took a lot of work to decide, as such tech giants prioritize bigger markets first. Google Pay is only available in 45 countries, including Georgia. The negotiation process was easy as the country is well-enough developed technology-wise to meet the demands of actors like Google. The only issue was the legal aspect, which took time, but when we'd dealt with it, Google Pay entered the Georgian market. Such changes accelerate the country's transformation, and we're proud to be part of it. Indeed, the fact that such world-famous brands are represented in this country is very important."
The year 2023 is ahead of us, and one of the priorities the company is to promote "Priceless", a world-renowned 25-year-old brand.
"Next year will be a different one! We will provide financial and non-financial sectors with more of our various services. Besides that, we will promote our brand, "Priceless". The brand itself will be available exclusively to Mastercard cardholders. It will provide them unforgettable experiences and valuable everyday discounts in the cities where they live and travel. It's clear that Georgia has an opportunity to become an excellent spot for developing priceless experiences, and we don't want to miss this chance," Zgudadze says.
Exclusive Interview by Erekle Poladishvili