In the homeland of wine, a new drink has emerged, capturing the hearts of its creators and promising to make a name for itself in the world. Three friends, Beka Gujejiani, Kote Gunia, and Giorgi Korsantia, embarked on a half-joking adventure that led them to the creation of Georgian gin, aptly named "Malamo." What started as a playful experiment turned into a passionate pursuit of crafting a unique gin that would resonate with local consumers and potentially captivate international markets.
Initially, the founders focused on the concept, design, and packaging, without having the gin itself. Despite their extensive search for experts to guide them in creating the recipe, their efforts were in vain. In a stroke of determination, they purchased a small house and delved into research, even enrolling in online courses on distillation. Countless versions were attempted, but the desired outcome remained elusive. Realizing they needed an alternative solution, the founders persevered.
Undeterred by setbacks, the founders sought out gin technologists outside of Georgia and found them in Kyiv. Despite the challenges posed by the ongoing war in Ukraine, the collaboration with these professionals yielded several promising recipe variations. With the arrival of samples from Ukraine, the founders knew they had reached a turning point. The success of their experiment was evident, and it was time to transform their creation into a tangible product.
"Malamo" embodies a celebration of wonderfully complex and balanced aromas, giving it a multitude of characters. As the awareness of gin grows among Georgian consumers, the founders believe it is the ideal time to introduce a local gin. The target audience for "Malamo" encompasses local consumers who are gradually developing their own gin culture, with hopes that the brand will extend its reach beyond the borders of Georgia.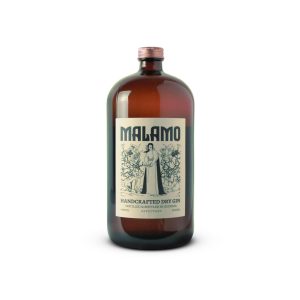 The brand concept for "Malamo" is rooted in locality and medical aesthetics, as gin has historically been associated with healing properties. The name "Ointment" emerged as a perfect fit, representing both the idea and sound of the brand. The bottle design features an image of Medea, a Colchis woman from Greek mythology symbolizing medicine and sensuality. Collaboration with Georgian artist Anka Bochorishvili brought the brand's visual identity to life, resembling old esoteric paintings.
"Malamo" has defied expectations, surprising consumers with its packaging and the quality of the gin itself. The brand aims to be associated with excellence, offering consumers a unique experience and challenging preconceived notions about Georgian gin. The positive feedback received thus far fuels the founders' motivation to further refine their product and experiment with other styles of gin, leading to additional limited releases.
With the ongoing support and encouragement, the founders are committed to perfecting their gin and exploring new possibilities. Their primary objective is to establish their own distillery, a venture already in progress. As they continue to innovate, their ultimate goal is to expand into foreign markets, introducing "Malamo" as a distinguished brand that proudly represents Georgian gin internationally.
The birth of "Malamo" represents the determination and vision of its founders to create a unique and exceptional gin. Through their experiments, collaborations, and unwavering dedication, they have embarked on a journey toward establishing their brand in both the local and international markets.
By Mariam Gorkhelashvili