In many parts of Europe and the United States, men and women from all backgrounds are often seen spending their weekends marching, making camp, drilling with uniforms and weapons, even fighting on open fields. These are not members of the standing army, but rather volunteers dedicated to the preservation of history through imitation. Wearing uniforms that are carefully tailored to mirror the chosen historical military unit, they march and conduct military drills and in some instances even simulate battle.
The reenactment of historical battles is nothing new. The Romans staged mock battles in their amphitheaters and coliseums, often with live combat; Medieval crowds looked on in amazement as "armies" collided on a parade field to replicate the Roman and Greek battles of yesteryear. Now, volunteers spend their own resources to honor those who served their country in years past. Through an exorbitant amount of research, they are able to recreate the uniforms and equipment that warriors from history's armies wore. The arms are also often either the same from the preferred period, or recreations.
In the United States, some of these historical demonstrations are done through the United States Department of the Interior's National Park Service with special attention paid to the soldiers and civilians that were involved or affected by the American Civil War (April 12, 1861 – May 9, 1865) and the American Revolutionary War (April 19, 1775 – September 3, 1783). Members of these volunteer units also partake in private events that simulate force-on-force combat complete with infantry, artillery, and even cavalry elements.
As a means with which to embrace their ancestors, regional history, or simply leave the home on the weekend, these volunteers draw from virtually every background. And as shown by the large crowds these displays draw, their performances are highly regarded by both young and old, many of whom are passionate about their nation's, region's, state's, or even city's history, seeing this as an honor to their locale. The Georgian's passion for their culture, history, and unique regions of the nation make it fertile ground for a similar community of volunteers.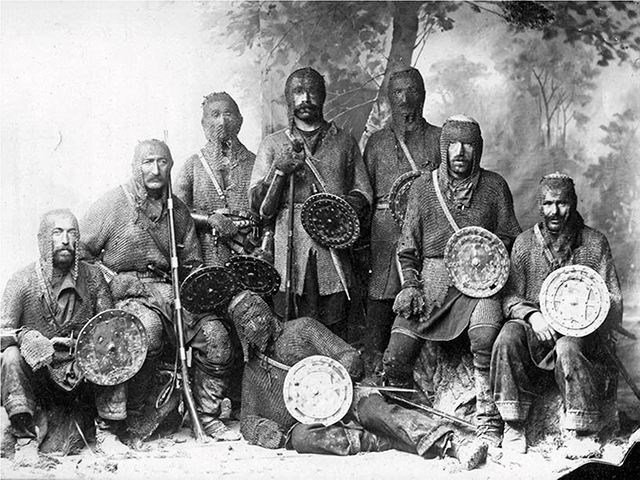 Already present in some small Georgian towns and villages, some groups have taken to traditional dances and displays of swordsmanship or horse riding prowess on special cultural dates. Additionally, Georgia is well known for its traditional ballet performances, such as those performed by the renowned Sukhishvilebi, whose combination of artistic choreography and links to the history of the country make it a treasured hallmark.
However, there is something at the center of living history that differentiates it from the more artistic and performative examples currently in place. In many of these living history communities, there lies a sense of historical accuracy and attention to the details of the arms and equipment being employed in the demonstration. It is not uncommon for members of living history or historical reenactment groups, often modeled after a specific military unit, to spend countless hours online and in libraries doing research. This research centers around uniform types and construction, significant dates for their unit, notable members, and tactics used.
With Georgia's extensive timeline and colorful history, having a healthy community of volunteers willing to preserve this through a similar commitment to accuracy is important. In conjunction with the resources and research already done by the Georgian National Museum, volunteers have access to a wide breadth of information and historical artifacts. Ongoing research and archeology projects offer an opportunity for the community and the researchers to come together to discover and preserve this jewel of Georgian culture.
Just as it is often done in the United States and much of Europe, these volunteer communities generally center around certain historical people, locations, or military units of a particular time period. Working together, these volunteers assist each other in organizing special events and in building a reputation of being a cultural icon as well as a trusted historical authority. In addition, these groups often take part in government events such as special holiday celebrations, memorial events, and even opening ceremonies for sports or political events.
The use of traditional practices and the classic dueling seen in much of the mountainous regions of Georgia give an excellent starting point for local prospective volunteers. Youth programs aimed at rekindling a sense of national pride and historical literacy give a platform for volunteers to share their knowledge and demonstrations. With Georgia's virtually innumerable amount of castles and ancient or medieval structures still present, this provides abundant locales for historical events and fairs to take place.
Historical preservation is something to which every community should be bound. That history is not only what makes the community what it is, but also can be a rudder to help steer them to where they will go. With a community of like-minded volunteers, working with schools and museums, Georgia enshrines its unique and expansive history. In doing this, it inspires a sense of unity and a positive national identity that is crucial to the health and welfare of the country.
By Michael Godwin