With the war in Ukraine nearing its one-year mark, many have already begun to draw conclusions and lessons learned from the action. New tactics, technologies, and weaponry have made many go back to the drawing board. The widespread use of drones has been one of the largest battlefield 'game changers' the West and its allies have noted.
Georgia, ever in the Kremlin's crosshairs, should be one of these lessons' star students. With a similarly miniscule defense force compared to the Russian military, and territories already under occupation, the use of these new drones may give the small country an edge if, or when, the bear comes back to finish its work. And the Georgian coast also offers an opportunity to employ a new devious trick against Moscow's Black Sea Fleet.
Ukraine has employed, likely for the first time in combat, small waterborne drones against Russia, most notably against its naval garrison in Crimea. Through the autumn and early winter, Ukraine launched several waves of drones against ships of the Black Sea Fleet. While many of these were not counted as significant, with only two being recorded as damage, the effect these drones have had is real.
Russia has withdrawn all of its naval assets into port and, thus far, at the time of publication, not risked any meaningful ventures into the sea again. These small yet effective drone boats are seen as a new revelation in modern warfare, particularly in Ukraine. However, they have been used in conflicts in the Middle East for quite some time.
The ongoing conflict between Houthi rebels and the Saudi Arabian forces and their allied groups was one of the first domains where these new drone platforms were deployed. Saudi ships encountered them being used, and to significant effect. Iran, the likely supplier, has also reportedly used them to reconnoiter American vessels passing through the Strait of Hormuz.
The question still remains whether or not these drones are a viable tool of defense. They are certainly lower in cost than an anti-ship missile, and even more so than a new battleship. But what is about these sea drones that makes them so deadly?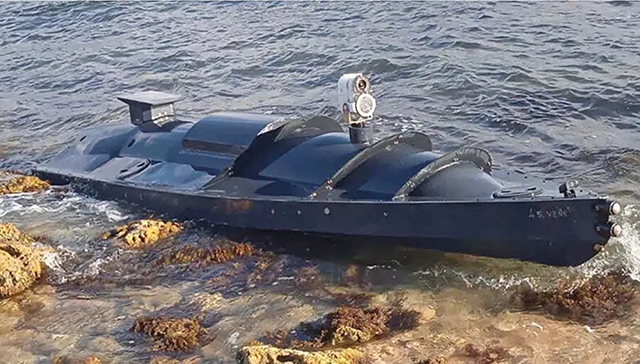 Scott Savitz, a senior engineer at the Rand Corporation, heralds the drones, labeled as un-crewed surface vessels or USVs, as the "new age of naval warfare." He says, "like prior transformative weapons such as torpedoes and anti-ship missiles, USVs could have a large impact on future naval tactics, equipment, and even the design of fleets." This allows early adopters, such as Georgia, to gain an upper hand on more advanced navies such as Russia.
Their simple construction, sometimes built using the framework of civilian jet-skies, not only reduces cost but potentially allows Georgia, with limited maritime construction infrastructure to get started in a short time. The size and surface level of these USVs enables them to detonate at the water level of the target vessel, sinking them faster. This aforementioned detonation can also be larger than a traditional torpedo or anti-ship missile, given that these USVs can be designed to carry a larger and even shaped charge.
Additionally, there is little on the current defense market to stop them from gaining the upper hand. The overwhelming number of ship defenses are aimed at aerial targets. Even though there has been some loose framework of ideas as to how to counter USVs published on the internet, little has come close to being implemented by any defense forces.
Current anti-torpedo measures focus on detecting the acoustic signature of the motor these munitions use. While these same systems could be used to thwart a single USV, their use in swarming tactics could be enough to defeat any countermeasures. In short, these new weapons are the next threat on the seas.
For Georgia, despite the pledges to stay out of the ongoing conflict, the leadership may not be able to control these levers of geopolitics. Tbilisi's focus inward may be warranted. For the western part of the country, coastal defense may take on a new form with USVs. With multiple small units positioned at various key harbors, including Poti, Anaklia, and Batumi, these cost-effective USV platforms can give advanced warning and ward off predatory Black Sea foes.
The topic of rebuilding the Georgian Navy has been covered by this author, and remains an important piece of regaining national prestige and defense infrastructure. However, a newer facet of this could be the creation of USV units to begin the naval defense initiative. Domestically produced and tested, these may bring about a new age of Georgian maritime security.
The neutering of Russia's Black Sea Fleet at the hands of a largely outdated and incredibly smaller force shows that even a geopolitical and military underdog can still tear at the soft underbelly of the Kremlin's Bear. Georgia, the jewel of the South Caucasus, still has the ability to defend its sovereignty and protect its shores with new lessons from Ukraine's heroic actions.
By Michael Godwin