Today, I am going to share an inspiring story and a symbol of how one person can change perspectives in a village and create space for youth. Kvemo Chala is a small village near the Kaspi region with only one stadium for sports activities. Before 2018, Kvemo Chala had no perspective, local or international, for youth. Then, in 2018, the youth-based organization "Kona" was founded by Czech enthusiast and youth engagement and community building young professional Jana Kowalova. In Kvemo Chala, Jana is known as the village's "Czech daughter-in-law," one who brings change to a small rural area with a ton of ambition and courage.
I think even Jana could not have imagined her life would be changed this way, coming from an EU city to a small Georgian village, after she met a Georgian boy originally from Kvemo Chala. Full of enthusiasm and ambition, Jana noticed the inequality and lack of leisure activities among the local youngsters, and, with her EU perspective and her previous experience in youth work, she established the organization "Kona."
Jana and I met for the first time in 2018 when she organized a networking event, 'Be Involved. Youth Work in Georgia: A Workshop on Networking and Sharing Experiences on Youth Work in Georgian Regions,' where I was honored to be invited as an active young leader in my country and as a young stakeholder. Since then, I've followed Kona. During the pandemic, I met Jana in Kvemo Chala, in her new house, where she was hosting a Komli NGO Kaspi tour. She told me her dream had been to open a Kona Youth Center, and with approximately 10 volunteers from Kvemo Chala, she is now able to conduct different activities there, like painting lessons and soft skills training. This is the first time that Kvemo Chala has received a spark of hope for fostering local youth opportunities.
In Georgia, meaningful youth participation is crucial, because it enhances the young generations' feeling of ownership and commitment to the community, which leads to beneficial changes in the country and in rural areas. Youth voices must be at the center of decision-making for their own future, whether in their own country or throughout the world. Youth participation can boost academic achievement as well as social-emotional well-being. It assists young people to develop valuable employment skills and networks, which can serve as an opportunity for social adaptation.
During the pandemic, I joined the Be Involved training program co-financed by the Polish-American Freedom Foundation as part of the RITA "Region in Transition" Program implemented by the Education for Democracy Foundation. It opened up new possibilities in my mind, and even I was able to make a small contribution by offering a light mentoring session to one team. It was so special to see how one person full of ideas can change perspectives for youth and work on unlocking youth skills. During this time, I became friends with one volunteer from Kona who was part of the training program, Tako Batilashvili.
During the opening ceremony of Kona on June 21, I was full of joy to see how the green ribbon was cut by volunteers and UNDP and EU representatives together. I can say this was an example of the first step to an inclusive atmosphere for the Kvemo Chala young generation.
I had a conversation with Tako, who said that she had grown up in a village where no opportunities existed, but when Jana came to the village and established Kona, she was full of curiosity and eager to be involved.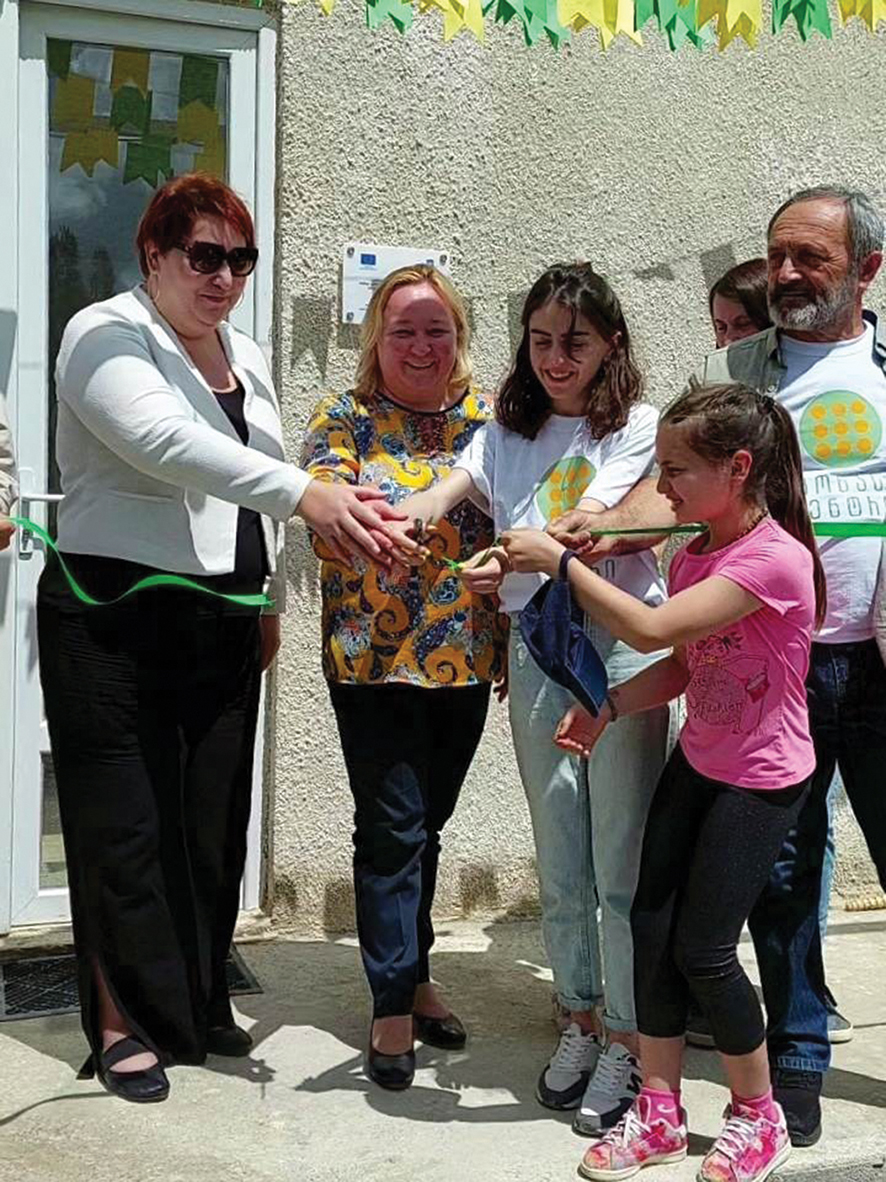 Tako was one of those who cut the ribbon with the high-level guests. Kona has been in her life for five years, and during this time she has been actively involved in almost all its projects. For her, Kona is a second family, where you can learn, develop, gain experience, and exchange positive emotions with other people. Being from a village where nothing was happening before 2018, Kona gave Tako great motivation and showed her the opportunities that are around and can be actively used by all young people. "I can freely say that Kona is a second family for me, with whom I grow and develop," Tako told me.
The private house of Jana and her husband, who is very supportive of his wife in all her goals and ambitions to help the village and youth from rural areas, was used for these past five years as the youth meeting space. But as more interests appeared, there came a need for a common youth space, so Jana applied for EU and UN grants. Her dream and actions were recognized and supported.
"The center will be a public area, and we want everyone to help us build it!" Jana said. The new 40 square-meter space will be used for education, study, and various trainings, meetings and free time spent together, access to the internet and equipment, after-school activities for children and youth, meetings and training for seniors, social entrepreneurship ideas, and more.
A distinguished EU and UNDP team, Radica Nusdorfer and Kristi Raidma from the European Commission's DG NEAR, and Anna Chernyshova, UNDP Deputy Resident Representative in Georgia, joined Kona for the inaugural ceremony, as did members of the EUMM.
Today, in Kvemo Chala village, a new perspective has arisen for its youth. It was exciting to attend the opening of the Kona Youth Center, made possible through the collaborative efforts of the #EU4Dialogue project by the EU and UNDP.
About KONA:
Kona (Georgia): https://www.facebook.com/konageorgia/ is active in the spheres of regional development, education, and work with youth and children. Its target groups are: people living in rural areas, children, youth, parents, and educators. Kona and its members have experience with community development activities, organizing leisure time educational activities for children and youth, art therapy, educational activities for parents of small children, activities promoting volunteering, and others. Kona is active in Kvemo Chala village, where it cooperates with a local club for youth and children and organizes leisure time activities.
BLOG by Mariam Avakova