In these challenging times for the world community and peace, promoting closer relations and goodwill among nations and societies is of utmost importance. Against this background, to achieve this goal, the work and efforts of diplomats and embassies become even more significant.
One of the countries Georgia has had exemplary diplomatic relations with is Japan, a country which has been supporting Georgia's sovereignty and territorial integrity from the very beginning of its independence. This relationship has been guided by shared values such as democracy, rule of law and human rights. This year marks the 30th anniversary of the establishment of diplomatic relations between Japan and Georgia. To celebrate this important date and also to promote peace and goodwill among society, the Japanese Embassy in Georgia is implementing an exciting promotion – planting sakura seedlings, a very symbolic flower for the Japanese people, in several Georgian cities, including the capital Tbilisi.
As part of this promotion, dozens of beautiful Sakura seedlings have already been planted in the city of Kutaisi, near the Davit Khakhaleishvili Judo Sports School, where a Sakura boulevard will be arranged. The event took place on April 2. It was attended by the Ambassador of Japan to Georgia Imamura Akira, along with his spouse.
According to the ambassador, the arrangement of the boulevard is dedicated to the memory of the Olympic champion, Davit Khakhaleishvili, who was from Kutaisi, as well as 30 years of Georgian-Japanese friendship and diplomatic relations.
To find out more details about the above promotion, as well as the important anniversary and Japan's position regarding the ongoing international developments and the current devastating war in Ukraine, GEORGIA TODAY spoke to Imamura Akira – Ambassador Extraordinary and Plenipotentiary of Japan to Georgia.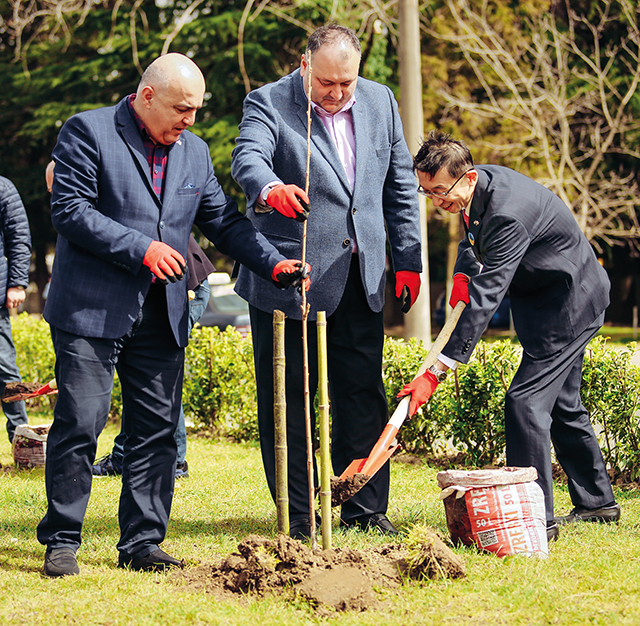 Your Excellency, the war in Ukraine deeply concerns the world. Many economic sanctions were introduced against Russia, and Japan is a part of it. Additionally, there are ongoing processes in the various international organizations against Russian aggression. What are Japan-Georgia's joint actions to help achieve a ceasefire?
Russia's invasion of Ukraine is an attempt to unilaterally change the status quo by force. This is an extremely serious situation that shakes the foundation of the international order not only in Europe but also in Asia. As such, it is unacceptable and we condemn it in the strongest terms. That is why we are resorting to unprecedently strong sanction measures against Russia and Belarus, together with the G7 and other countries. It includes both financial and economic measures such as excluding Russian banks from SWIFT and freezing their assets as well as removing Russia from most-favored-nation status.
We are extremely concerned about the humanitarian situation in Ukraine and are committed to providing $200 million for humanitarian assistance. Moreover, we have delivered non-lethal defense equipment from our Self-Defense Forces, changing our regulations restricting such transfer. We are accepting evacuees from Ukraine to Japan as well, issuing visas for those who, among others, wish to join their family members and friends in Japan. In the beginning of April Foreign Minister Hayashi Yoshimasa brought with him Ukrainian evacuees to Japan on government airplane from Poland.
Now is the time for the international community to show solidarity with Ukraine and resolutely respond in order to fully defend the foundation of the international order. We highly commend Georgia's response in this regard. Japan and Georgia have been closely cooperating, especially in the international arena, such as at the UN, coordinating our actions to isolate Russia. Both of us are acting together to promote the investigation of war crimes by referring the case to International Criminal Court. Recently, Japan and Georgia co-sponsored UN resolution to suspend Russia from Human Rights Council after hundreds of civilian bodies were found in Bucha. As Japan implements its sanctions, we closely monitor their full implementation and look to other countries including Georgia for cooperation so that there will be no evasion. We hope that Japan and Georgia with other like-minded countries to continue this strong unity to support Ukraine until our goal is achieved.
Russia's invasion has brought up energy and food prices and it is important to act together to ensure energy and food security and assist vulnerable countries. While we have requested some OPEC countries to stabilize the oil market, Japan and Georgia can cooperate in the energy and agricultural sectors to cope with the current difficulty. For example, we have been engaged in discussions with our Georgian counterparts to promote sustainable energy development. These measures are expected to increase Georgia's energy independence and contribute to emission reduction. We are also keen to support production of high-quality agricultural products by promoting farmers' qualifications. It will help Georgia to diversify its export market and reduce its dependency on Russia.
Georgia and Japan have a long history of friendly relations in economic, cultural and political aspects. How would you evaluate the current state and future prospects of this partnership?
This year marks the 30th anniversary of the establishment of diplomatic relations between Japan and Georgia. Our relationship has been guided by shared values such as democracy, rule of law and human rights. We have been supporting Georgia's sovereignty and territorial integrity from the very beginning of its independence. I am very pleased to see the progress Georgia has made over the course of 30 years, and we are honored to be part of this process through successful implementation of various assistance programs.
There has been increasing number of high-level contacts in recent years, including the visit of President Salome Zurabishvili to Japan on the occasion of the enthronement of His Majesty the Emperor of Japan in 2019. New Georgian Foreign Minister Ilya Darchiashvili recently met with Foreign Minister Hayashi in Brussels on the fringe of NATO Foreign Ministerial to discuss Ukrainian situation and bilateral ties.
Both Japan and Georgia enjoy a long history and tradition. The mutual interest in each other's cultures is never stronger than now. When I was giving lectures in various universities in Georgia to my good surprise, I saw many young people wanting to study Japanese. In Japan, people are now fascinated with what Georgia can offer especially in food and sports. For instance, in the Japanese Grand Sumo Tournament, Georgian wrestler Tochinoshin has made a great advance, and has become the most famous Georgian in Japan. Also, the Georgian dish Shkmeruli has become very popular, so now one can find a ready-to-eat Shkmeruli in Japanese stores.
As we look ahead towards the next decade we are entering a new phase of relations, and I see lots of opportunities here. One of the most prospective areas is the promotion of connectivity; the role that Georgia can play by connecting Asia and Europe. Due to sanctions against Russia the northern corridor that goes through this country is now facing problems. The advantage which the middle corridor that runs through central Asia and Georgia offers is drawing more attention. There is the Japan-EU high-level agreement on the promotion of sustainable and high-quality connectivity, which covers the cooperation in Georgia and sectors such as transportation, energy, digital and so on. We are hoping to identify, together with EU and Georgia, sustainable and high-quality projects in this region.
People-to-people connectivity is something that we've been promoting for a long time. One example is Japan International Cooperation Agency's training program that until now had invited more than 600 Georgian experts to Japan. In area of students exchange the Embassy is administering Japanese government sponsored scholarships for studying in Japan. We are also helping Georgian universities to have more exchange with Japanese counterparts. Ties at the local level is gaining momentum, too. Tokushima Prefecture in south-western part of Japan, which hosted Georgian Paralympians last summer are keen to exchange experiences with Georgian municipalities in the field of sports for disabled.
Of course, there are challenges ahead. I have talked about coordinated action in response to the war in Ukraine, but Georgia also has its own occupied territories, like Japan which also has its territories illegally occupied by Russia. We fully support Georgia's sovereignty and territorial integrity within its internationally recognized borders. Based on this position we recently issued statements which denied the legitimacy of so-called "elections" in Abkhazia and South Ossetia held in March and April, respectively.
We would like to continue our support to IDPs and conflict affected areas, including women and socially vulnerable people. We've already provided medical equipment to a clinic in Nikozi village which is very close to Tskhinvali, and now we're planning to help the construction of greenhouses near Mtskheta, where IDP women will be cultivating agricultural products.
The Embassy of Japan in Georgia is planning to plant sakura seedlings in several Georgian cities. Could you elaborate on the number of seedlings and in which cities they will be planted?
We welcome the initiative of the Georgian local governments and business community to plant Japanese sakura trees in many parts of Georgia to celebrate the 30th anniversary of diplomatic relations between our countries. The Embassy has been helping to bring these sakura seedlings to Georgia, around 150 trees in all, brought by air from Japan.
The sakura or cherry blossom is our national flower. It is deeply entwined in our culture and history. When spring comes, Japanese people gather to watch sakura blossom and admire its beauty. This tradition goes back to at least 1000 years. This is called hanami, which literally means "flower watching."
Last month I had a privilege to plant these trees in the Georgian Patriarchate's garden as a symbol of our friendship. We planted them with a prayer for peace. Japanese people often associate cherry blossoms with transient nature of human being because the flower falls very quickly. Therefore, we often plant them with prayers for those who died especially in a war. So this time, we planted trees in the Patriarch's garden with the prayer for those who died in this tragic war in Ukraine, and with the hope for an immediate ceasefire in that country. We planted some extra trees in the Sameba Cathedral garden with the same prayer.
Sakura trees have also been planted in the city of Kutaisi. This time it was in memory of the Georgian Olympic champion late Davit Khakhaleishvili, who was born in Kutaisi. He won gold medal in Barcelona in 1992 and had many friends in Japan. It was his dream to plant the trees in his native town. I hope they will grow bigger and start to bloom soon so that people in Kutaisi will enjoy the hanami.
The Embassy is focused on implementing various cultural activities in Georgia. What cultural events are planned in future?
Yes, we plan a number of events to celebrate the 30th anniversary. This spring Writer's House in Tbilisi will organize a book launch to showcase a Japanese masterpiece novel titled "Sasameyuki" (a light snow fall) by famous Japanese writer Tanizaki Jun'ichiro. Just recently it was translated into Georgian for the first time. We'd like to focus on this book not only because it is a masterpiece, but also because it was written during the Second World War. Back then, the Japan's military regime banned this book which depicted luxurious life of a wealthy family. Despite of this pressure, the writer decided to publish it on his own budget.
We are of course concerned about the pressure on free media and restrictions on the freedom of speech in Russia and would like to share with the Georgian public how this challenging situation was faced by a brave writer in 1940s Japan.
This will be followed by film festival in summer in Tbilisi, as well as a Japanese food exhibition in the National Museum, called "Love Sushi." It will be a good opportunity for Georgian people not to just eat and enjoy sushi, but to understand the historical background, how sushi is eaten and enjoyed in Japan, to understand more comprehensively the sushi culture.
Afterwards, in July, we're planning to invite a Japanese pianist to participate in events in Tbilisi and Batumi. He is expected to participate in a music festival planned in Batumi. Then in autumn, we're thinking of holding a collaboration performance between Georgian ballet dancers and Japanese taiko drummers in the Tbilisi Opera and Ballet Theater.
We've recently successfully finished an exhibition "Saint Pirosmani" in Tbilisi. It is an exhibition of graphic art by a Japanese artist Harada Takehide who fell in love with art of Niko Pirosmani and film about him directed by Giorgi Shengelaia. Mr.Harada's works show how a Japanese artist understood this great Georgian painter. After Tbilisi, the exhibition will travel to other cities, including Kutaisi, Zugdidi and Kvishketi. I hope you will enjoy the events.
By Ana Dumbadze