The topics were ripe for the picking when Radio Free Europe's Georgian Service sat down with Nico Lange, Senior Fellow at the Munich Security Conference. Former Chief of Staff at the German Ministry of Defense from 2019-2022, he was perfectly placed to answer our questions on Israel, Ukraine and his own country's much-anticipated Zeitenwende.
"There are many elements that are quite surprising about what happened in Israel last weekend," he began. "And I think the Israelis will have to clarify some of that, because the operation looks like it took a while to prepare. And to be overrun by this operation in that way, and taking such a long time to respond, that, at least to me, is very surprising when it comes to the Israeli Defense Forces.
"It is extremely difficult to protect yourself against terrorism. We have seen before that it's difficult to prevent terrorist attacks. But still, the level of this, the scale of preparation, the communications that must have happened between Hamas leadership and Iran, it surprises me that it was not on the radar of the Israeli defense. Maybe the Israelis felt too secure about defense and the border barriers. That might be what's at play. And I'm sure that Israel society will discuss this after the war is over. I mean, now is not the time. But questions will be asked. Another new element to the warfare is that It's increasingly the case that barriers or structures of protection are not working the way they were intended to. Because there are new drones or new kinds of cheap and accessible equipment that you can use to destroy or overcome expensive barriers. It started in Ukraine with commercially cheap drones being used in drop detonations, and now we have seen the same technique applied to Israeli watchtowers. So there are some new developments that make defense more complicated, and we have lessons to learn.
With the scale of preparation needed, it surprises me that it was not on the radar of the Israeli defense
"I do not see a connection between Ukraine defending itself against Russia, Azerbaijan attacking Armenia, or Hamas attacking Israel. But the US and its partners definitely have to support Israel and Ukraine now in parallel, and it will surely lead to a resource management issue. There is no priority: we simply have to do both."
Is it too early to talk here about winners and losers?
The history of warfare shows that even if a smaller force has initial success by generating an element of surprise, the true balance of power will only show over time. If that law of military warfare applies here, then I say Hamas might have brought destruction upon itself by this initial success they've had.
In terms of winners and losers, it's early. It's very difficult to tell if, for example, Hezbollah will join in and make the life of Israel extremely complicated with a warfare on two fronts. Surely Iran will try to mobilize their proxies? Because I think that's what we're seeing. It's Iran, and the proxies of Iran, attacking Israel. It seems to me that other parts of the Arab world are not interested in joining. That's why Iran is also not fighting openly, but using Hamas and Hezbollah. So it's early.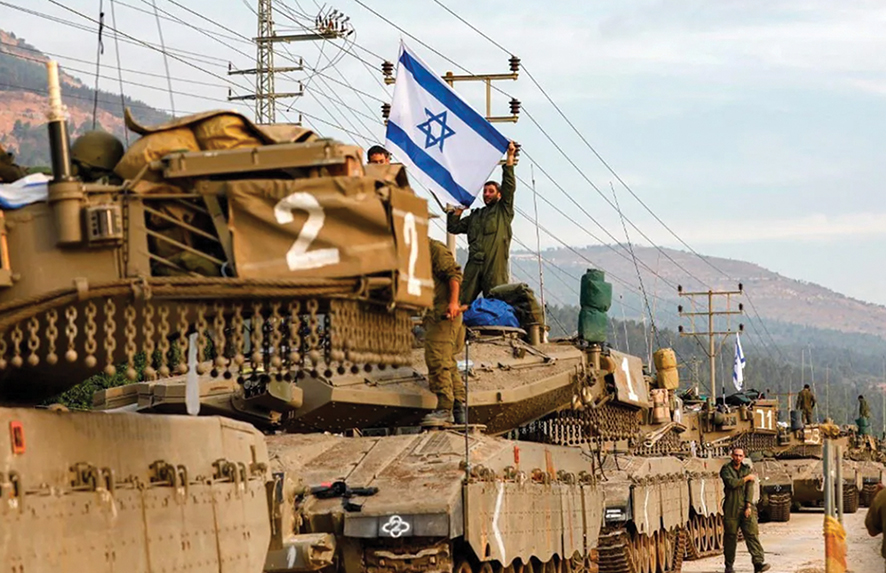 Onto the Ukraine war. Do you see Europe stepping up, providing a helping hand, if Washington's attention is divided between Kyiv and Tel Aviv?
At the moment, what the US is supplying to Israel and what it is supplying to Ukraine are different things, so there is no immediate problem. But the longer this goes on for, there will be conflicts when it comes to air defense and air defense ammunition, because that is what both Israel and Ukraine need very much.
The US took artillery ammunition from stocks from Israel to supply to Ukraine, and while, at the moment, the Israeli Defense Forces don't need it, if the conflict broadens, they too will need it, and then there is this conflict of resources. The Europeans must now increase the industrial capabilities in these areas to be prepared for a possible conflict of resources.
"Must" is a peculiar word. Will they?
I know. And I understand your question, because the reality is they did not scale up to industrial production to the amount that is needed. And I'm worried, and I will continue to argue for it, because the European countries should not try to return to normal order of business. In fact, in the two days after the terror against Israel began, I would have expected to see the European leaders sitting together to discuss how Europe can step up, to realize that this will not solve itself. And, unfortunately, and this includes my country, Germany, the industrialists in Europe are ultra-slow in scaling up the industrial production. They started, but they have to speed up, especially in air defense and artillery ammunition. That's really critically important.
Speaking of Germany, how is the Zeitenwende going?
There was a lot of hope in the beginning, because of the speech by Chancellor Schultz. Everybody thought, "ok, now they understood. Finally, Germany is getting on track." We see that in some areas Germany is doing better now, and I think Germany has to get credit for that, for example, military assistance to Ukraine is much better than its reputation. But in other areas, unfortunately, Germany has a habit of falling back into old patterns of behavior. And that is, of course, not a Zeitenwende. That's the opposite of Zeitenwende. And you start wondering, what is supposed to happen before Germany really changes their security defense policy? We have a major war in Europe; we have an attack on Israel. So what is needed to really wake Germany up? Germany reacted to pressure, so the pressure has to be kept up, that's part of the truth, but we are not where we should be when it comes to Zeitenwende.
That there needs to be constant international pressure for Germany to do the right thing also speaks volumes, doesn't it?
That's unfortunately true. In the end, it doesn't matter why you do the right thing, it's important to do it. I would like to see my country not only reacting to things, but making proposals itself and asking others to be part of proposals. We have seen this a little bit with European Skyshield – Germany proposed this, and other countries are joining it. And you see that if a powerful, big, centrally located country in Europe makes a proposal, at least everybody looks into it. Germany has good chances if it brings something to the table that others will join in. But, unfortunately, Germany is in a bureaucratic reactive mode most of the time. That is not enough.
If Germany does not deliver on Zeitenwende, will there be a price to pay domestically?
Well, I can give you a provocative answer. The idea was, "oh, let's go slow, let's not do too much, because there will be resistance, there will be populism." Well, guess what? We had federal elections in federal states yesterday, and despite them going slow and despite all of these arguments, there are bad results for the governing parties and there is a rise in populism. So maybe this whole theory is wrong, and it's better to just show leadership instead of being hesitant and slow.
One example of showing leadership would be to provide Taurus missiles to Ukraine. And Bundeskanzler Schultz seems to be very reluctant to do so. Why?
Looking at things from a military perspective, it's not understandable to me at all. I think the initial mistake was that Germany didn't deliver Taurus immediately, when Britain and France decided to deliver Storm Shadow and SCALP-EG. Because of that, it became a widely debated issue and much more complicated than necessary. There is this paradigm of escalation that seems to motivate the White House and the Chancellor's Office to overthink things. The Ukrainians have shown that there is no further escalation if you attack Crimea or the bridge or do other things. But still, that seems to be a paradigm that is in the heads of the decision makers: always worried about escalation. I'm afraid they may make escalation even more likely because, the Kremlin will perceive their hesitancy as a sign of weakness.
The Europeans must be prepared for a possible conflict of resources in air defense and artillery ammunition
Further, the Ukrainians have the right to destroy military targets on the territory of the Russian Federation. The artificial distinction that Western partners brought into this war by giving weapons and saying "do not attack targets on Russian territory with them" created the false impression that it would somehow be illegal. But it is not. It's perfectly legal. And I think the Ukrainians should do it. German policymakers should ask themselves a question: If Germany was attacked by missiles from Russia, from a Russian ship, here in the Baltic Sea, do you then argue, "oh, we cannot destroy the ship, we just have to defend ourselves?" Or argue to destroy the ship? And I give you a 100% guarantee if it would be the ship destroyed. So why are there different standards for Ukraine?
Putin believes that in the end, he'll out-suffer the West, that the West will break first. Who would you bet on in this situation?
It's not about suffering. That's the Russian perspective. But I think the capabilities of democracies are far higher than the capabilities of Russia. The question is, what does it need for us to unlock the capabilities we have? How bad does it have to get? I think there's the false idea in the heads of policymakers that somehow if you support a little bit, it will lead to a stalemate, and then there will be negotiations. This is a totally misread judgment on Putin's intentions, because he will immediately make further demands. I have no doubt the democratic countries will prevail in this, but I would argue that they should unlock the capabilities much faster and not wait for wonders to happen. Our dragging out feet ends up with dead Ukrainians and Ukraine being devastated as a country. If you look at the material side of this – Germany spent 300 billion euro on social output to dampen the effect of the energy prices – 300 billion euro! And weapons for Ukraine so far is 3 billion euro, so I mean, if we unlock our capabilities, then we could do much more and help more decisively.
Interview by Vazha Tavberidze