Georgian Prime Minister Irakli Garibashvili officially opened ITB Berlin 2023, the world's largest tourism trade fair, at Georgia's exhibition stand.
A major international tourism fair running in the German capital and featuring Georgia as this year's Host Country, ITB highlighted hospitality as a "trademark" of the country to an audience of 2,500 during the opening event.
Hosted at CityCube Berlin, the opening gala also involved Robert Habeck, the German Vice Chancellor and Federal Minister for Economic Affairs and Climate Action, Berlin's Governing Mayor Franziska Giffey, and Dirk Hoffmann, the Managing Director of Messe Berlin fairgrounds.
"Only a small part of the history and great culture of our unique country is represented here, the Georgian PM noted. "We hope this will inspire you to visit Georgia and get to know better our picturesque nature, great history and culture – and most importantly – hardworking, open-hearted and infinitely hospitable Georgian people.
"When meeting a Georgian, or visiting a Georgian family, one will meet a phenomenon that is the leitmotif of our entire history – Georgian hospitality.
"Those who have already been to Georgia are familiar with this phenomenon and know that Georgian hospitality is truly boundless.
"As the Georgian expression goes, a guest is a Gift of God. We perceive guests as gifts sent by the Lord Almighty and give them the best we have.
"One of the most important works of Georgian literature – the epic story of "Guest and Host" by monumental Georgian poet and writer Vazha Pshavela, describes this very tradition – an implicit, but binding rule for everyone in Georgia.
"Of course, hospitality is a characteristic feature of every nation, but for Georgians, it is an inviolable and untouchable living tradition that defines our identity, despite the changes in time and circumstances. This unique feature of the Georgian character has not disappeared even in the most difficult and dramatic periods of history.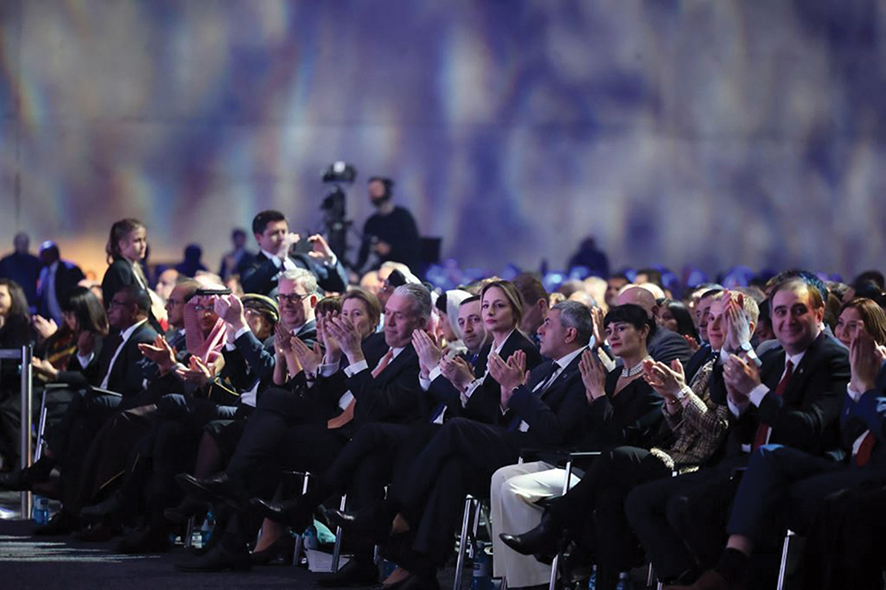 "We have a special role to play as we are guests in Europe and, at the same time, we are hosting you on behalf of Georgia. This is a huge honor!"
David Ruetz, the Senior Vice President of Messe Berlin, said choosing Georgia as the Host Country of the event had been an "excellent choice."
Ruetz told the media that he is convinced that Georgian hospitality will "win all our hearts here at ITB."
"I've personally been to Georgia and have experienced what it means to be a stumari [guest] in Georgia. I'm convinced that Georgian hospitality will win all our hearts here at the ITB. It was an excellent choice to have Georgia chosen as the official host country of ITB Berlin 2023, which is the largest tourism and travel professional gathering in the world. We are welcoming 5000 exhibiting companies from 161 countries, and one country always stands out. This is Georgia, this year. I'm looking forward to making many new business contacts, but especially to feel Georgia in all senses and to make many new friends," he noted.
The Exhibition Director of ITB Berlin, Deborah Rothe, also expressed delight at welcoming Georgia as this year's host nation.
"I had the chance to explore Georgia. Georgia has a lot to show to the tourism industry. I admire this host culture," she said, adding that "Georgia is the hidden gem of the world."
Vice Prime Minister, Minister of Economy and Sustainable Development, Levan Davitashvili, said he believes this status is a recognition that tourism is one of the main priorities of Georgia.
"Located between Europe and Asia, Georgia seamlessly integrated aspects of various cultures while maintaining its identity. With tourism, trade, energy and connectivity, the country enjoys all the benefits of being located at the crossroads of civilizations. It has emerged as a dynamic country with a strong commitment to building a modern, competitive economy and an attractive business environment for local and foreign investors," the Economy Minister said.
Find out more about the 2023 event at facebook.com/ITBBerlin