Conclusion from last week's story (Anzor is dreaming a conversation with an ice dragon, having seen one).
Read Part I.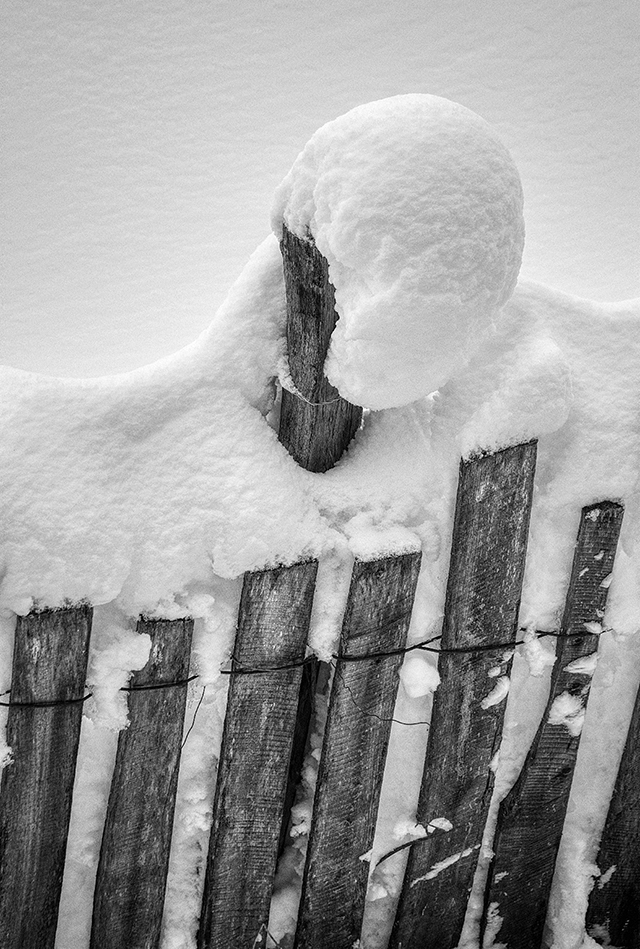 —There's more?
—Certainly! Seemingly disintegrated, we take to the air (as flakes or motes of snow)… grow much, much larger… and then re-form ourselves behind or uphill from the same fences along which we used to lie. This version of us, however, is only visible by its breath. It looks like… well, describe it yourself, if you can. (He was permitted to view this too).
—Frozen waves, that's what I see. The waves of a rough wind-tossed sea, only not moving at all. Forcing themselves through the gaps between the fence slats, and even over the tops of the fences, so much snow is there. It continues to warp the fences out of true, though. If that's just your breath, how large are you behind it?
—Up to the size of a whole field, each one of us. There we lie, until the spring sun's growing strength erodes us away. We melt or dissolve straight into the air, again flying without wings, which earlier served as more a prophecy of our flight than the means of it. Our next form is even bigger, and also the shortest-lived and hardest for humans to observe.
—What in the world could come after a whole field's worth of snow?
—How about a whole cloud, half a sky's worth or more? But you hardly ever notice us there, and even if you do, after a few of your breaths we have changed into another shape entirely, which looks like nothing your imaginations could contain or name. (A blink, and he glimpsed their shapes in the clouds). So you fail to notice us anymore. But… we rain down sooner or later, or our melt gathers into the Enguri, and we end up in the Black Sea, a hundred miles or so away from your Svaneti. This all summer and autumn long, until the next snows come. They return us to you, as foot-long icicle spirals hanging off roof-edges, and it all starts over again.
—But why, WHY? What's it all for?

—Two answers. Our favorite and most powerful way of reproducing is in the eyes and minds of those who can still feel wonder, and tell each other what they have seen. And: the reason for all this is… to eliminate or at least greatly reduce the real calamities I mentioned earlier. We break and warp fences with a few hundred tons of snow, so that millions more will not sweep down off jealous Ushba, Tetnuldi, Shkhara, Ailama every winter and destroy you all, utterly bury you and your towers and villages in inescapably fast avalanches or equally inexorable glaciers! Which would you rather: a few tens or a hundred or so of us every winter scattered through your villages, wreaking mild occasional havoc on the fences you build, or an utter apocalypse each cold season, wiping the very memory of you away? This is the agreement we have made with Winter himself and his God: our sacrifice and your annoyance instead of total destruction! Look on us, on all our life cycle's forms; love but do not worship us; notice beauty everywhere in the world our Maker made, and be glad!
Finally—If you would be so kind, allow me to break too, so that I can join the rest of my family and continue to mature. Otherwise, holding on to my smallest form, you condemn me to melt instead of necessarily shattering as I must, to flourish.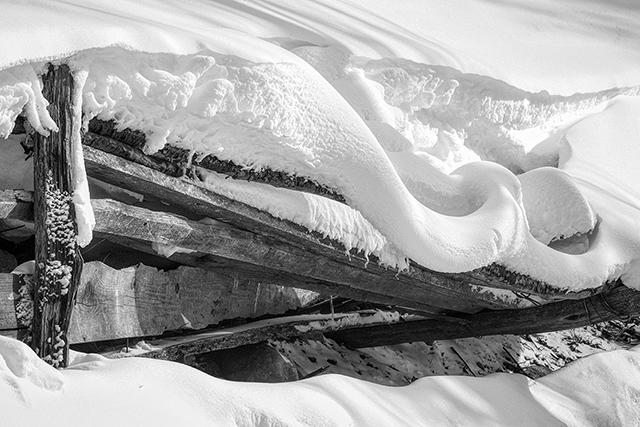 Anzor woke after what had seemed days of dreaming, and found that it was only early morning, the first light of day just beginning to banish night's blackness. Somehow, the last gift of his Ice Dragon had been a good rest, despite all the visions he had experienced.
He dressed in the many layers of winter; slipped outside as daylight gathered; looked long and hard at his treasure in the lean-to, wrestling inside. It was the only one left! But keeping it here would kill it, and perhaps disallow him to see its kin in all their glory. He picked up the Dragon and cradled it; and ascended the ladder again, to the edge of the roof. Carefully turning it upside down as he had first found it, he wished it farewell, and let it fall to uncountable shards.
Then he allowed himself a quick walk around his snow-bound hamlet. Truly, his eyes had been blessed. Now, everywhere he looked glinted scales, teeth, tails, claws, eyes, whole waves of stilled breath. The Dragons were everywhere. He rushed to show people, to fulfill his part of the bargain. Wonder would return. And the avalanches would be held back to a small part of their awful potential, his people allowed to coexist with their unimaginable but not impossible partners, sharing Svaneti, each needing and serving the other. Such was ordained, and he saw that it was good.
By Tony Hanmer
Tony Hanmer has lived in Georgia since 1999, in Svaneti since 2007, and been a weekly writer and photographer for GT since early 2011. He runs the "Svaneti Renaissance" Facebook group, now with nearly 2000 members, at www.facebook.com/groups/SvanetiRenaissance/
He and his wife also run their own guest house in Etseri: www.facebook.com/hanmer.house.svaneti