Enough war talk from me for a while; others can continue that vital reporting. The below is dedicated to JS, who suggested it upon seeing my photos of Stage I. Nature inspires my photos, which inspire the writing… feels like completion.
Now he saw them everywhere; and was only glad to have had his eyes opened.
It began innocently though amazingly enough. Young Anzor of Isk'ari was walking back from the barn to the house one sparkling late winter afternoon, glanced up and saw… icicles hanging from the roof. Common enough. But while he had noticed long ago that sometimes weather conditions caused these to curve instead of pointing straight down, this set were unlike anything he had ever seen before. They looked like nothing more than foot-long winged dragons of ice, each unique but all perfect, dependent by the ends of their tails, slowly dripping in the day's sunshine. He could hardly believe his eyes.
His father's ladder, of light but strong wood, was conveniently propped against the roof, not far away. Anzor struggled a bit but managed to push it sideways, near the end icicle, and, holding his breath for their fragility, shimmied up the rungs as carefully as he could. Then, one arm around the ladder, he reached out with the other and delicately snapped off the dragon just where it left the roof edge. Holding it in one gentle hand, he slowly descended. Then he walked around to the doorless lean-to shed on the side of the house which never got any sun in winter, and slowly put his miraculous find down, whole, in a corner, on the shadowed snow. Now he could hardly believe his luck.
And he could afford the time to examine the thing more closely. The head a mix of equine and reptilian, somewhat lizard-like body, a pair of wings stretched up, tail circling around. He shivered with delight, hugged himself, looked some more. Every detail of an animal he had never seen before except on frescoes or illuminated parchments was there. He dared not touch it further, though, but once his curiosity was satisfied covered it with a wooden box to keep it to himself, and went back to the barn to continue his more mundane chores of mucking out and hay-raking for the family's small herd of milk cows. Finally, his timing was also revealed to have been perfect, as he noticed that all the other icicles had fallen and shattered on the ice-covered snow beneath them. Such short lives!
The rest of the evening conspired to keep a frustrated Anzor from revisiting the lone surviving Ice Dragon until bedtime: supper with his parents and younger brother, firewood, to the barn once more to check that the cattle his mother had milked were all in their stalls for the night. Once this last item was accomplished, though, he took his oil lamp and glanced again at the little creature in the lean-to, which had not moved the tiniest bit in his absence. Why should he expect, except in a world of magic, that it would have come to life? Sighing, he said a goodnight to his mother and father and turned in to the bed he and Pavle shared.
It was not to be an easy night, however. Merely getting to sleep took hours, it seemed, enthralled as he was with the frozen marvel. And apparently it was determined to follow him even into slumber, as his dreams were all one long conversation with it.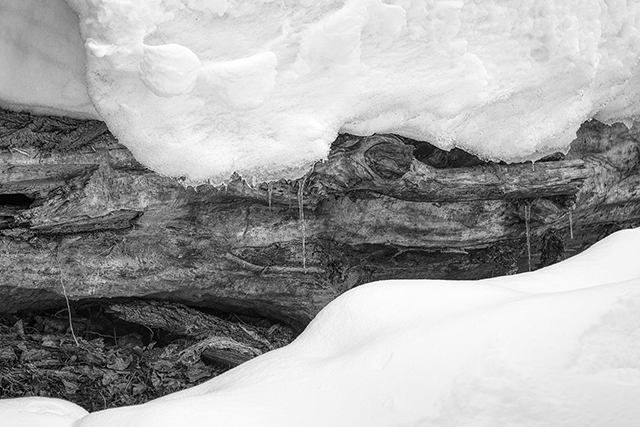 —I have never seen the like of you before! he began.
—We are that rare, young human. But it was time to show one of you what and who we are. You are old enough to understand; and have not lost that sense of wonder which too many of your kind discard unthinking as they mature.
—You… are actually alive, not just accidental shapes of pure ice made by the caprices of weather?
—Indeed. But our lives are stranger than you could imagine, like nothing else in this world. For most of our existence we are completely still, except for growth and shrinkage. And yet, we live. You are not just dreaming: I am actually talking to you, but I can only do this while you sleep. Another of our limitations.
—What is your purpose?
—To live, induce joyful surprise in those who notice us, and perform a certain amount of mischief which also serves to hold back far more malevolent forces. Finally, to multiply, as all life does.
—The rest of you lived an hour or so, and then were gone—
—So it must seem. But spiraling little icicles are only the very first stage of our many-layered lives. When the combination of snow melt, roof, air moisture, warmth and cold, and absence of wind is just right, we emerge and wait.
—So then you shatter onto the ground, and then what? Uncountable tiny fragments in a little heap.
—You have seen how a caterpillar makes itself a cocoon, slowly performs some unknown transformation hidden inside, and emerges with only six legs and… wings? So it is with us. Tinkling to pieces, we become free not to fly—yet—but to move through the snow all around us, unobserved. As we go, we accrete and add that material to ourselves and thus grow.
—Where do you appear next? How can I find you?
—We favor your wooden or stone fences, along which to drape or coil our larger forms, joined as we are to the elements of the earth. It may seem merely that the wind has blown snow into such fantastic shapes. People also curse the effect, which may indeed bend or outright knock the otherwise straight fences down by its considerable weight. Here we may lie for some hours or even days, depending on the weather's vagaries. A stretch of hide here, its scales made of smaller scales on several levels, the name for which structures will not be invented for some centuries yet, so I will not speak it now (1). A fang or two, a claw, of straight icicle there. The spines of a whole back. An eye staring at you unblinking. Hints only of the whole magnificent being. This is our life's second stage. (He saw it, and believed.)
By Tony Hanmer
Read Part II.
—————————–
(1) The word is fractal.
To be concluded in next week's GT and online at georgiatoday.ge.
Tony Hanmer has lived in Georgia since 1999, in Svaneti since 2007, and been a weekly writer and photographer for GT since early 2011. He runs the "Svaneti Renaissance" Facebook group, now with nearly 2000 members, at www.facebook.com/groups/SvanetiRenaissance/
He and his wife also run their own guest house in Etseri: www.facebook.com/hanmer.house.svaneti