CENN, with the support of the British Embassy, this month kicked off a new project 'Sustainable Food Systems for Climate Resilience,' which also launched the 'Say No to Food Waste' campaign.
It is hoped that the project will contribute to reduction of the country's GHG emissions by initiating dialogues between private and public sectors, and as a result advocating relevant policy changes at the governmental level. For this reason, CENN is putting together a Food Waste Working Group comprised of key actors in the food industry affected by this issue.
Starting this month, CENN has launched the 'Say No to Food Waste' media campaign to urge people to change their behavior and consume more responsibly to reduce food waste. The campaign strives to achieve an "awakened" culture, the members of which will act more responsibly in support of their own surroundings. GEORGIA TODAY, ever eager to support a good cause, is one of the CENN campaign's media partners.
In this interview with GEORGIA TODAY, Mama Terra Veggie Corner's Carolina Cavazos Guerra tells us how the restaurant views food waste management.
Carolina has been working in the food business for almost three years, having come from a household that ate fresh and healthy meals, with a mother who was an excellent cook.
"Another important aspect is that I also grew up in an anti-food waste environment. My mother prepared fresh food every day, and if we had leftovers, she shared them with the rest of the family or with the neighbors. I have also followed the same mentality in running a business in a more sustainable way. The concept of Mama Terra has been popular since we opened our doors in 2018, and most of our customers are people who appreciate the food being freshly prepared while also being healthy.
"The idea of Mama Terra is a fusion of vegetarian Georgian and international food, using local fresh products as much as possible. I personally love the cheeses here; they remind me of fresh Mexican cheeses, so I use it in a lot of our vegetarian dishes. Now with the lockdowns due to the pandemic, we have been working on deliveries, and we still have regular customers who order their food online, and I'm very grateful for it."
One-third of food produced each year is lost or wasted. Food waste is caused by overproduction, spoilage, overbuying, and a lot more. In your restaurant work, how do you handle potential food waste?
In Mama Terra, around 90% of the food is prepared fresh, like soups, main dishes or salads, which means we rarely have spoiled food that goes to the bins. For example, about one year ago, we decided to remove bread from our menu, and instead prepare fresh mchadis (cornbread patties) to go with the food. This was for two reasons: one is that most of our customers prefer to avoid wheat flour, and the second was exactly to avoid food waste, because sometimes we bought more bread than we'd use.
We prepare small amounts of pre-prepared food every day, like fried beans, which we tend to finish at the end of the day.
We don't have any baked goods on our menu (i.e cakes), because we believe there is a high probability of these being wasted if they are not sold fresh.
We avoid buying too many vegetables and fruits to avoid food waste.
We cook large amounts of beans, chickpeas and some vegetables for soups that go to the freezer in batches, and we only take the containers out when we need them.
My impression is that baked goods and large batches of pre-prepared food and salads tend to generate the biggest amount of waste, but that's not the case for us.
Food waste is said to be one of the biggest contributors to climate change, accounting for 8% of the greenhouse gas emissions. From your time working in Georgia, what has been your experience with regards to food waste?
In general, it is easy to find fresh ingredients when we need them, even in an "emergency." I think it's the same for many individuals, and I've seen that people tend not to buy a large amount of ingredients. Also, it's great that in this country, instead of over-producing of fresh veggies in-season, there is a culture of preserving and fermentation, as compared to other countries.
But what I have noticed is that large amounts of bread are taken to the bins.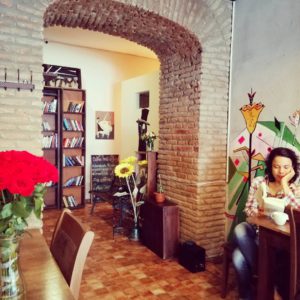 People are less likely to buy fruit and veg if it is physically irregular. As such, one third of the fruits and vegetables globally do not make it to our grocery store shelves because they are rejected to avoid complaints from consumers. Where do you buy the ingredients you use in your kitchen? Do you chose aesthetically pleasing, or are you happy to buy "ugly"?
Half of our fresh products are bought in Carrefour, for invoice purposes for our accountancy records. The other half is bought in the Bazaar. As long as it is fresh, the aesthetic does not matter [to us].
Sometimes, some stores offer over-ripe products at a reduced price, for example bananas. I like to buy them because they are good for smoothies.
40% of waste in Georgia is organic waste, a large portion of which is food. How do you suggest we reduce this percentage?
Although it is not the case for our restaurant, I would suggest for those who prepare large batches of salads or other products, to give a 50% discount at the end of the day on those products that won't be fresh the following day. The same should apply to grocery stores who sell pre-prepared meals: give a discount on such products before they expire. Giving them to staff or other specialized centers that collect food to give to vulnerable people would also be a good way to reduce waste.
As a result of the pandemic, the poverty levels are expected to rise to up to 125 million, and 2020 marked the most severe increase in global food insecurity, impacting vulnerable households in almost every country. Yet we continue to waste a third of perfectly edible food. What work has Mama Terra done in the past/will you do in future to help the vulnerable?
Again, we usually prepare our food fresh and rarely have leftovers to give away. In my personal experience, since we are a vegetarian restaurant, we have had weird experiences with people who have come in asking for food. In one particular case, a couple came once asking for food and we wanted to offer some khachapuri that one of our waitresses had extra, and they refused because they happened to be vegans! Another case involved someone who wanted meat! We are not actively involved in giving away food. In the rare cases when we have extra, we generally give it away to staff or friends.
Any further comments on fighting food waste in Georgia?
It's great that efforts are starting to be made to raise awareness on this issue. It would be fantastic if there were more centers collecting unwanted food to give to those who need it. If they exist here, I've never heard of them, so more information about them would be great. It's especially good for young generations to be aware of this issue.
Georgia is a very resilient country that has lived in the past with difficult times and food scarcity, so older generations are probably more conscious about avoiding food waste. This should be transmitted to younger generations who, at present, may take for granted all the food that is available and hence be less conscious about this issue.
A very personal opinion: I also grew up in an environment where food waste in our home was a no-no, so I'm proud to have been brought up with a waste-less mentality, not only regarding food, but other valuable resources like water, which many people these days take for granted. Although tackling these issues should start from home, young generations seem to be better influenced by social media, so this tool can be used to educate and bombard them with information about the gravity of this problem and solutions.
Interview by Nini Dakhundaridze