Newly-opened hotel 'Utskho' is located in the city of Telavi, just four minutes from the center. The hotel is situated in a magnificent area at the edge of the forest below Tsivi Mountain. Utskho fascinates visitors with its fantastic location, and in the yard of the hotel, guests can find peace in the pine trees.
The interior of the hotel is inspired by the loft style. Utskho represents a combination of old and modern design.
"We tried our best to make the environment immensely comfortable for our guests," Tamri Archvadze, the Director of Utskho, tells GEORGIA TODAY.
"We have built the concept of the hotel around the idea that people coming from the noisy city can find peace and calmness at our place. We try to create harmony with our interior to bring a peaceful environment for visitors. The location of the hotel itself has a tranquilizing effect due to the visually striking forest," says Tamri.

She pointed out that Telavi itself is a fascinating place year-round, but September is the most important period in Kakheti.
"At this time, the harvest begins, many musical and artistic events are held in Tsinandali, Telavi. There will also be Telavkalakaoba, Erekleoba and so on. The most exciting season is September-October, although
Telavi is full of visitors throughout the year," she says.
Activities also take place in the hotel Utskho, and various masterclasses for traditional dishes and folk sweets are held.
"We have planned a very interesting 2/3-day neurography therapy tour, which will give visitors vacationing with us therapeutic practice, through art psycho-therapy. It is an extraordinary tour. Then we plan a yoga therapy tour and an exotic tea festival."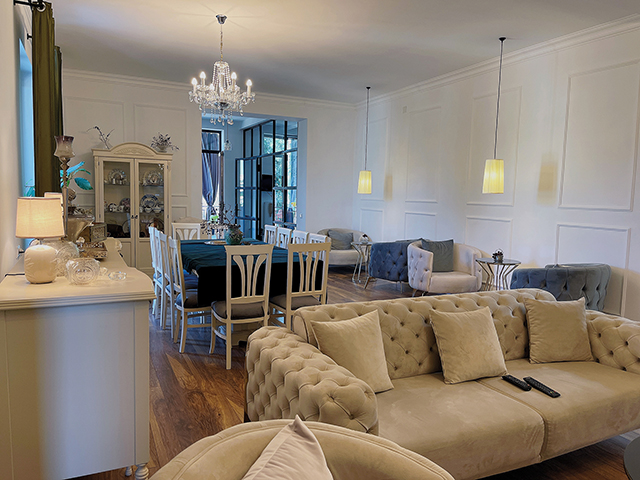 In its culinary offerings, the owners of the hotel decided to take a healthy approach and focus on natural food.
"We communicate with local farmers and have negotiations with them to provide us with locally grown products. We want to let our guests experience what is like to taste real Kakhuri barbecue, real Kakhuri dishes. Of course, we have all kinds of dishes, but our main focus is on Kakhuri dishes. Everything is natural here, not only the food we buy from local farmers, but our dishes too consist of healthy food. We do not have a restaurant, we cook healthy house meals," says Tamri.
Hotel Utskho also has a conference room, so that small groups can come, rest, relax and work together.
Tamri notes that the advantage of the hotel is the family atmosphere and caring staff.
She tells us the future plan to make Utskho a brand, and that they plan to open a small concept hotel in the west, in Bakhmaro.