Following a recent trip out of Tbilisi to some mountain villages, I returned with a horse skull. Or at least with the top of one. The lower jaw was missing. In ruminants, it tends to split at the chin, its weakest point; and no doubt dogs had had a field day with the pieces and taken them off somewhere. The part I found would need minimal cleaning to make it presentable.
Why on earth, though, would I want to acquire such an object? I already have a nice ram's skull, including the carefully re-glued lower jaw. (I was present when our house renovators in Svaneti, nearly a decade ago, wanted some mutton, and I asked them to choose a specimen with good horns, envisioning the skull on the wall. If friends were over and wanted to drink from a horn, as Georgians at least are wont to do, I could simply pull the horns off this skull and present them for use).
I like seeing what has formed the heads of certain animals; something of the sculptor in me appreciates the curves and joins, eye sockets, teeth and the rest. A skull can be quite a sculptural object, I think. The horse skull I simply soaked in salted water, scrubbed all over with an old toothbrush, and soaked again in bleach and water before letting it dry. So far, my wife, getting used to my strange ways after 15 years, has raised no protest.
(Interlude for a joke. A horse walks into a bar. "Why the long face?")
To me, horses are noble animals, more present than cows, who seem zoned out on re-chewed grass so much of the time and hardly aware of the world around them. Although I am still a meat eater (and becoming less committed to this as time goes on), I could hardly bear the thought of consuming horseflesh on purpose (it might be found in some sausage in parts of the former USSR, coming, apparently, from Central Asia).
I have not ridden horses much. One notable period was a few months when I was about 17, in western Canada, and my girlfriend at the time had some of the beasts. I will never forget the flying feeling, smooth and reckless, that galloping gave.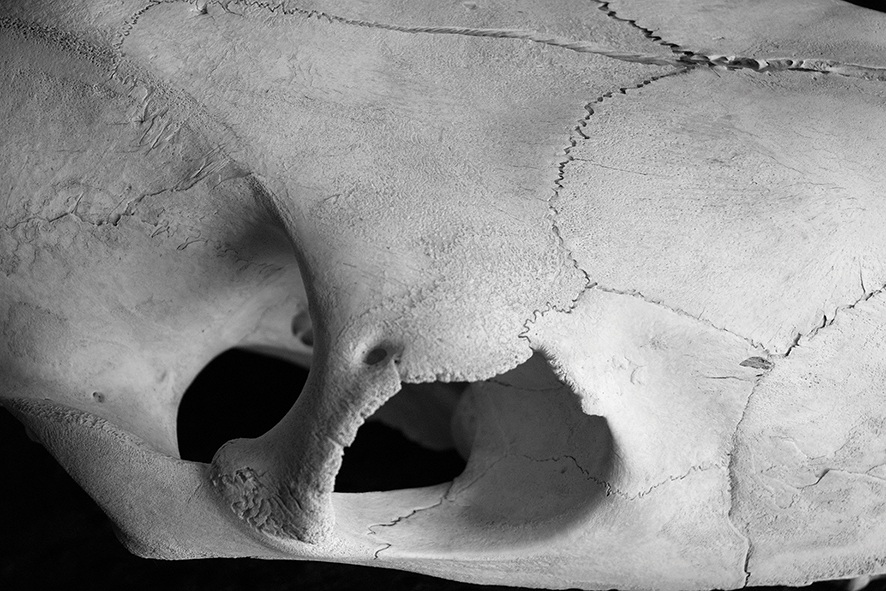 The second time was crossing Etseri's southern "mountain wall" on horseback with a local friend as guide, in summer 2005. The steep downhill return from that was slippery from fallen leaves and a bit of night rain. The horses were mincing along at less than walking speed. In the end, to complete the journey in daylight, we had to dismount and run, each pulling his horse by its bridle, with the reluctant animals breathing down our necks: more than a bit crazy, I remember thinking at the time.
The other main time was a walk that a friend and I made from Etseri to Ushguli in 2007, with our camping gear on a neighbor's horse. Halfway through the return leg, my friend got a couple of bad blisters on his feet. I had to put him on the luggage on the horse; get us to Mestia at a faster pace; put him and the stuff in a car back to Etseri; and ride the horse the remaining 28 km back. I arrived with bleeding thighs, not at all used to that much time in the saddle.
We do make horses and a guide available for our Svaneti guests who want this experience, as long as they let us know far enough in advance to ask neighbors for help. Whether it's for a few hours or some days, this can be arranged. I once sent a German tourist off across the mountain wall with two of my friends on horses; he wanted to go to an abandoned village and camp there alone for two weeks, and then be picked up again. It went uneventfully, though they said the way was quite hard, mostly hacking a path with machetes.
I'm no Texas rancher having grown up in the saddle, but I do have an appreciation for the equine world, and the skull I now own will always evoke these memories.
Blog by Tony Hanmer
Tony Hanmer has lived in Georgia since 1999, in Svaneti since 2007, and been a weekly writer and photographer for GT since early 2011. He runs the "Svaneti Renaissance" Facebook group, now with over 2000 members, at www.facebook.com/groups/SvanetiRenaissance/
He and his wife also run their own guest house in Etseri: www.facebook.com/hanmer.house.svaneti2