I became acquainted with the paintings of Guram Khetsuriani last year via his Facebook page, to which he posts photos of each new work as soon as it is finished. Then it was a simple matter to call him and arrange a visit to his studio, which is in Tbilisi's Old Town, not far from Liberty Square.
Guram has been painting much of his life, mostly in acrylic on stretched canvases. This paint has two main advantages: it is much faster-drying than oil paint, and it cleans up with water. He has had both solo and group exhibitions in Georgia and abroad, notably in Berlin and New York, and is moving up in the art world. He sells inside Georgia and also ships his canvases across the world to buyers.

Upon entering his studio, I was struck by the many finished paintings covering the walls of every room and standing on the floor. And they were all beautiful. His thematic period at the moment is old houses, of which many examples line his own street and others nearby; he paints from life, so all he has to do is take a short walk and the crumbling magnificence is there for the portraying. Other house paintings come from his village in the Lechkhumi region of Georgia, evidencing his Svan last name, always a bonus for me. His work is rich with color, and with the interplay of light and shadow: bold.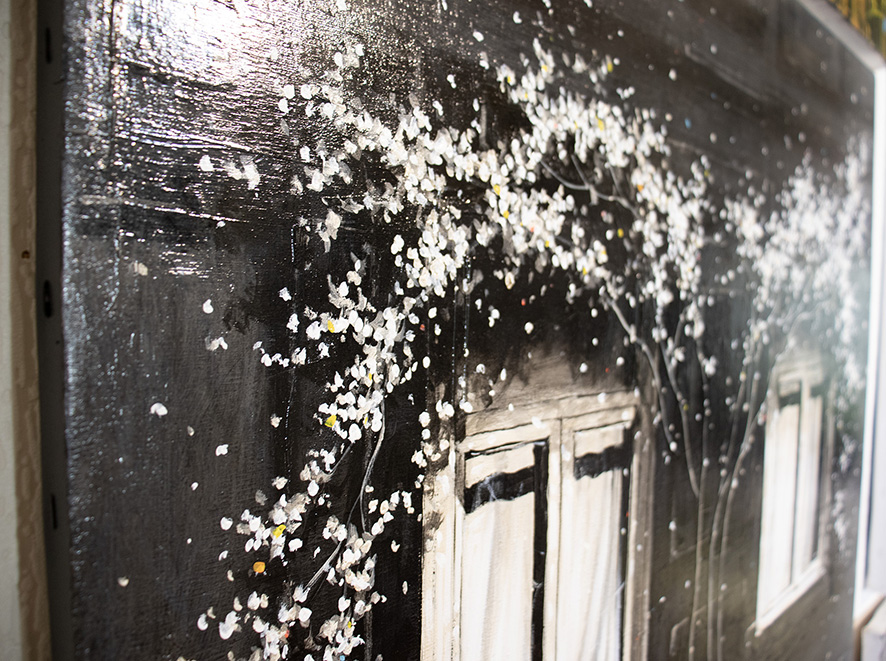 I'm not sure what the nearly ubiquitous small multicolored dots like light snowflakes mean in Guram's current paintings, but they do (for me) add an air of magic which I find appealing, just a slight remove from reality. It will be no surprise to find him taking a strong place in Georgia's art scene of today, moving into great success and acclaim. I would buy virtually all of his studio's work if I had the money, and the space to display it.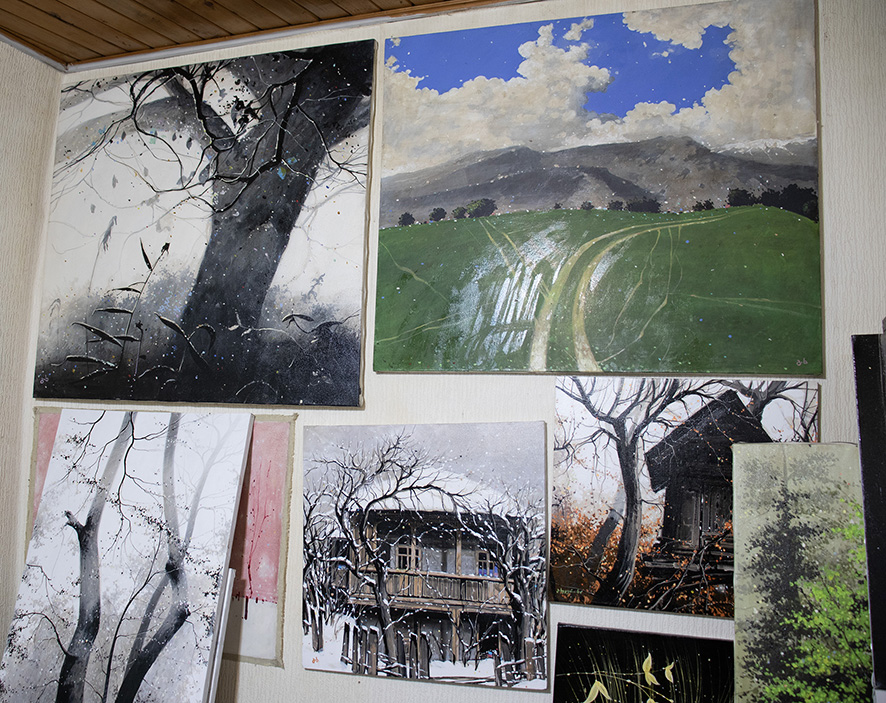 On my first visit, I took a friend, and she bought a painting. I also asked Guram if he would let me see any sketches, so he showed me a recent notebook. Then I dared to ask him if I could buy anything from it, because I love drawings at least as much as paintings. He said that he couldn't take any sheets out of the book, but offered to sell it to me complete "for 1000 GEL". Then he laughed, and just gave it to me, leaving me speechless until I could find voice to thank him for such huge generosity. It now hangs, framed complete, in my living room.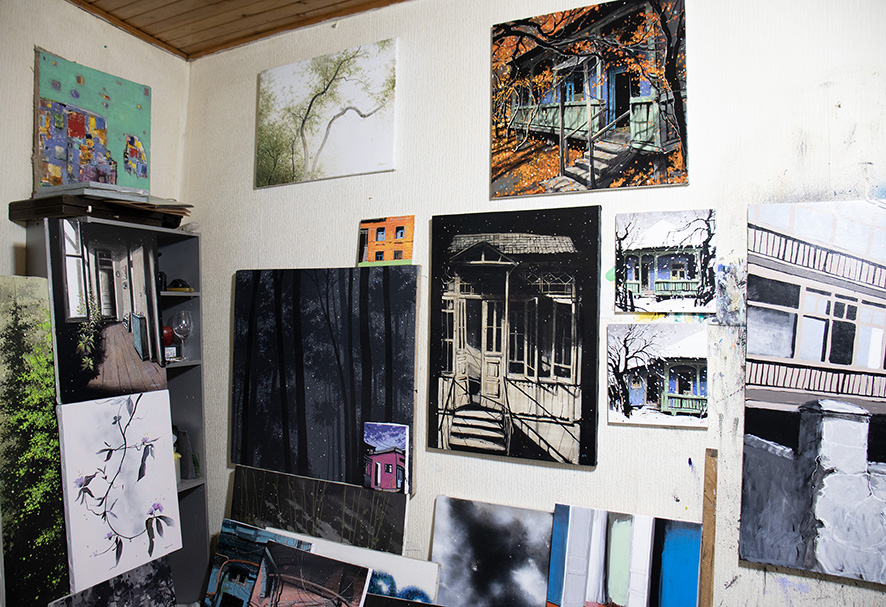 When it came time on a second visit to choose a painting to buy, Guram's advice was, "Pick one which calls out to you." I was vacillating between two large canvases of nearby old houses with crumbling facades. The first, lit at night, he called one of his favorites. The other was in daylight, and I settled on that. It was only after this that I realized that my pareidolia (finding faces and other features in random places) had given me a face made of the scene's windows and other features, which delights me. Just as well, because now I can never unsee it…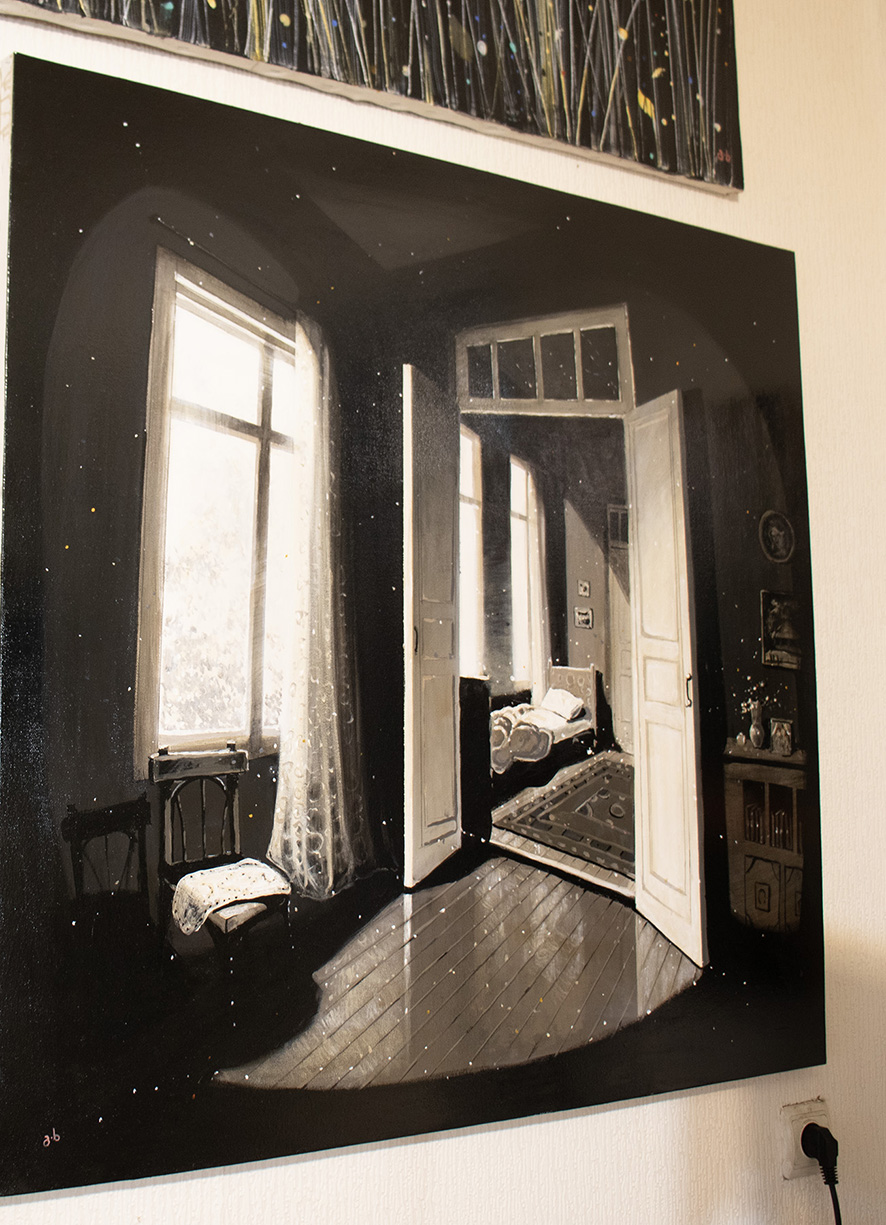 One of my interests in this last winter in Tbilisi has been finding and collecting the work of new Georgian artists in any medium. While my wife and I have not nearly enough wall space in our apartment to display what I have bought and the work of my own which I wish to put up, I do have gallery rails everywhere, which make changing exhibitions really easy (although I still need to store what is not hanging somewhere). Guram's piece will have pride of place, however, in a small but growing and very satisfying set.
Blog by Tony Hanmer
Tony Hanmer has lived in Georgia since 1999, in Svaneti since 2007, and been a weekly writer and photographer for GT since early 2011. He runs the "Svaneti Renaissance" Facebook group, now with nearly 2000 members, at www.facebook.com/groups/SvanetiRenaissance/
He and his wife also run their own guest house in Etseri: www.facebook.com/hanmer.house.svaneti