Last Month, I was lucky to witness a very extraordinary event, something of a "God's payback," when I went to the beautiful Kazbegi (Stepantsminda) about 20 minutes' drive from the Larsi checkpoint.
Russian men and their families had flooded to the border as speculation grew that the Kremlin might bar mobilization-eligible men from leaving the country. I saw days and multiple hours-long lines at the main land crossings into Georgia as reports spread that those subject to the call-up may be prevented from leaving. The government sought to assure people that the rules of the "partial" mobilization that President Vladimir Putin declared on September 21 would be enforced after stories of ailing, old or otherwise exempt people being conscripted went viral.
Ketevan Kovziashvili, spokeswoman for the Georgian Ministry of Interior, told us: "I would not say there is increased traffic from Russia or more than usual; the Larsi border has always been very busy in the past several years due to tourism, transit, and the customs and revenue services already reported that the checkpoint is working in order, 24/7, and no suspicious activity is noted. I know there are some queues, but this is not something we can check from our side as it's not under our legislation or authority."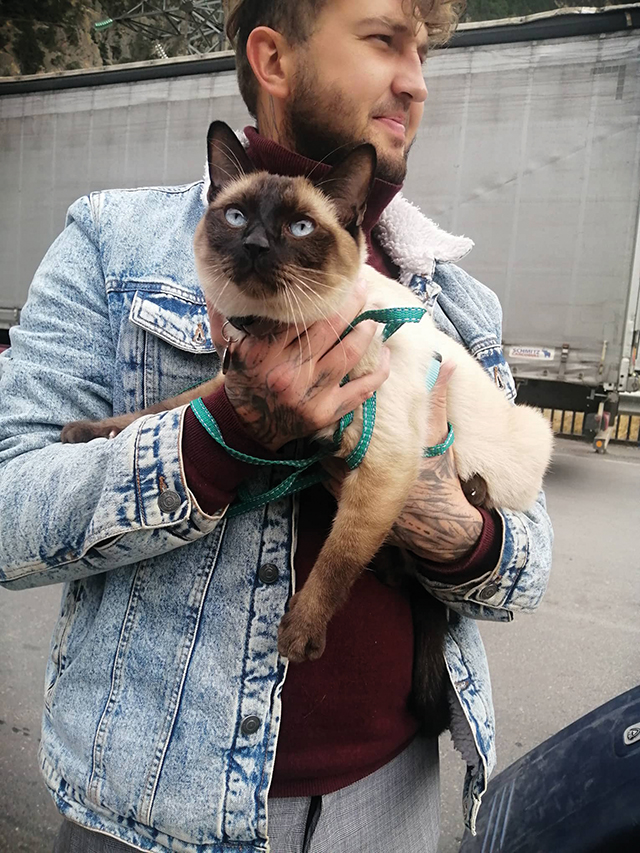 The ministry statistics showed 260,810 Russians arrived in Georgia in August alone, followed by Armenian and Turkish, and doesn't report an immediate sharp rise following Putin's announcement, a view which is not shared by the opposition parties and organizations. Transparency International sees serious risks in the Russian economy's dependency on remittances and trade, adding that in just the March-June period, as many as 6,400 Russian companies registered in Georgia, which is 7% higher than last year.
March- July statistics showed that 1598 Russian citizens received Georgian citizenship and application numbers rose by 54 %.
It's hard for me to find the right thing to say about this exodus, so I decided to tell the stories of those I interviewed and leave it to the readers to judge.
Daniil, a 35-year-old software programmer, was at the end of his working day in St. Petersburg when Putin made his announcement of partial mobilization for the war in Ukraine. He knew he had to act fast. Having the previous experience of fleeing Russia in February when the war began, then going to India, he later returned. Now he is adamant he will not make the same mistake again.
He heard Georgia was easy to get into as no visa is required and he has many Russian and Belarusian friends here.
I met him at a mutual Russian friend's birthday party in central Tbilisi, where many other Russians had since joined him.
I apologize, it is our fault, we let the Russian leadership do it, we waited too long, we allowed this
"I come from Russia, let's not name where, because I do not underestimate the power of Putin's propaganda. I ended up working in St. Petersburg. When my mom came to visit, I took her to the Navalny support rally. She was shocked to see all these people gathered without any violence or any of the things she'd heard on the television about gays, transsexual people and others- it was simply people holding posters, flags and singing.

"Not wanting to fall under the mobilization requirements, I bought a ticket to Vladikavkaz and told my friends I was renting a van. The prices were high- the van ride was three times the usual price and we paid 10k Rubles each and joined the almost 10 km queue. I was so worried when I was in Vladikavkaz that Russia would announce a total ban on the male exodus; [but if they'd stopped me at the border], I was ready to go prison or find another way to leave."
Daniil told me he had lost his job at a big company he had worked at for several years, but he did not really care as his plan was to start a new life and find new job opportunities with his technology background, and Georgia appealed to him as the Russians here stick together more and help each other.
"When arriving at the border, I was preparing for the conversation with the Russian customs authorities and even deleted some chats and pictures on my phone, but to my amazement, they never asked anything. Others were questioned much more rigorously! The wait at the border was 24 hours, and it was worth it as I am here now. I hope my other friends will get out too. I'm waiting for them," he says.
Artem, a 25-year-old student who has served in the army, was at his girlfriend's place when the news came.
"One of my friends was in Makhachkala. He said, come over, fly here, and we will go straight to Tbilisi. I looked at my watch. I only had three hours! I grabbed my backpack and whatever stuff I had at my girlfriend's house, then called my dad and told him I was leaving. He replied, 'go ahead, son.' I did not manage to speak to my mother because I had to catch that plane.
"After arriving in Makhachkala, we met at a small cafe and arranged a taxi to Vladikavkaz. There were four of us, so renting a car was not difficult, but we were warned about the 10 km queue at the border. It was difficult to sleep through the waiting period because what kept me awake was the fact that I would be questioned or even turned away since I was young and had served before. I was even debating with my friends about going to Belarus instead, and then someplace else, but Georgia was closer, and my sister was living there, which kept me optimistic.
"I didn't bring my military card with me because I don't trust Putin. He needs lots of people for this war. Possibly, he is aiming at a one-to-one ratio in this war, and it's quite possible he will call for total mobilization, who knows? But I know there are plenty of weapon reserves in Russia. I doubt there will be a shortage of them; they will reopen those reserves. I don't want to think deeply about it, it makes me feel bad! Whenever Putin's ratings plummet, every time this happens, he begins wars, in Georgia, Crimea, and this one!"

Nikita, in his 20s, said at the Larsi crossing: "I was travelling over 24 hours. I paid a bribe of 4550 Rubles, and finally made it [into Georgia]. I have not seen it, but was told some people were turned away. I don't qualify for the army, but how can the system be trusted?"
Vova, 30, from Moscow, on a bike with a child, told us the "scenes were truly apocalyptic, like in the movies."
He had decided to split the family, and got a bike and took his youngest child.
"My wife stayed in the car with our older child. I was not in the reserve, but the whole ambience is sick and volatile in the country."
Alexander was in a group of Russians and Belarusians that had set up a table at the checkpoint to help those in need of first aid and snacks. He said the group chats showed there was a need for it.
"First of all, thank you, Georgia, for allowing Russians to flee. We thought it was important to give the new arrivals important information and some hot tea or coffee and snacks, so the newcomers are exhausted and totally ripped apart by the customs officers from the other side can feel some relief. I left Russia once when the war began, and my parents convinced me to come back. I regret coming back and will never do it again."
Igor, 30, from St Petersburg, a trainer for triathlon and swimming, said he was "sorry."
"I apologize, it is our fault, we let the Russian leadership do it, we waited too long, we allowed this," he said. "As soon as Crimea happened, I said to my wife 'let's go,' but we hesitated, then she got pregnant, and now I had to leave her there with our child. I'm going to Armenia, where I'll start a business as a personal instructor."
Others I talk to tell me they have not personally seen the mobilization units but saw some military, and the toughest part is the neutral zone.
Anzor, 30, from Chechnya: "I slept on the floor for a week. The Ossetian and Georgian sides saw some threat in us, and maybe that's why they finally let us in. We have relatives in Georgia. I won't be going to that mobilization to fight in Ukraine, no way."
Georgian anger grows. I get notes and messages and comments on Russians that say they are awful and should not be allowed in. Georgians are fed up after Covid and then the Ukraine war, though that is mostly online. I admit I was surprised to see no mass rallies like Gavrilov Night against the inflow of Russians. I think the opposition is weak, and trust is too low to follow them.
Another side that strikes me about this exodus is the way the runaway people treat their pets- they are everywhere with their owners, cats, dogs, in cages, being held, or simply walking on a leash. I am glad these people didn't forget the humane side of the crisis. At least there is that.
BLOG by Helena Bedwell