Today, May 20, an employment forum was held in Gori, a city in eastern Georgia, the regional capital of the Shida Kartli region.
The forum was organized by LEPL State Employment Promotion Agency and Education Development and Employment Center within the framework of the EU-supported project 'Learning, Training, Achieving and Establishing Connections for Employment!' (Learn for Employment!)
More than 30 small and medium businesses in Shida Kartli presented vacancies at the forum. The event involved more than 300 job seekers who had the opportunity to meet with employers, talk about the desired vacancy, and demonstrate their skills through direct communication with potential employers.
Jobs were presented mainly from the service and manufacturing sectors.
"I am glad that our city is hosting such an important event today," said Gori Mayor Konstantine Tavzarashvili. "The Employment Forum entitled 'Learn for Employment!' is being held in Gori for the first time. Employment is a big challenge not only for us, but also for many countries around the world, especially during the pandemic.
"Forums are an important and effective tool for promoting the employment of job seekers. It is welcome that within the framework of the event, dozens of business organizations are offering active vacancies to hundreds of citizens living in Gori Municipality. During the event, job seekers and employers connect with each other in one space, quickly and easily.
"On behalf of Gori City Hall, I would like to thank the Education Development and Employment Center and all the co-organizers of the event for this unique opportunity. Special thanks to the EU for its support. Employment is a complex issue that requires the joint effort of the government, civil society and the population. Good luck!."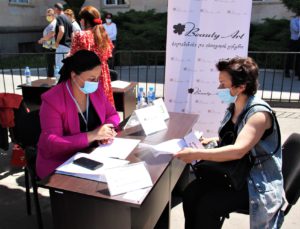 By Ana Dumbadze