Another recognition of Georgia on the international arena – a few days ago the country's success again became the focus of world attention.
"Georgia – the best partner of McDonald's in the European Division. The Fred Turner Golden Arch Award 2022 will be presented to McDonald Georgia President Temur Chkonia and Company Director Tengiz Kapanadze," with these words, McDonald's Georgia was awarded at a large-scale event in Florida, USA, which was attended by about 50 thousand people.
With this recognition, McDonald's Georgia globally hit the 1% of McDonald's franchises in the world to receive this award.
The company says this is a victory not only for them but for the whole country. This achievement once again proves that Georgia has a dignified place on the world map as a country where business develops successfully.
The prestigious Golden Arch Award, a top-level recognition, was handed over to McDonald's Georgia for its effective network operation, growth-oriented, leadership approaches, operational excellence and outstanding service.
The Fred L. Turner Prize has been awarded by McDonald's for several decades. Fred Turner, along with Ray Kroc, transformed McDonald's from a small restaurant chain into a global brand.
"The Golden Arch is the highest award for which it's worth living in business. This is a recognition behind which lies the greatest work and interesting history. Our assessment was based on exactly the criteria by which Ray Kroc and Fred Turner achieved great success in their time – it was loyalty to this brand," said Temur Thkonia, President of McDonald's Georgia.
He says that any business is evaluated by several criteria – it is financial profit, people recognition, customer growth, budgeting, training new professionals, changing directions, establishing style, presenting the country on the map of big brands.
"McDonald's Georgia today combines all these criteria through the best team and people. The second stage for a successful business is when this development is evaluated by high-ranking professionals and considered by many different criteria. This assessment takes into account the main approach of Fred Turner and Ray Kroc to the company – loyalty to the brand. Years ago, they were able to see that this brand is immortal and so successful that there is no alternative in the world," said Temur Tchkonia.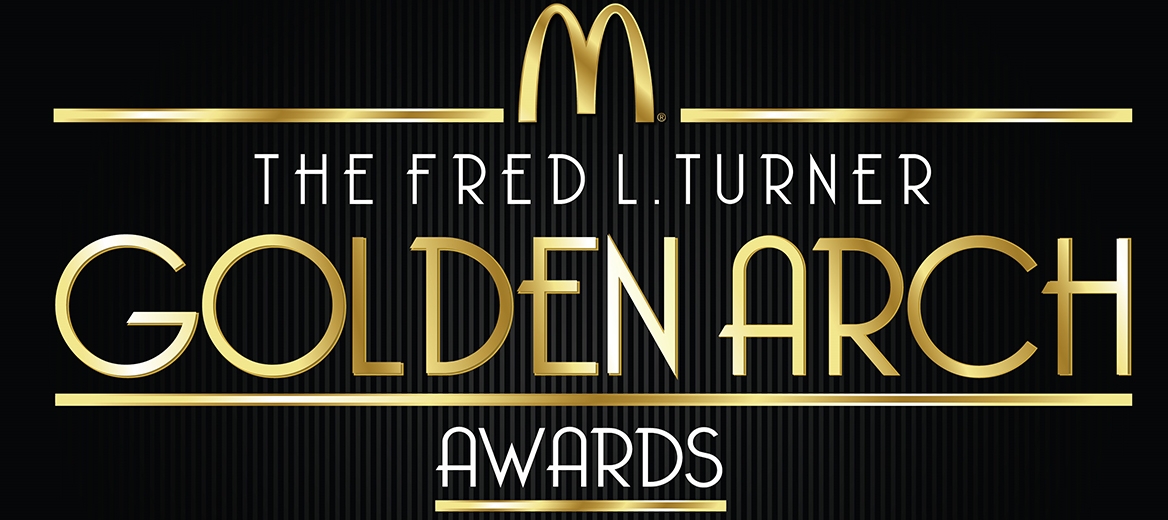 According to Tengiz Kapanadze, Director of McDonald's Georgia, it is honorable and noteworthy that only Georgia was represented in the European Division this year, which emphasizes that McDonald's Georgia is the most stable and reliable partner for the corporation throughout Europe.
"It is not easy to be named the best among the big European countries. It's even harder to get into the top 1% of franchises worldwide that have been awarded the Golden Arch. All this was preceded by a detailed analysis, including the assessment of the company's financial management, quality, standards, marketing, employee satisfaction with working conditions, and protected gender equality. As a result of evaluating the company in many different directions, international professionals have said that Georgia is an example in Europe and, of course, Mr. Temur Tchkonia is one of the best partners in this situation," said Tengiz Kapanadze, CEO of McDonald's Georgia.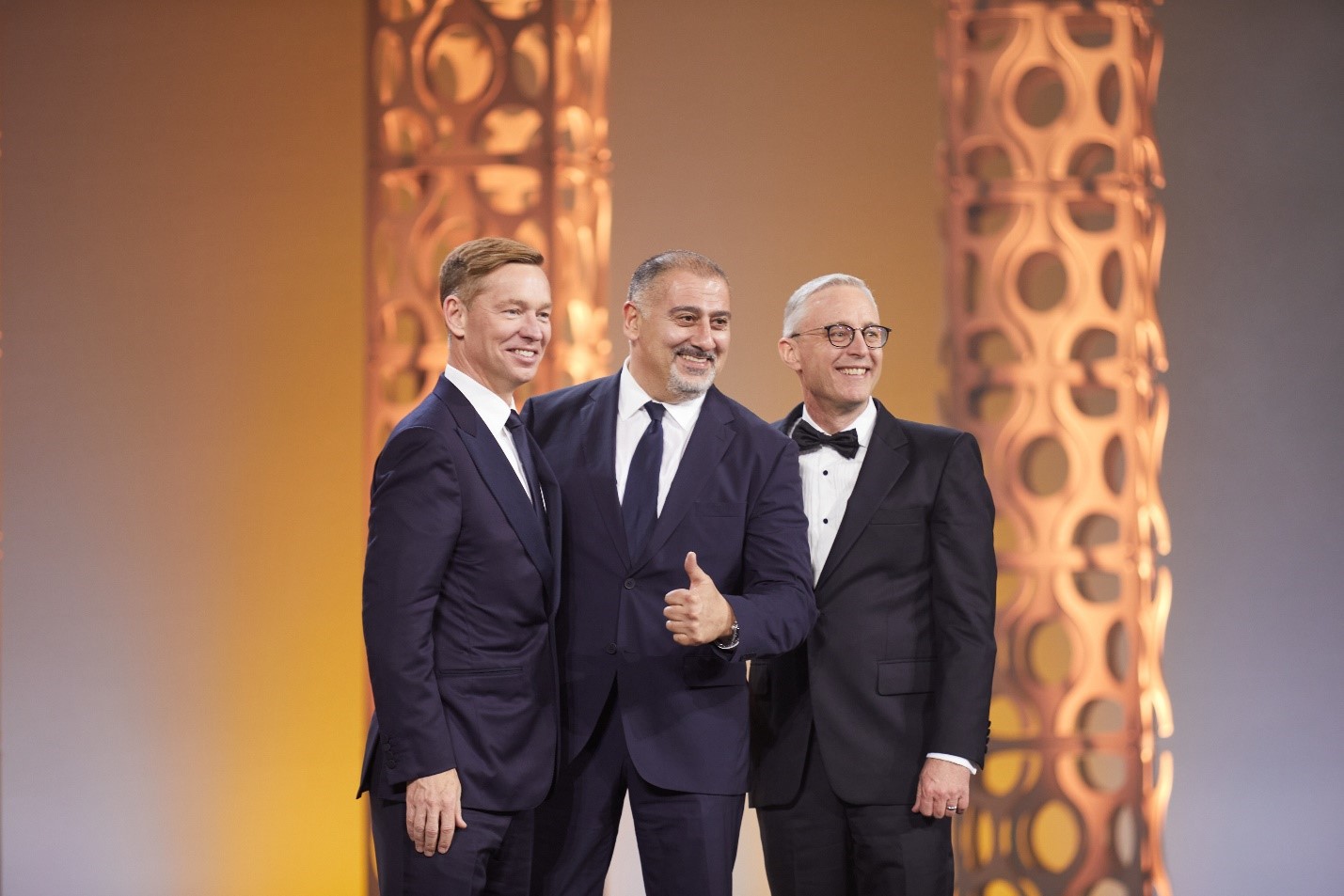 whose activities are based on the highest standards, which primarily include customer and employee care, outstanding service, efficient operation and continuous development. Along with international recognition, this is the greatest incentive and appreciation for the great work that thousands of its employees put into their daily customer relationships.
"When McDonald's most prestigious international awards, attended by up to 50,000 people, say that the most interesting partner for McDonald's in Europe is McDonald's Georgia, as Mr. Temur would say, it was worth living for," said Tengiz Kapanadze.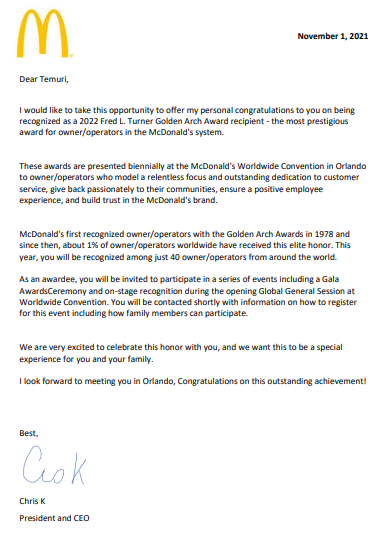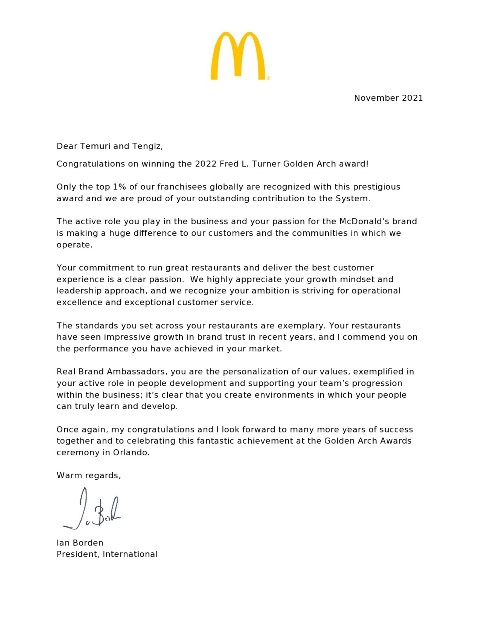 McDonald's CEO Chris Kay and McDonald's President Ian Borden personally congratulated McDonald's Georgia and its founder Temur Chkonia on receiving the prestigious Golden Arch Award. They also mentioned the active role of "McDonald's Georgia" in business and enthusiasm in the development of the McDonald's brand, which brings positive changes not only for consumers but also for the whole society in which the brand is actively operating.
McDonald's Georgia has a 23-year history. The company owns 18 restaurants across the country and employs 1,400 people. It plans to open 3 more new restaurants in the near future.